It was suggested to me via PM last week that threads like this don't usually get a lot of responses because a number of people here are in faltering relationships and/or struggling financially. If you consider yourself to be in one or both of those groups and as a result are unable to appreciate such threads, please know that I intend no offense in posting them. I've very strongly considered not starting this thread as a result, but I think there remain people here who might appreciate it, some in spite of any circumstances in which they may currently find themselves.
About a month ago, I managed (on my first try!) to get us reservations at
minibar by josé andrés
, a six-seat "restaurant-within-a-restaurant" at Andrés' Café Atlántico in DC. It's been featured on
No Reservations
(
part 1
/
part 2
) and some have acknowledged it as
one of the most coveted reservations
in the country. For the third consecutive year, José is a James Beard finalist for Outstanding Chef for his work there.
We decided to make a bit of a foodie weekend out of it. After driving to DC, we stopped at the
Old Ebbitt Grill
for some oysters and shrimp (and an awesome clam chowder) before making our way to the Smithsonian's National Museum of American History, where we had to stop and take a few pictures of Julia Child's kitchen: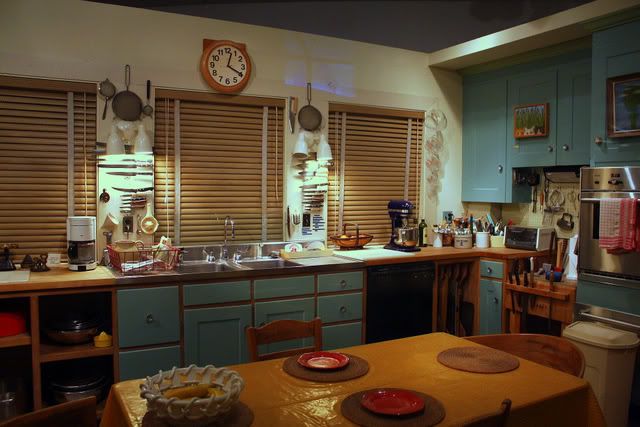 That night, it was on to minibar: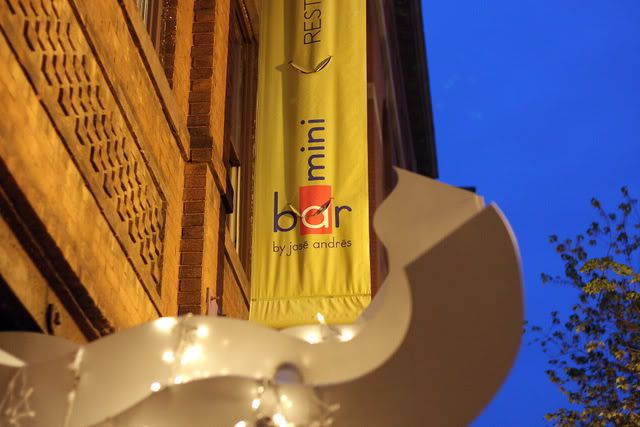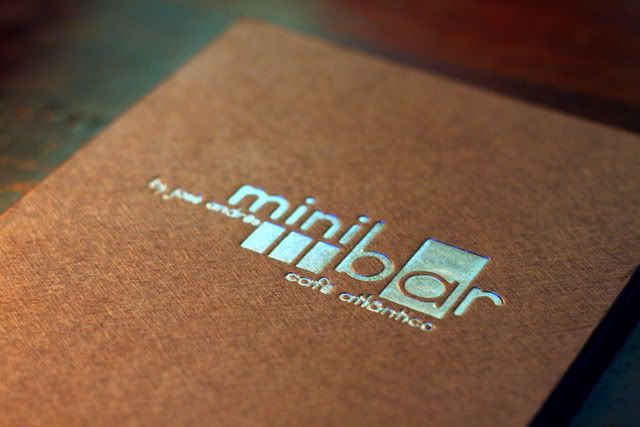 The "menu" is generally advertised as being 25-30 courses and is constantly evolving. It is said that José offers it at cost because it's designed as a labor of love and a testing grounds for creativity rather than as a moneymaker.
The menu provided at the end of the meal offers only minimal titles for each dish. The courses were described to us as they were presented, but we weren't about to take written notes. Unfortunately, 25+ courses and a lot of champagne also make for hazy memories.
The first section of the menu is called "Munchies." It started with Passion Fruit-Mezcal Margarita, a frozen passionfruit margarita in a hollowed-out fruit: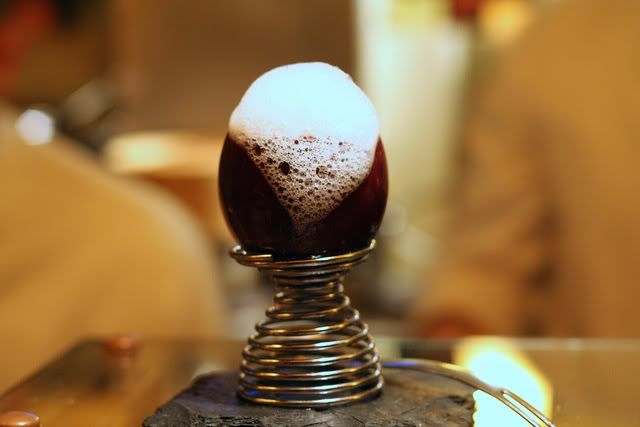 Beet "Tumbleweed":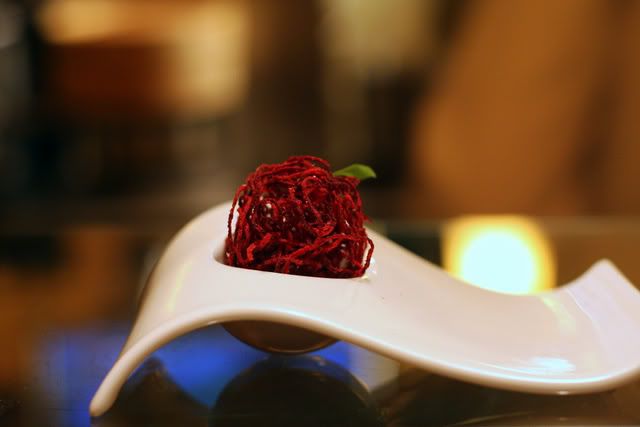 The Popcorn!!: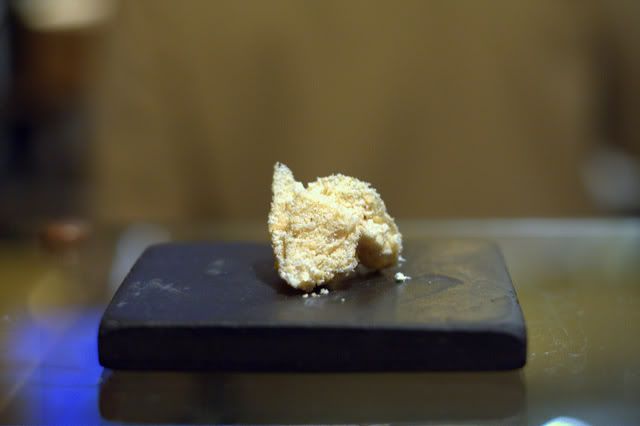 Sea Bean Tempura: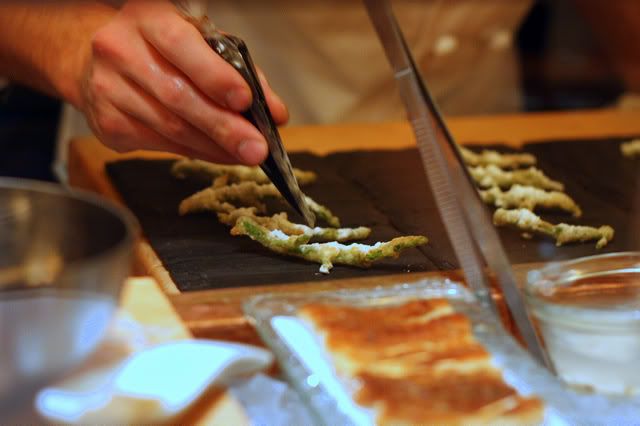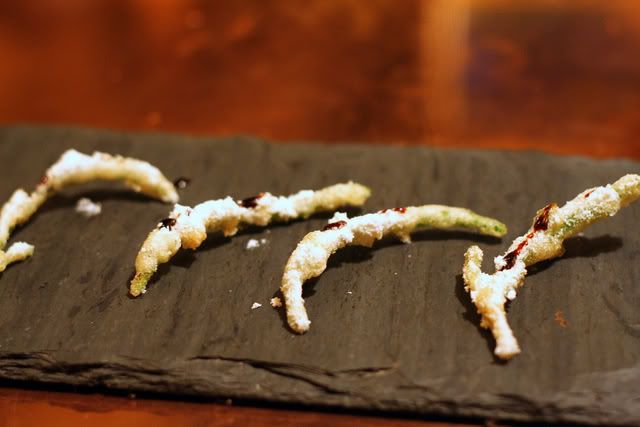 Tomato Crisp with Anchovy Caviar (so delicate that one has to use the card to pick it up):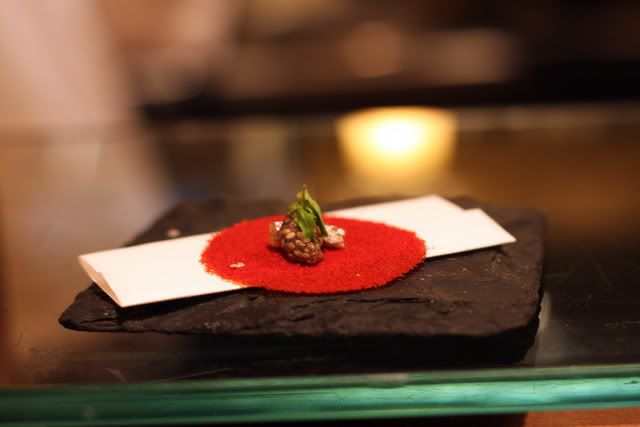 "Ferrero Rocher" (much better than the real thing):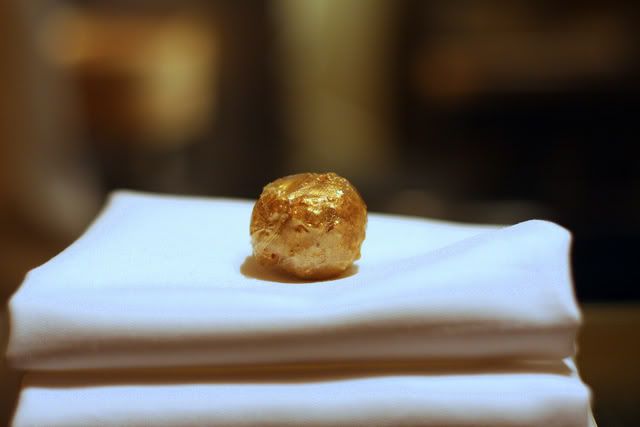 Bagels & Lox (very reminiscent of the coronets at the French Laundry):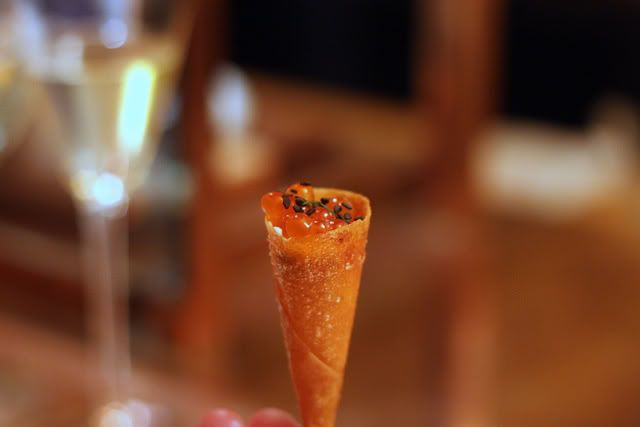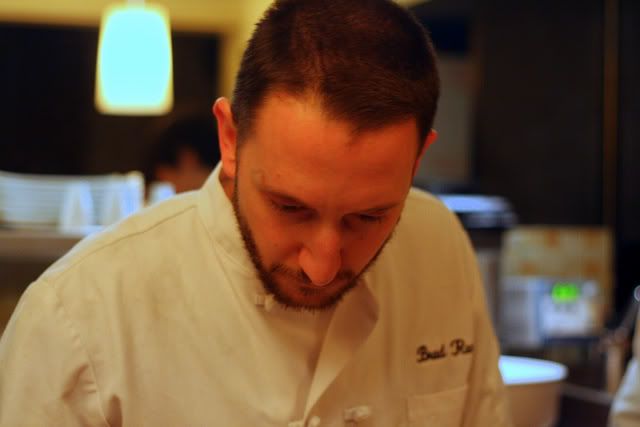 Blue Cheese and Almond Tart (I loved the almond butter shell, but the combo didn't quite work for me):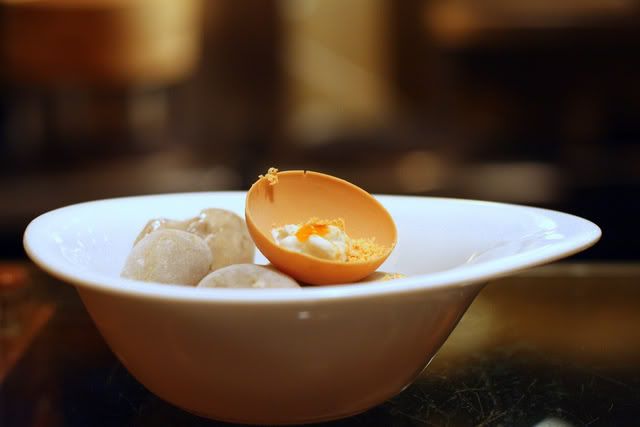 Cotton Candy Eel (not my favorite, but not nearly as objectionable as it might sound):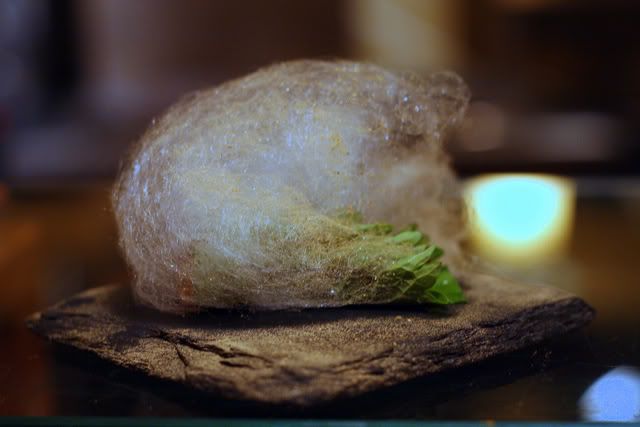 Steamed Pita with Avgotaraho (the "pita" was almost like air):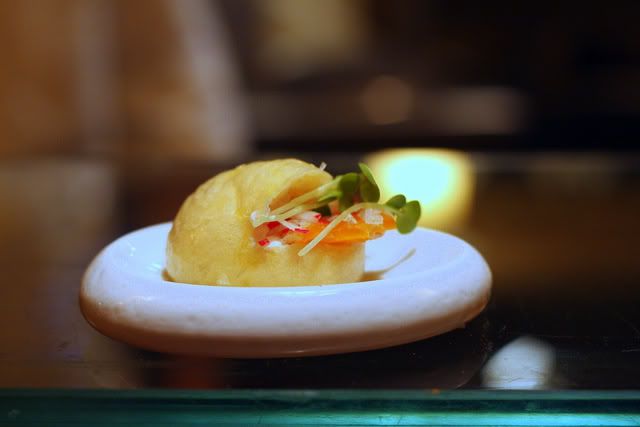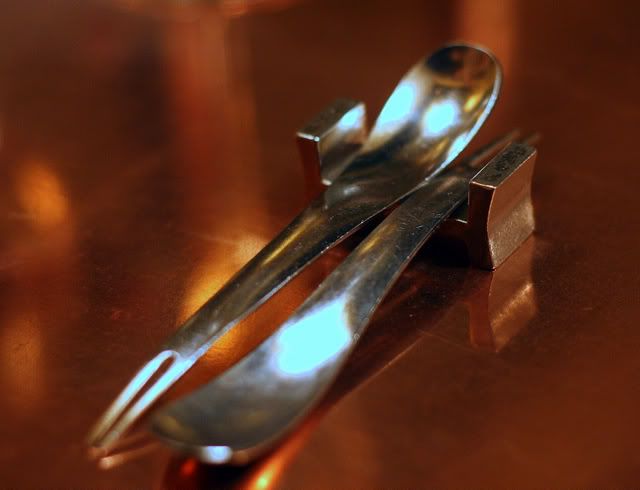 The next section of the menu was called "Flavors & Textures," which started with one of my favorite courses, Zucchini in Textures (it takes one chef 2 hours to select enough seeds for the 12 diners at minibar's 2 nightly seatings):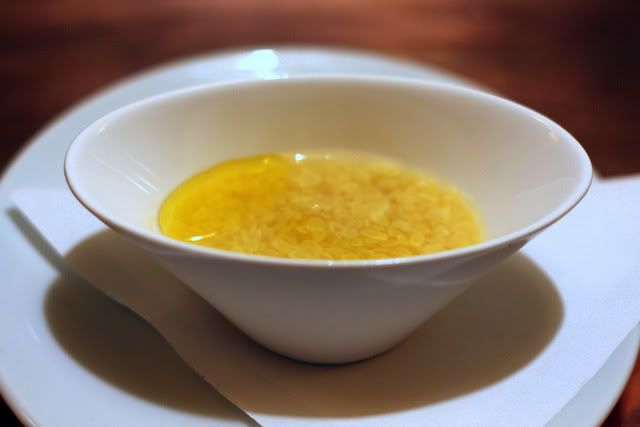 Smoked Oysters with Apples: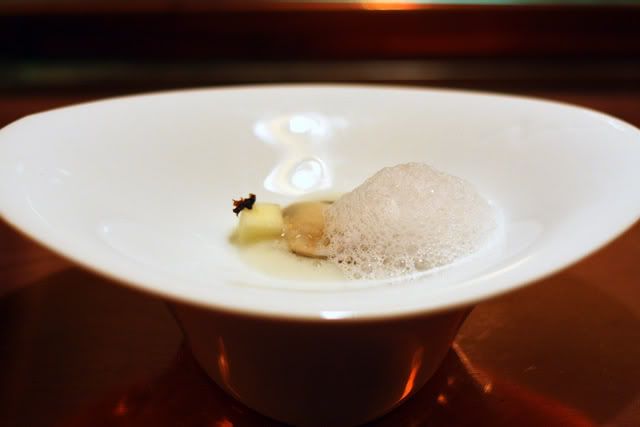 "Guacamole" (the chefs chuckled when recalling how Bourdain wasn't a fan):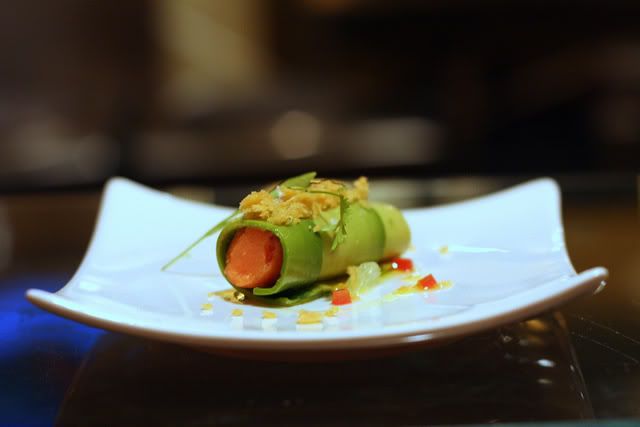 Sea Urchin Ceviche with Hibiscus: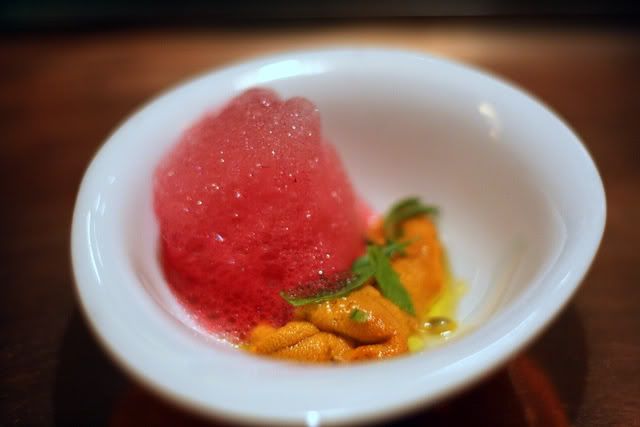 Organic Carrots with Coconut (the carrots were spherified):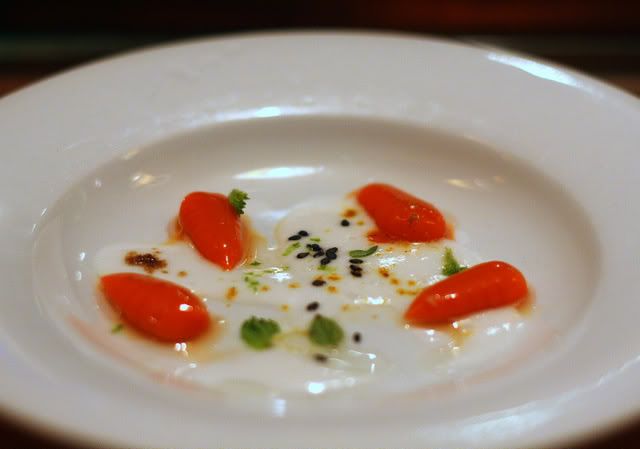 Fresh Green Almonds with Raisins (a play on ajo blanco):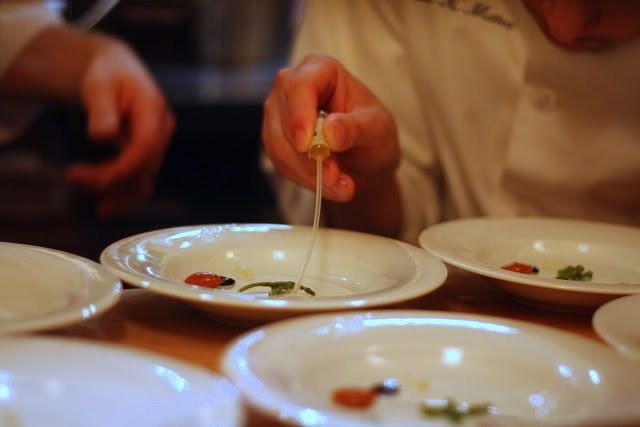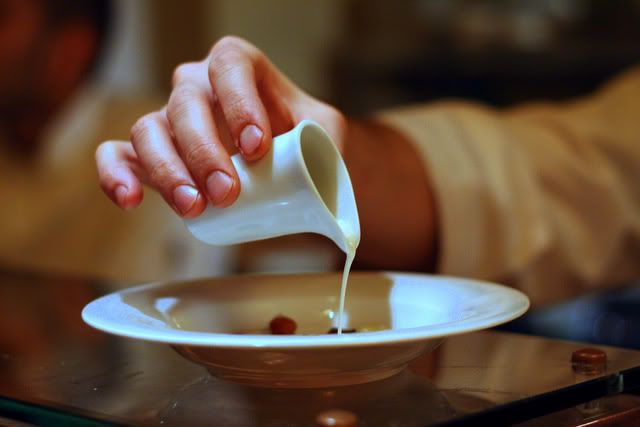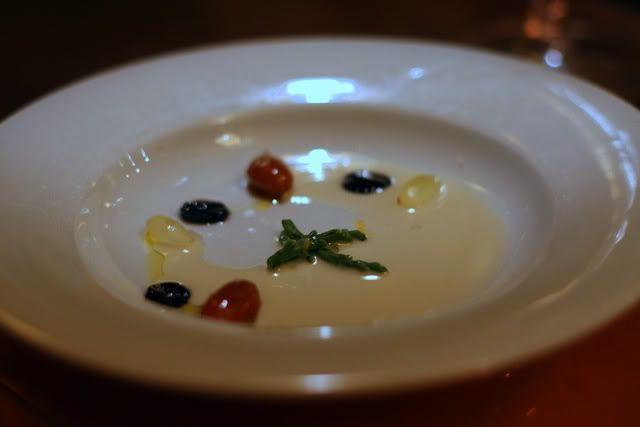 Charcoal Salmon Toro with Black Garlic: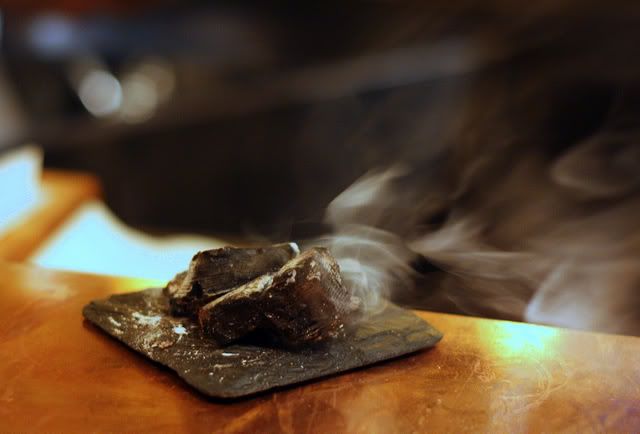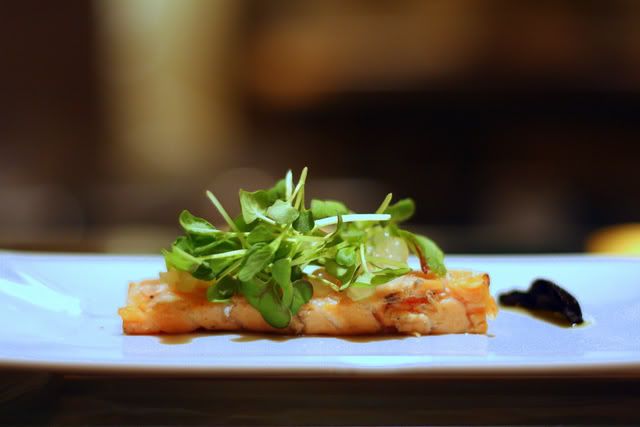 "Tzatziki" (the yogurt portion was briefly frozen, so it was like a shell with a liquid center):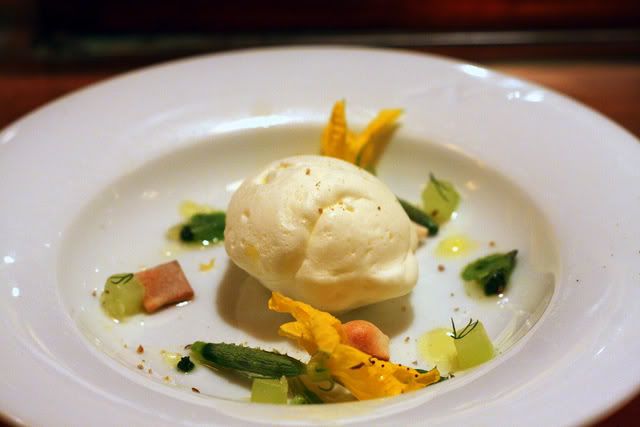 Note the delicate little cucumbers attached to the blossoms in the dish above. One of the chefs must've spent 10 minutes selecting and preparing them:
Cigala and Horchata (awesome):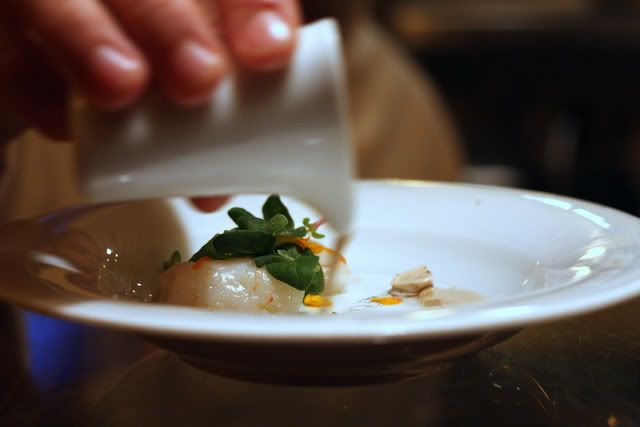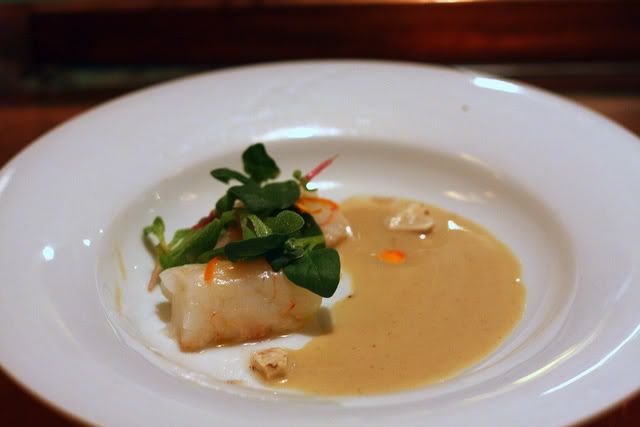 If anyone has a good source of horchata de chufa, hook a brother up, will ya?
Parmesan "Egg" with Migas (the "egg white" was spherified parmesan surrounding an actual quail egg yolk):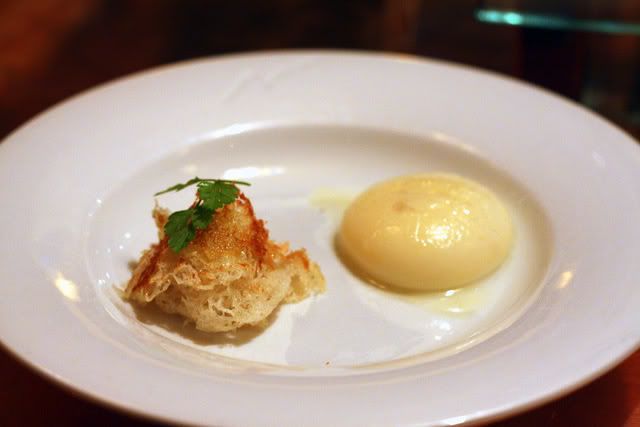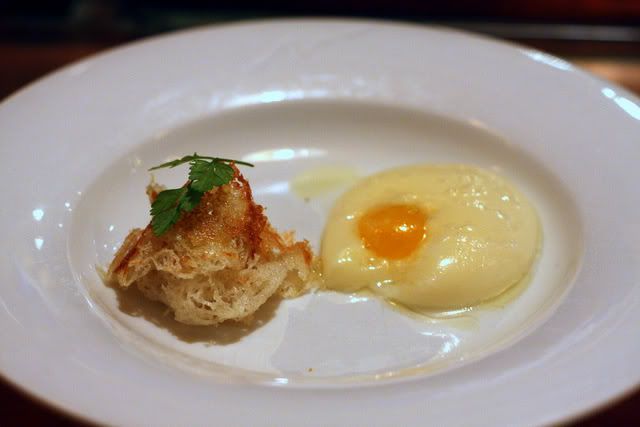 "Philly Cheesesteak" (one of those dishes you knew would be great from the moment you saw it):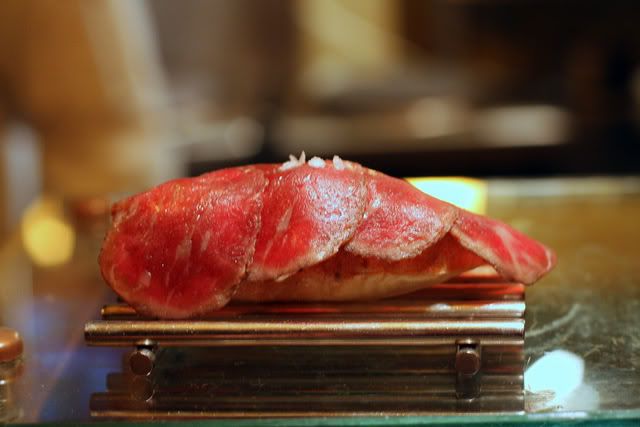 The night's "Pre-Dessert" was Kumquats and Pumpkin Seeds (I think the presentation is a little too forced, but the taste is great):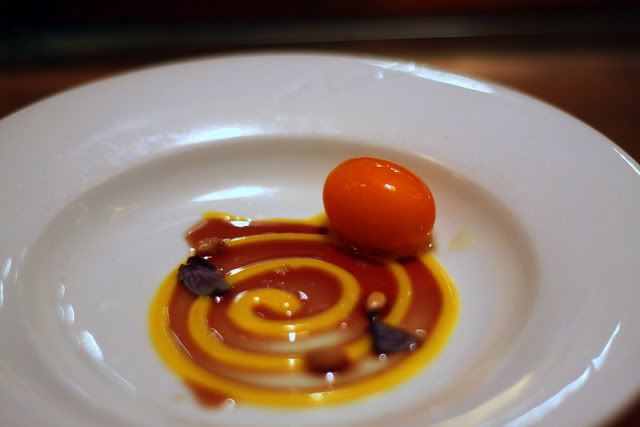 "Desserts" were "Thai Dessert":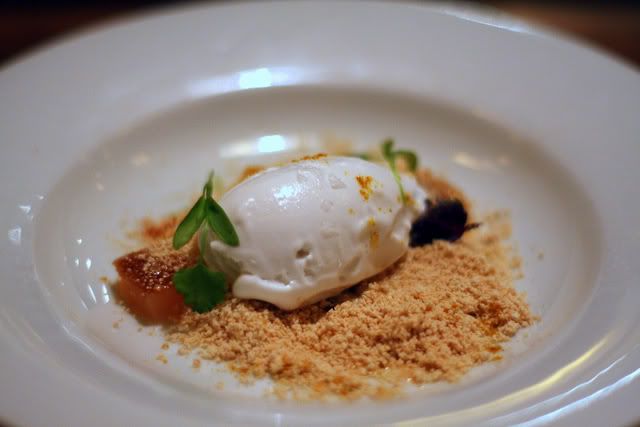 And Frozen Yogurt and Honey (honey powder - go buy some!):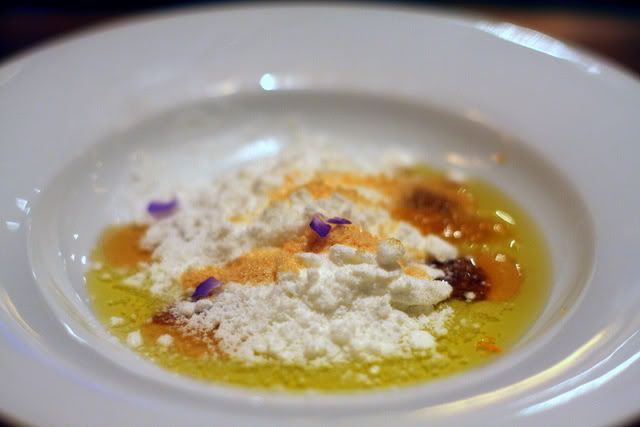 The menu ended with a tray of "Sweet Surprises." Mango Box: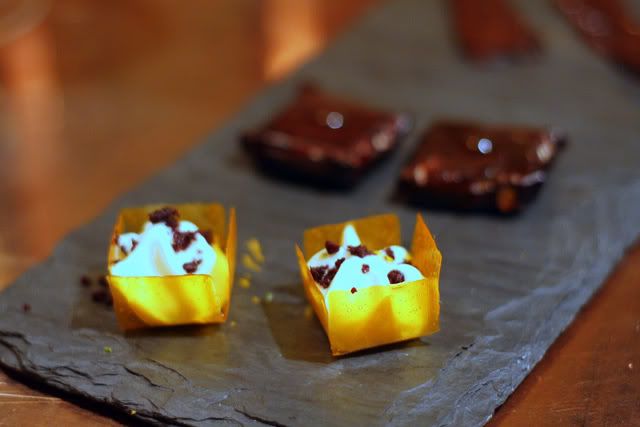 "S'mores" (my favorite of the three):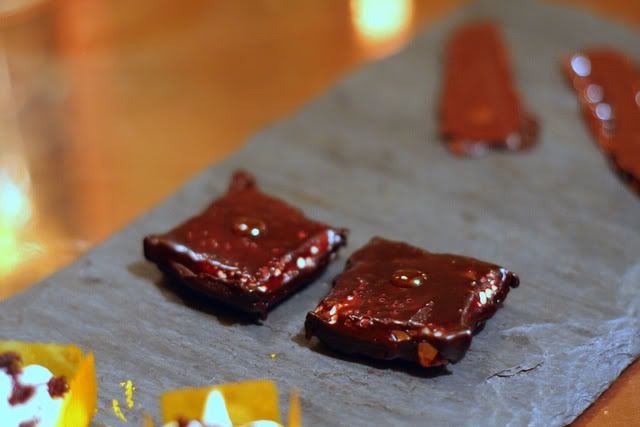 Bacon and Chocolate: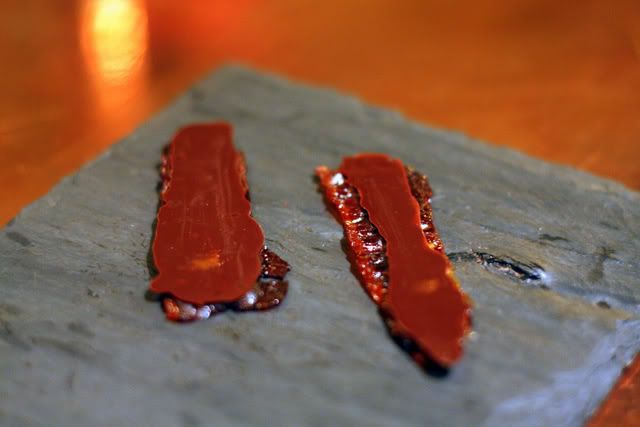 We were then presented with an egg which our waiter smashed to reveal our bill: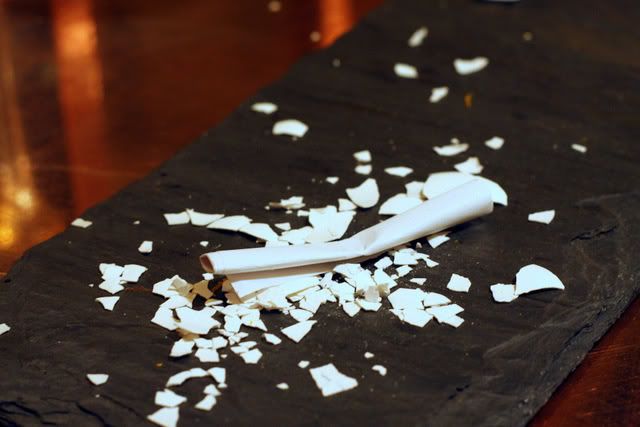 Over two dozen courses, there are bound to be dishes you like more than others, but I was very surprised at how consistent the high notes were. Between that and the way flavors and textures were combined (as well as the cool interaction with the chefs working the bar), it's a dining experience I'd highly recommend and won't soon forget.
Since it was very near our hotel, we decided to have brunch the next day at another of José Andrés' restaurants,
Jaleo
. The food there didn't disappoint, either.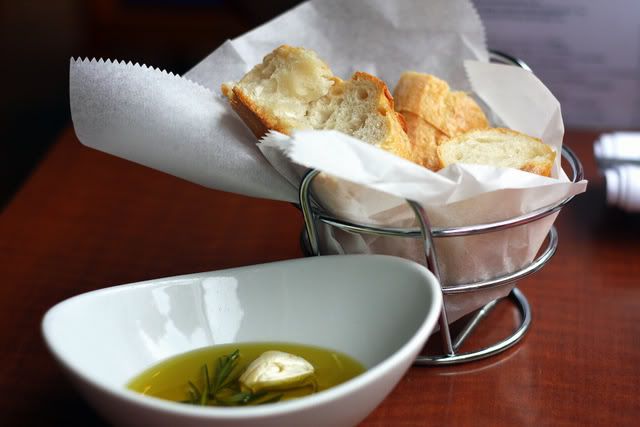 Jamón Ibérico de bellota 'Fermín' - From the famous, black-footed Ibérico pigs: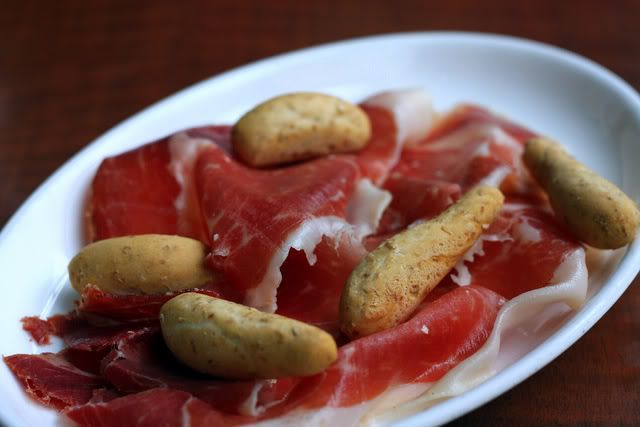 Huevo pochado con idiazábal, jamon y espinacas - Poached eggs on brioche with spinach, jamon and Idiazábal cheese: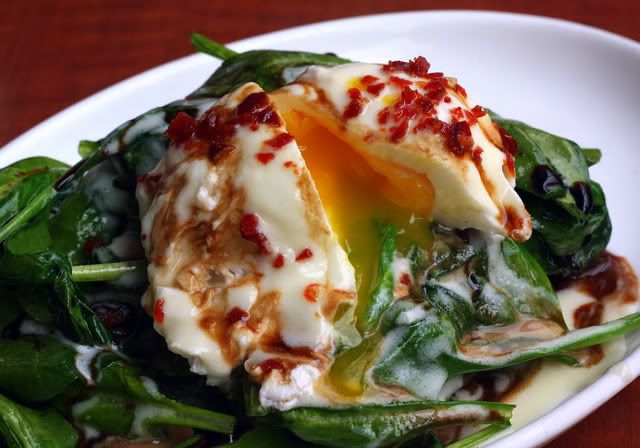 Huevo frito con arroz, salsa de tomate y bacon - Traditional sautéed rice served with tomato and fried egg: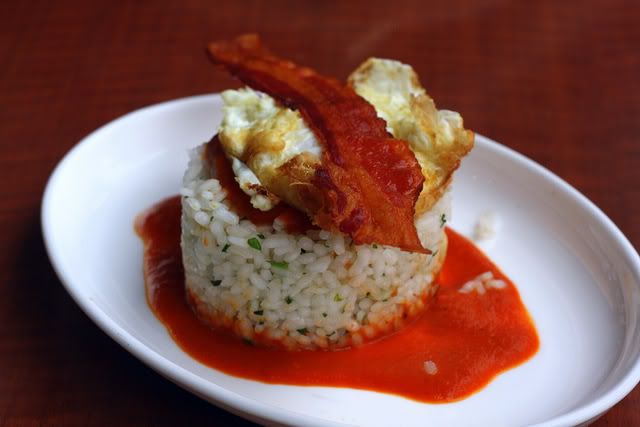 Chistorra envuelta en patata frita - Slightly spicy chorizo wrapped in a crispy potato: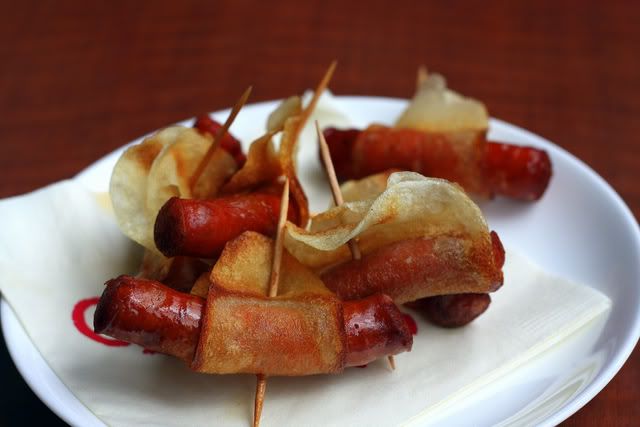 Vieiras con calabaza y clementinas - Seared scallops with butternut squash purée, clementines, and pumpkin seeds: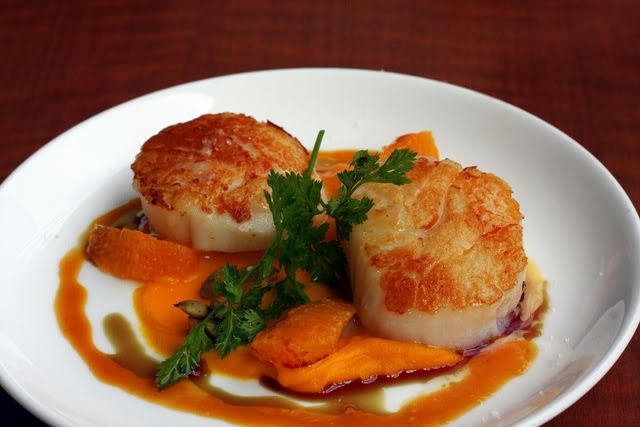 Torrijas con helado de vanilla - Sweet soaked Spanish toast with apple compote and topped with homemade vanilla ice cream (order THIS!):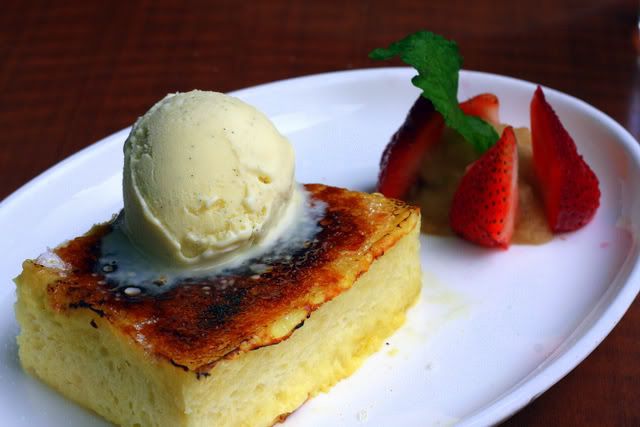 In our conversation with the chefs at minibar, they also revealed that José is going to be featured on
60 Minutes
this week. Apparently Anderson Cooper is very much NOT a foodie, so they found his reactions upon being served some of their creations quite interesting. Having now experienced minibar myself, I can't wait to see it.