(continued from

Part I

)
Jules and I arrived in Chicago on a Friday, just in time for lunch. We checked in early at our hotel downtown and headed out to
Hot Doug's
, The Sausage Superstore and Encased Meat Emporium, which has been featured in a ton of
culinary press and travel features
on Chicago. It is also notable for leading the opposition against the foie gras ban in Chicago several years ago. You may recall it from the Chicago
episode
of
No Reservations
.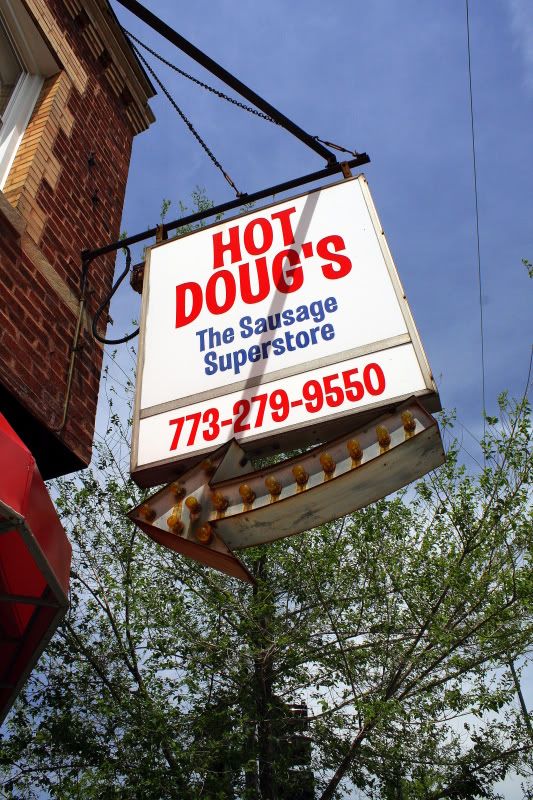 We arrived fairly early in the lunch shift, but the line was already quite long. We got inside the door in about 40 minutes...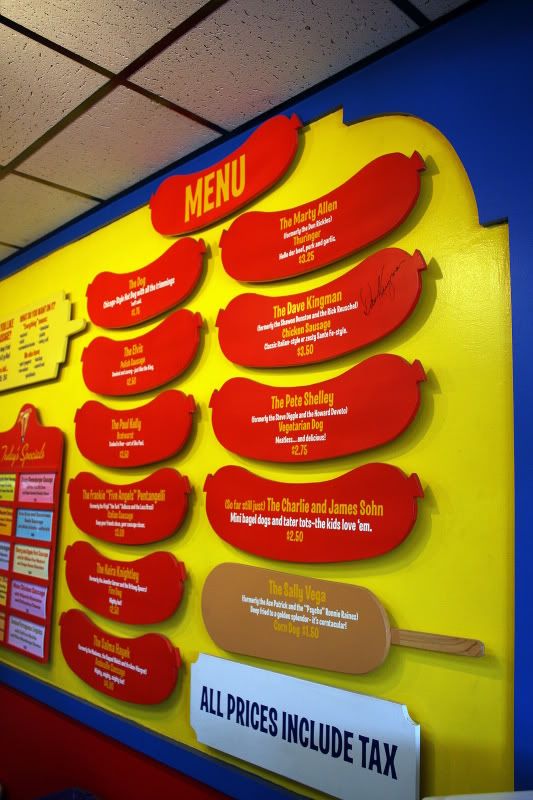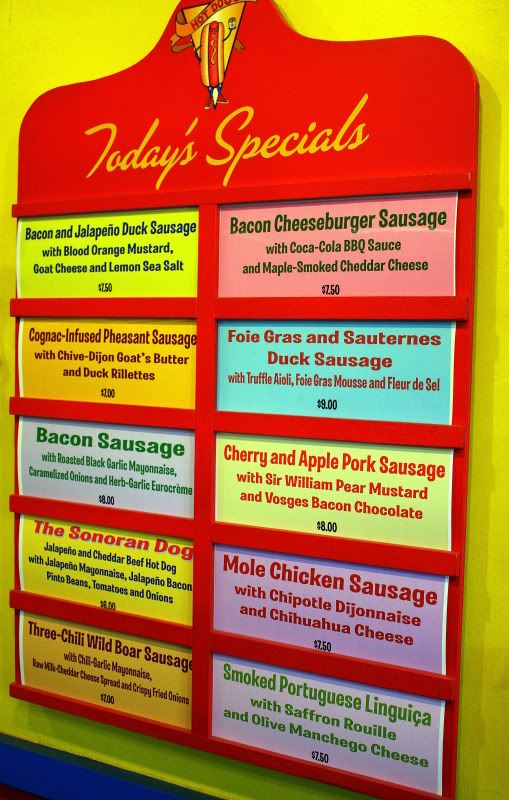 The choices were varied and quite a few were very tempting, but we were there for two things -- duck fat fries and foie gras dogs (Foie Gras and Sauternes Duck Sausage with Truffle Aioli, Foie Gras Mousse and Fleur de Sel)...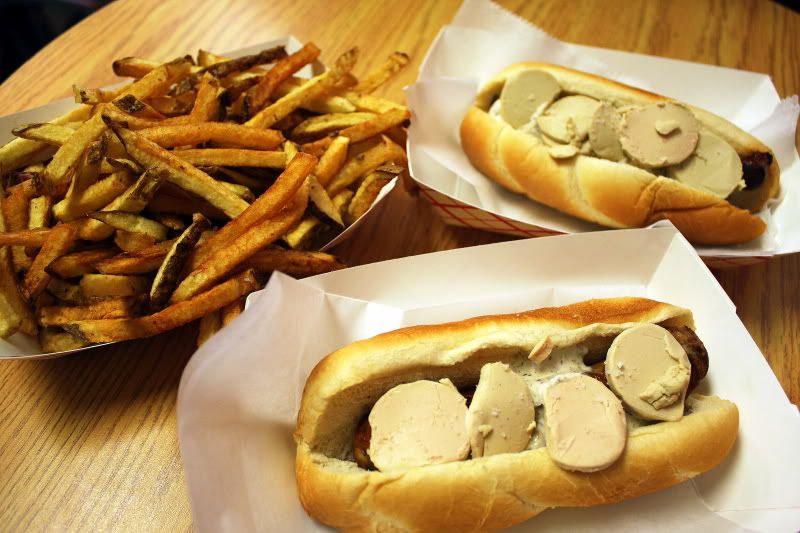 In short... really Really REALLY liked it. Totally worth the wait, which was apparently about twice as long by the time we left...
(As a side note, Doug is a really, Really, REALLY nice guy.)
We spent that afternoon hanging out with Diane, who was kind enough to meet us for drinks and a Chicago Architecture Foundation river cruise (followed by more drinking
). She was a great hostess for the afternoon and one of those people who feels like a long-time friend immediately upon meeting them.
That night, Jules and I were off to
Blackbird
, the flagship restaurant of James Beard Award-winner Paul Kahan (who was also
featured
on Bourdain's show).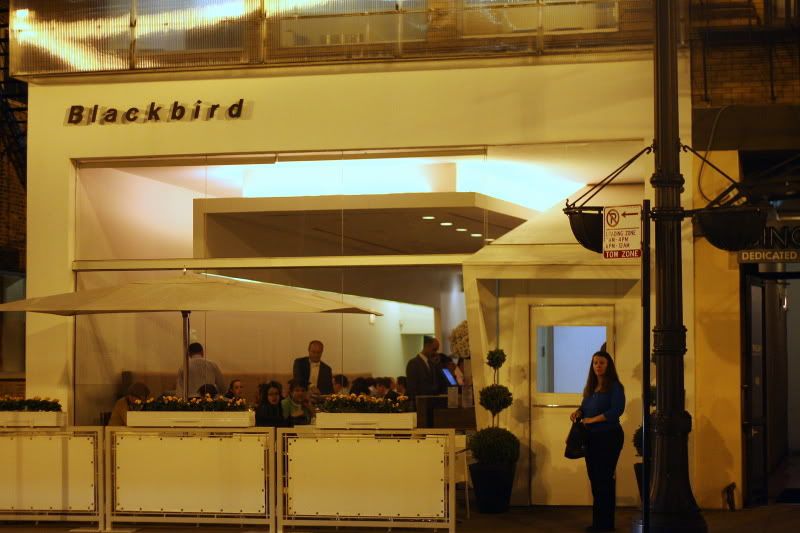 We had the tasting menu...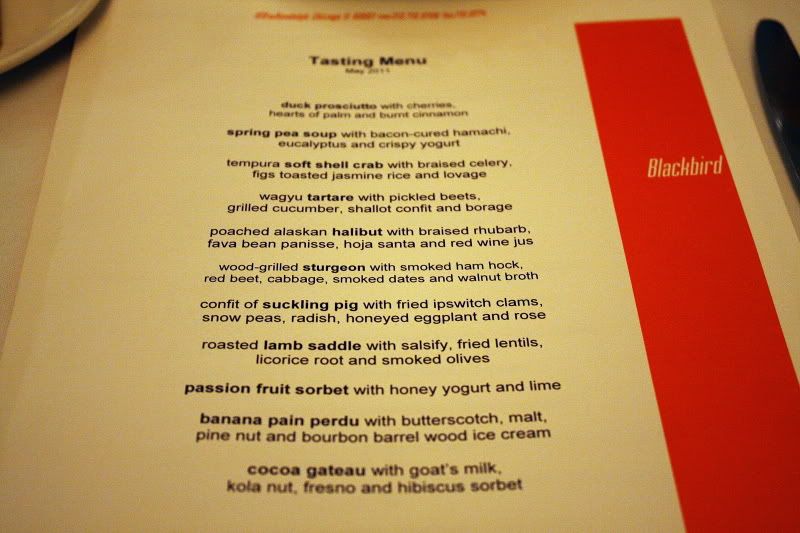 I won't detail every dish because a) you can read them above, and b) you don't care that much. Let's face it, you just clicked the link to read about Stephanie saying "bunny."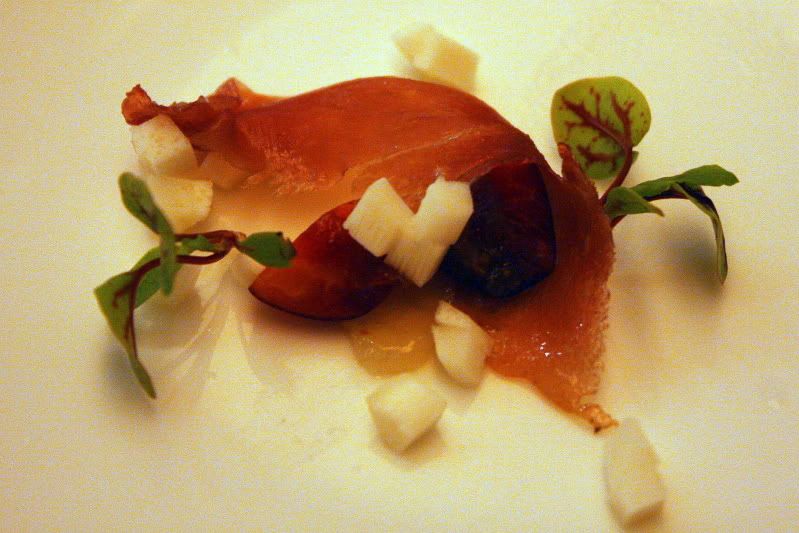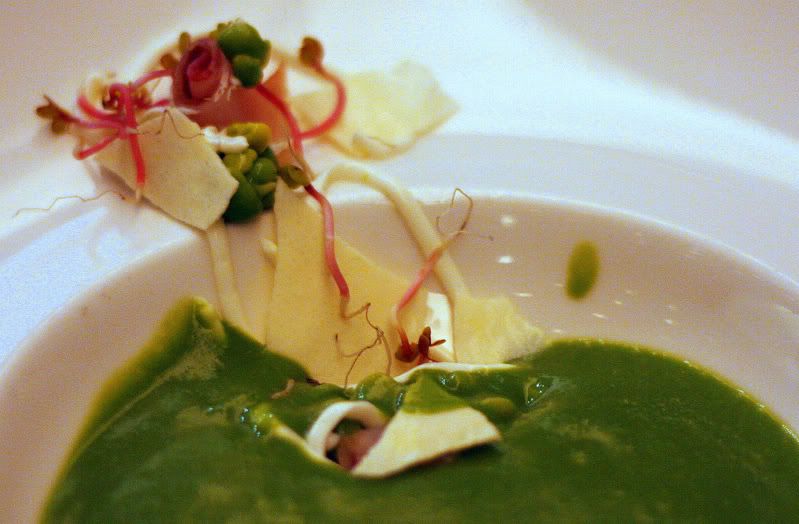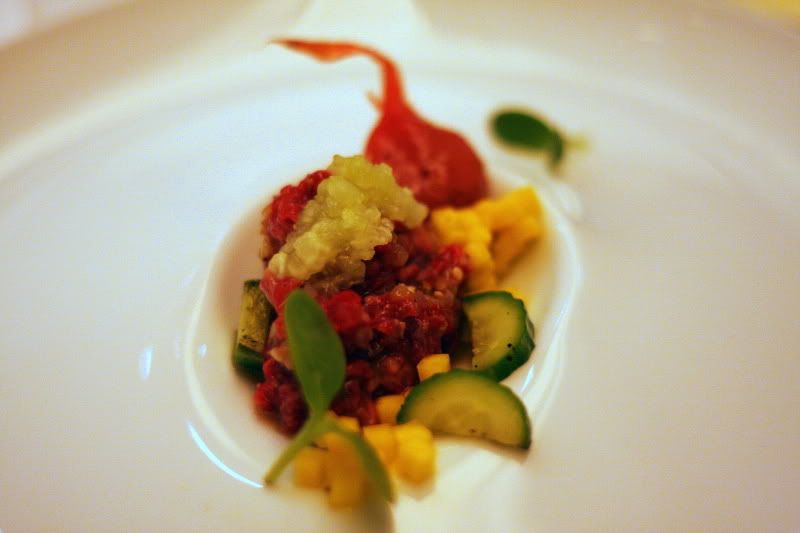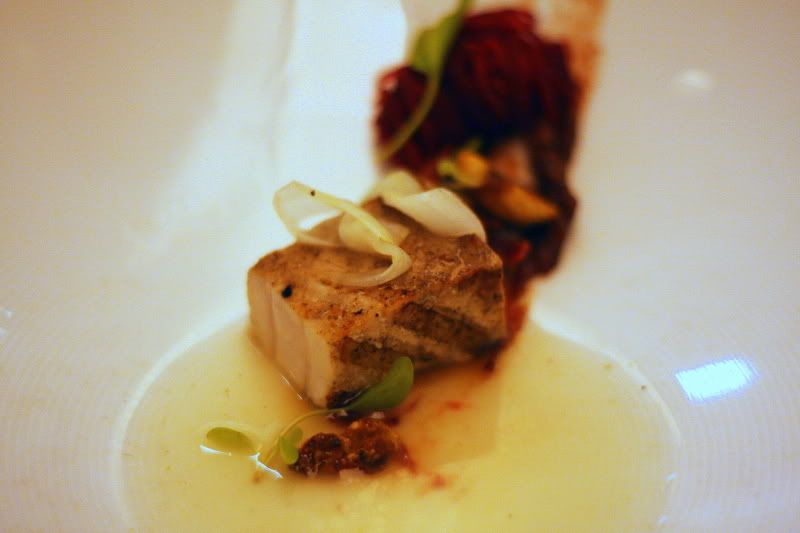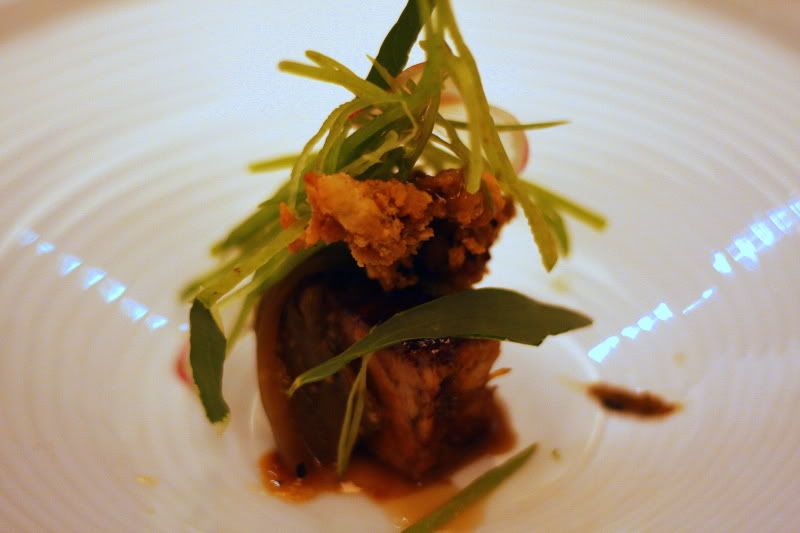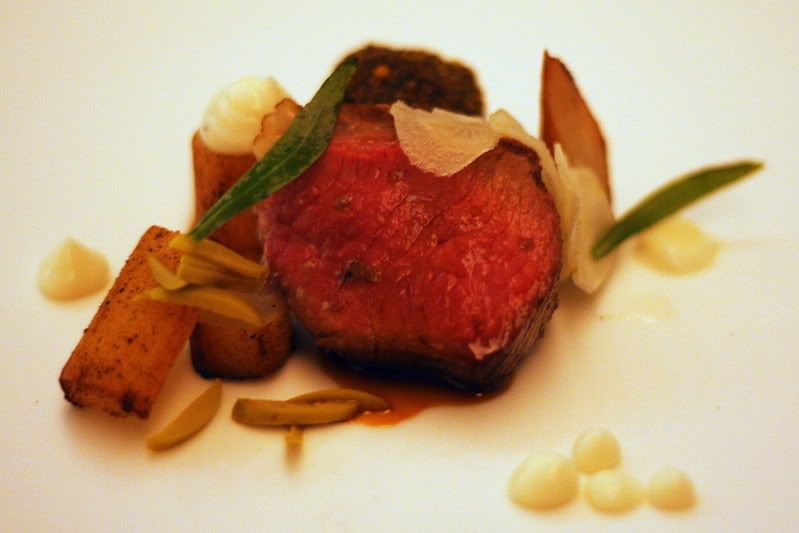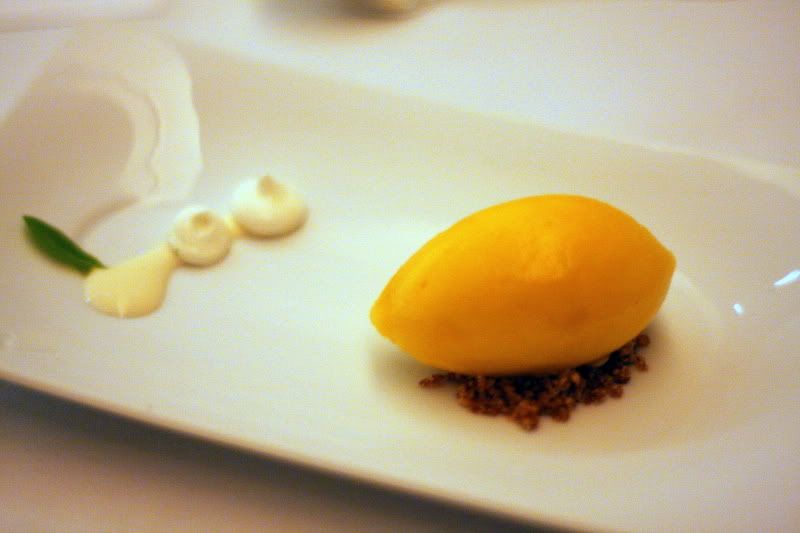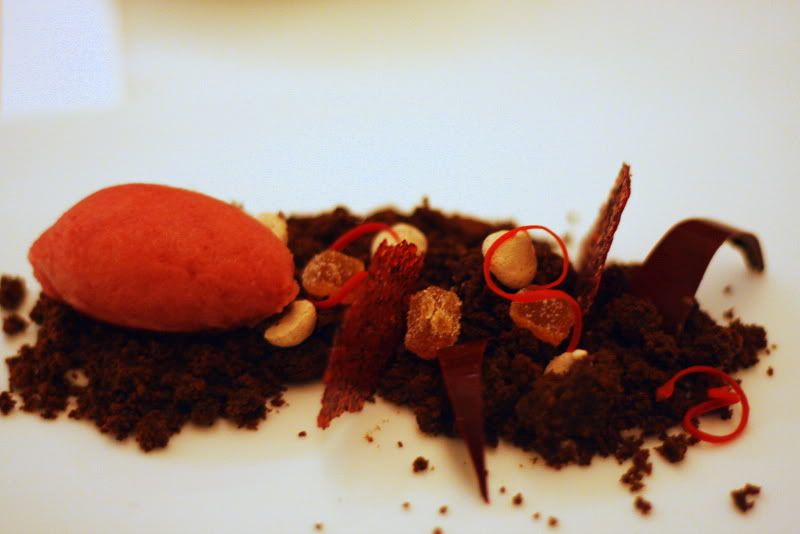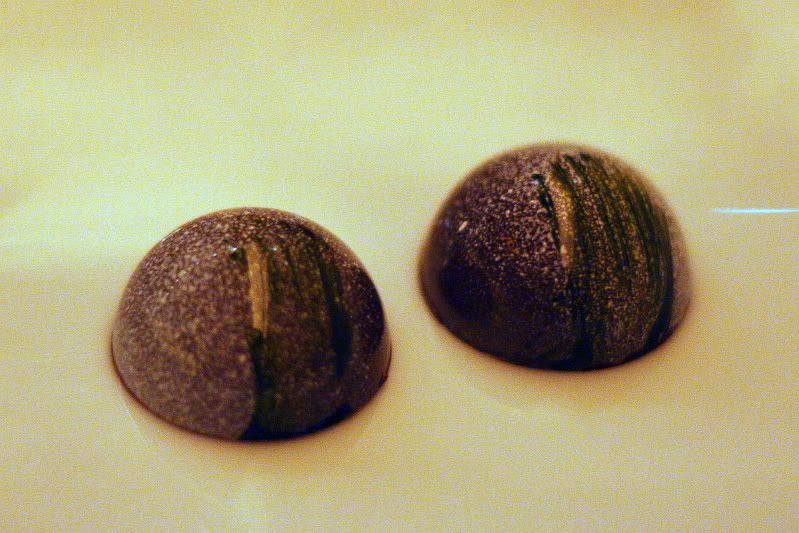 We capped the night with our first trip to The Aviary, as detailed in the previous thread.
The next day, we did some touristy stuff...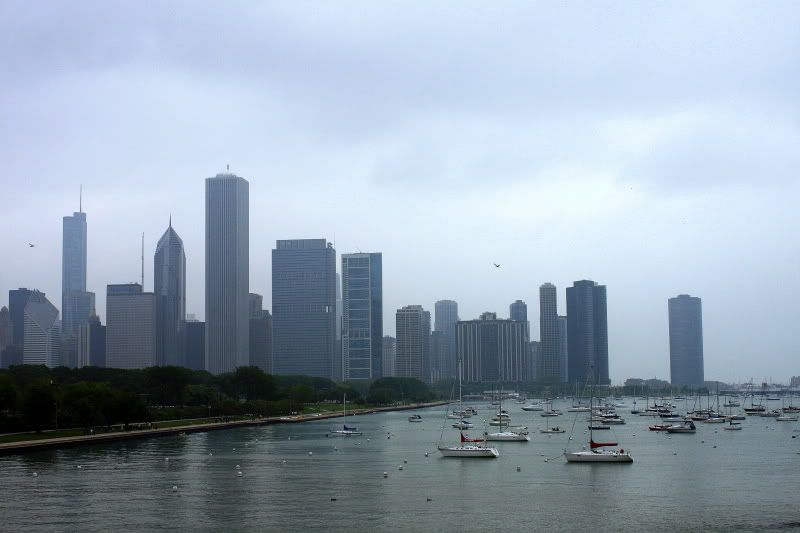 ... hitting the Shedd Aquarium, Signature Lounge, Magnificent Mile, and Lou Malnati's...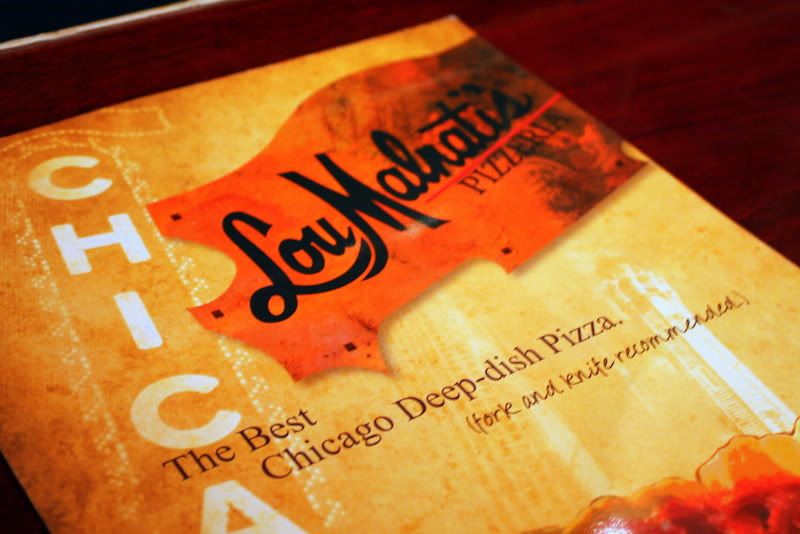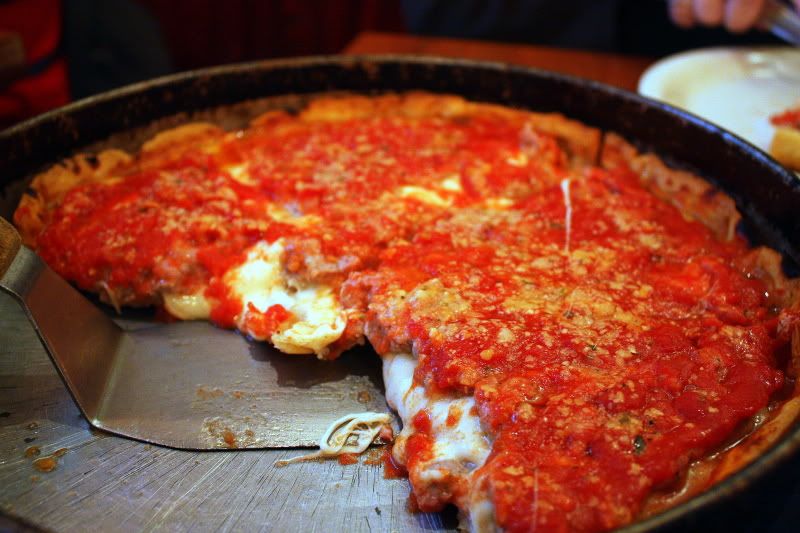 ... before our dinner at Next.
Sunday morning, we headed to another one of Paul Kahan's restaurants,
The Publican
, for brunch...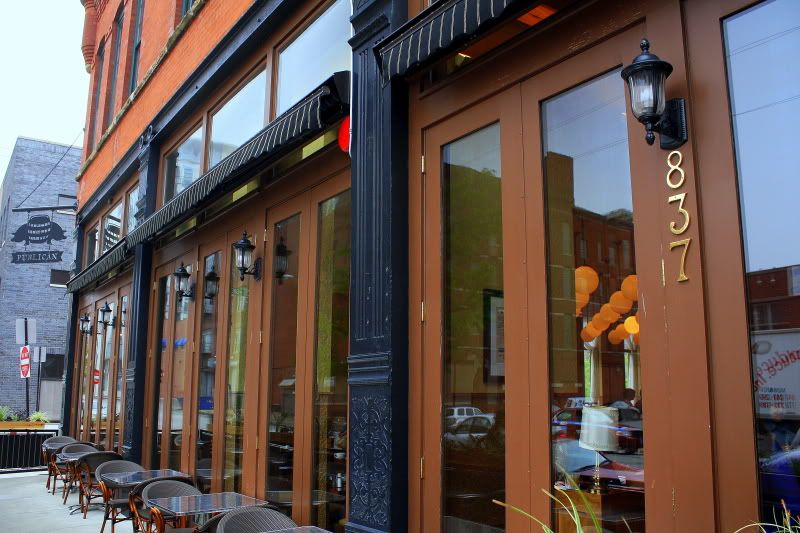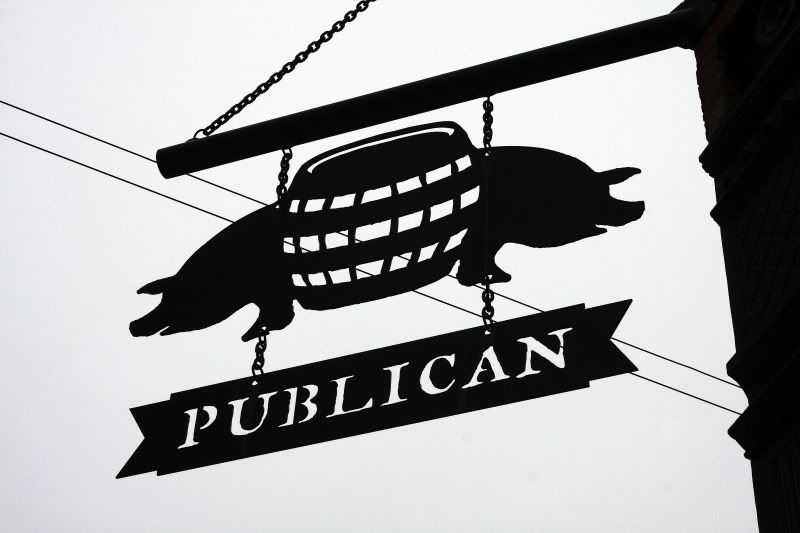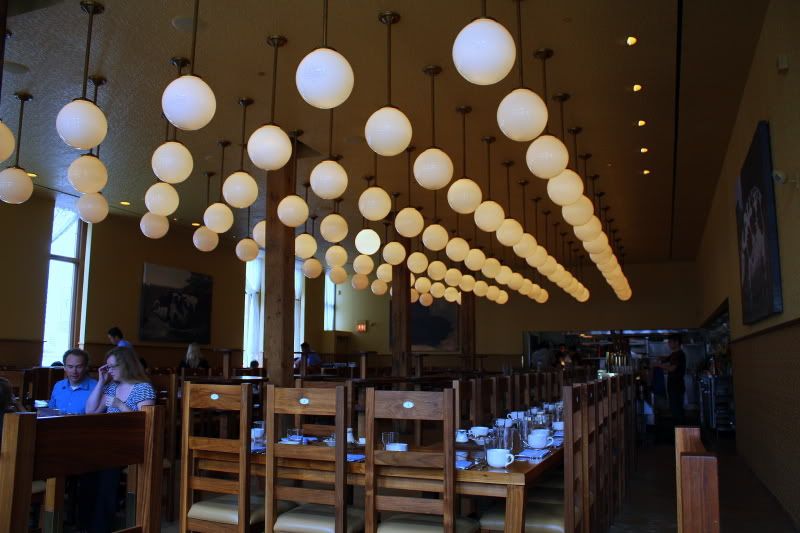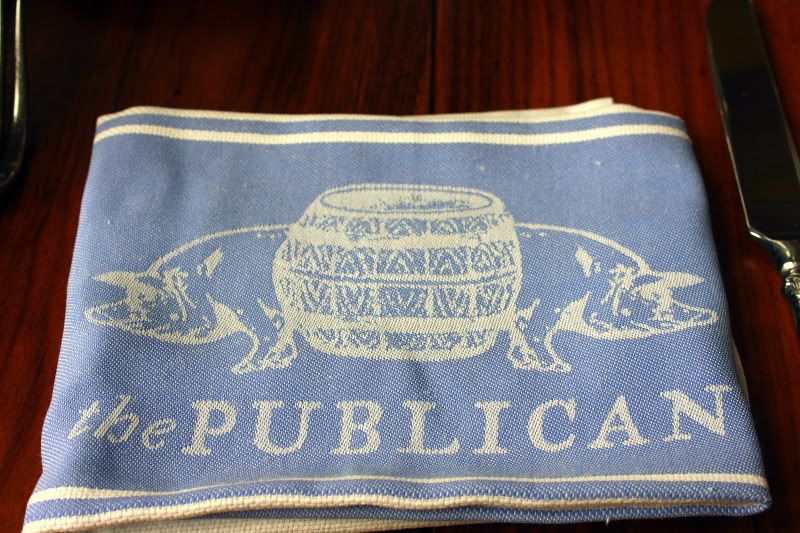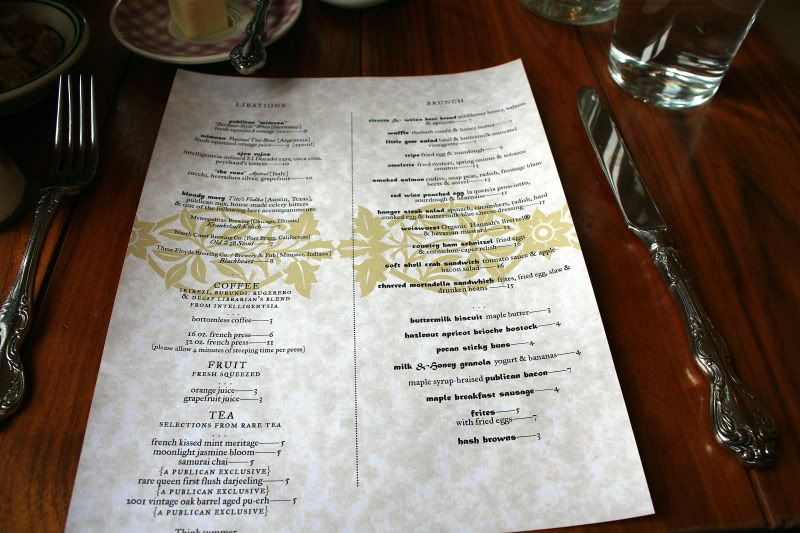 The maple butter served with the buttermilk biscuits was amazing...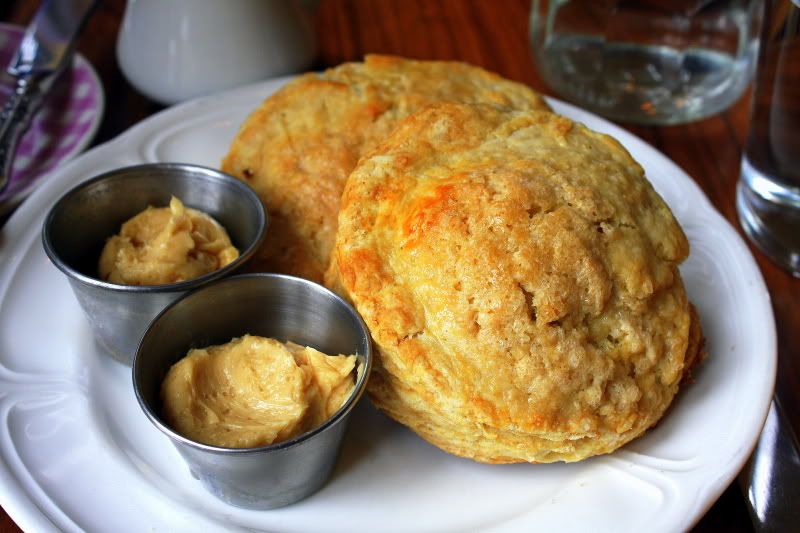 I had the omelette (fried oysters, spring onions & tabasco crouton)...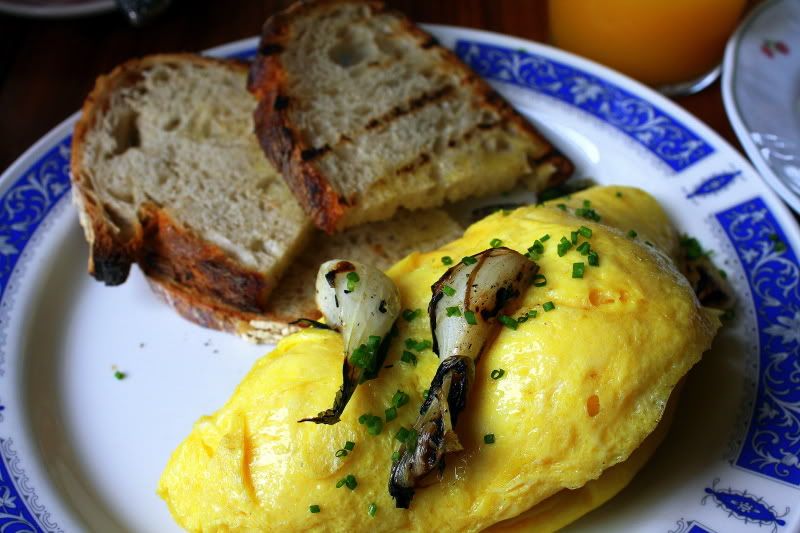 Jules had the red wine poached eggs (la quercia prosciutto, sourdough & bernaise)...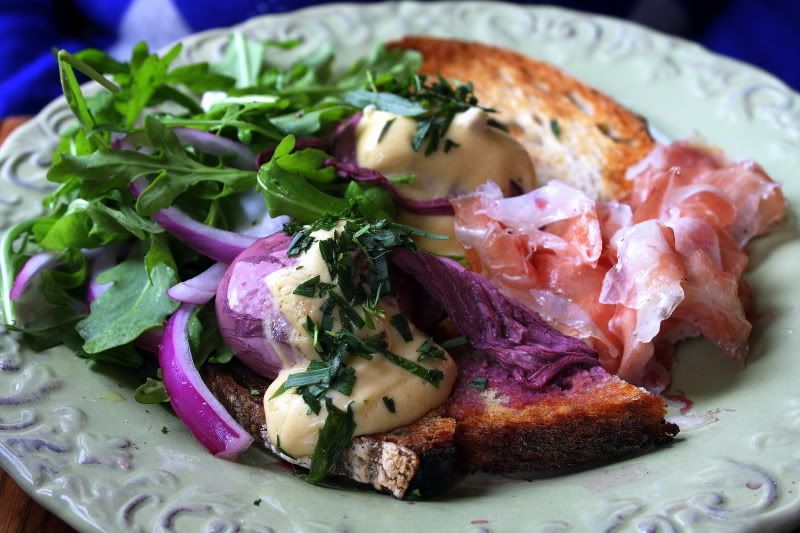 Since we were in a restaurant known for pork in a city known for pork, we decided to share some maple breakfast sausage and maple syrup-braised Publican bacon...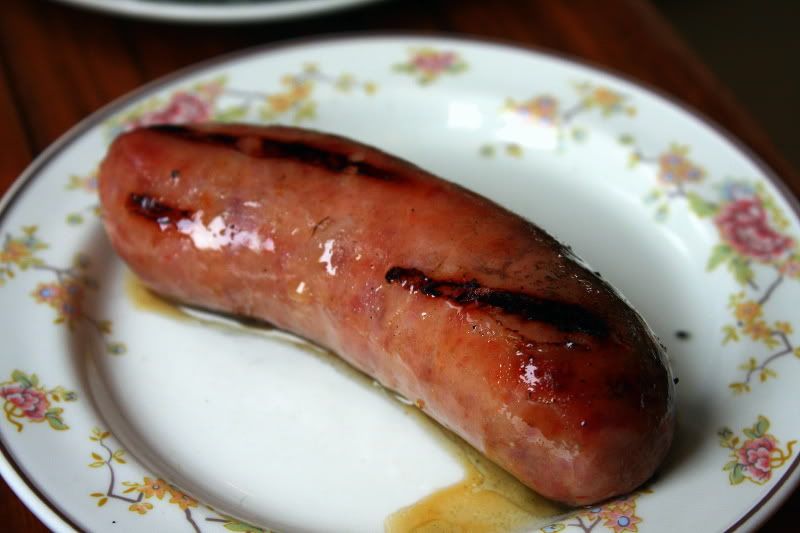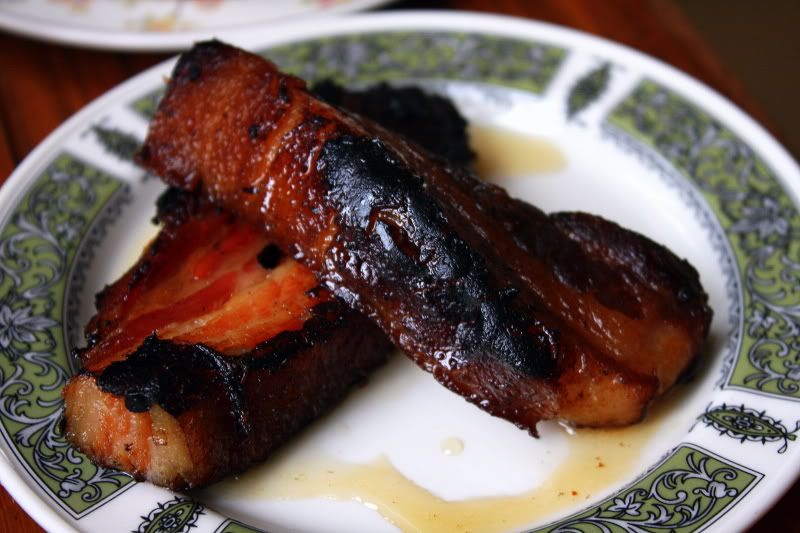 At one time, the bacon at Thomas Keller's ad hoc was the best I had ever had. I think the bacon at The Publican was even better.
We then headed out for some more touristy stuff - the very impressive Art Institute...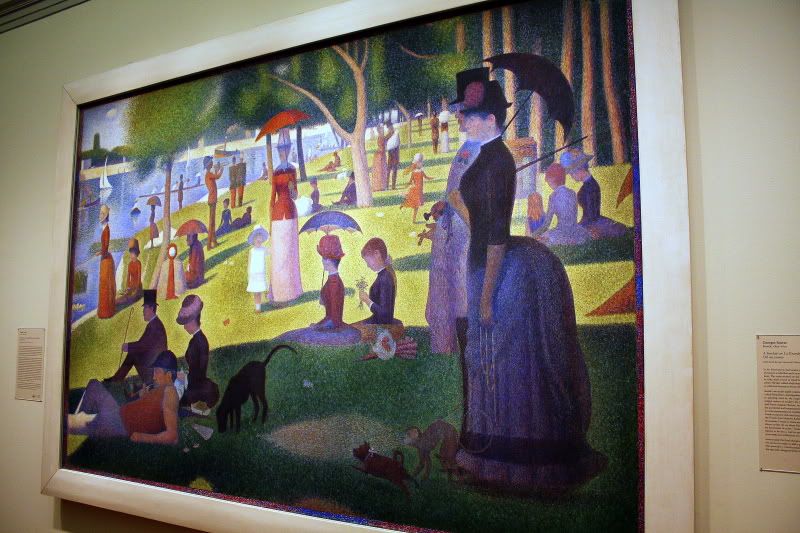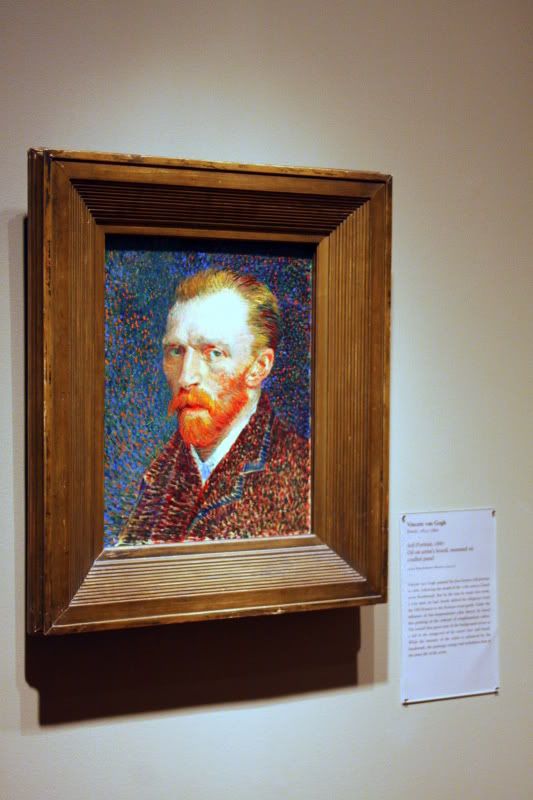 (Hi, Dan!)
... and Millennium Park, home of
"The Bean"
...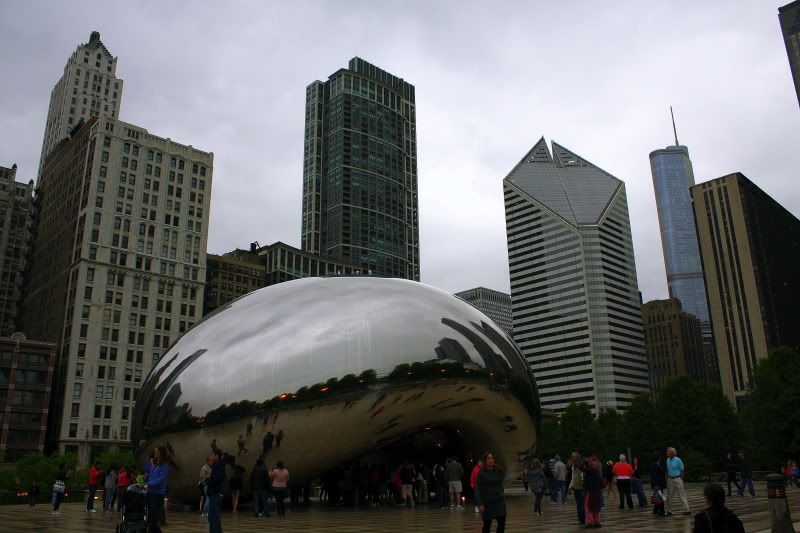 The skies opened shortly thereafter, and we were happy to duck into the Chicago Cultural Center across the street, which Diane recommended for its impressive stained glass domes...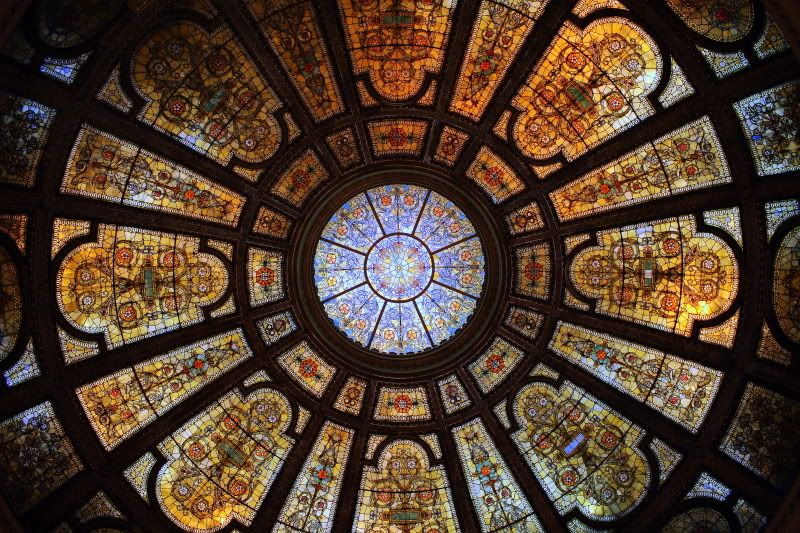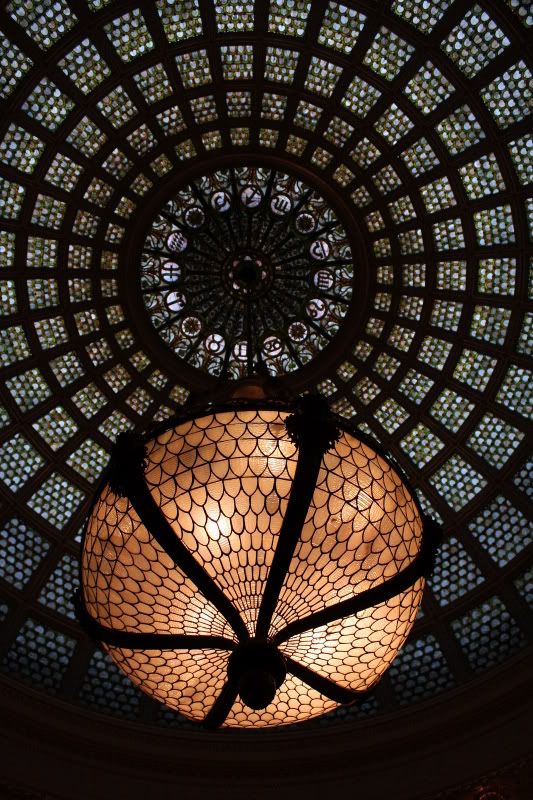 After that, we hit an outpost of
The Spice House
, which was featured in the fruitcake
episode
of Good Eats. (The Penzey family started The Spice House. Their daughter and son-in-law now own it, while their son went on to found Penzeys). I don't know how I've lived without white truffle salt before now. And yes, Martha, we got some tomato powder. Thanks.
After a little more Magnificent Mile shopping, we headed back to the hotel for a nap and to get ready for dinner. Jules managed to get us into
Girl & The Goat
, the restaurant run by
Top Chef

Season 4
winner Stephanie Izard, which was a James Beard Award
finalist
for Best New Restaurant. Stephanie was also recently named one of Food & Wine's
Best New Chefs for 2011
.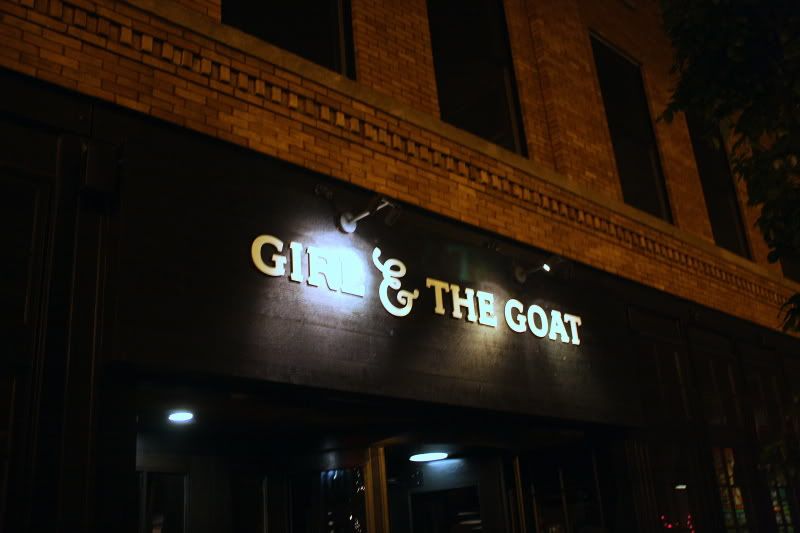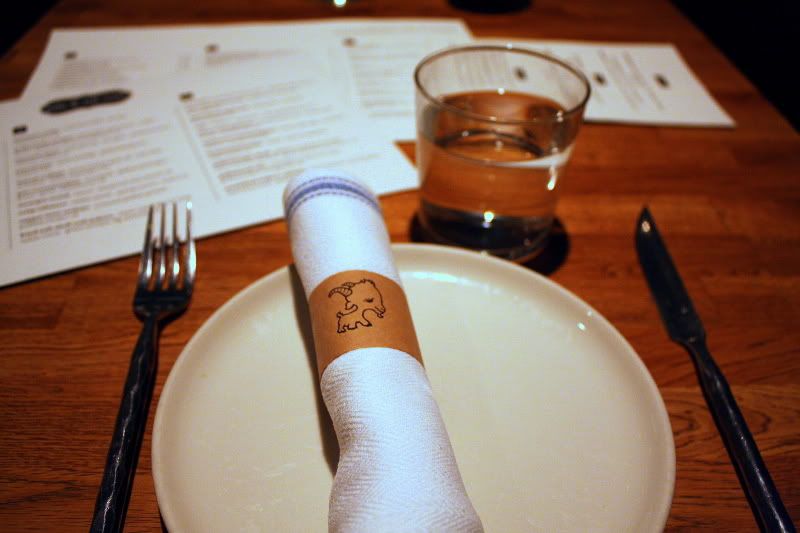 The menu at Girl & The Goat is mostly comprised of tapas-style small plates meant to be shared. Beyond that, it's difficult to classify, as it seems to sample a bit from a lot of cuisines.
We started with Goat Chorizo Flatbread (ramp pesto, rhubarb, fresh ricotta)...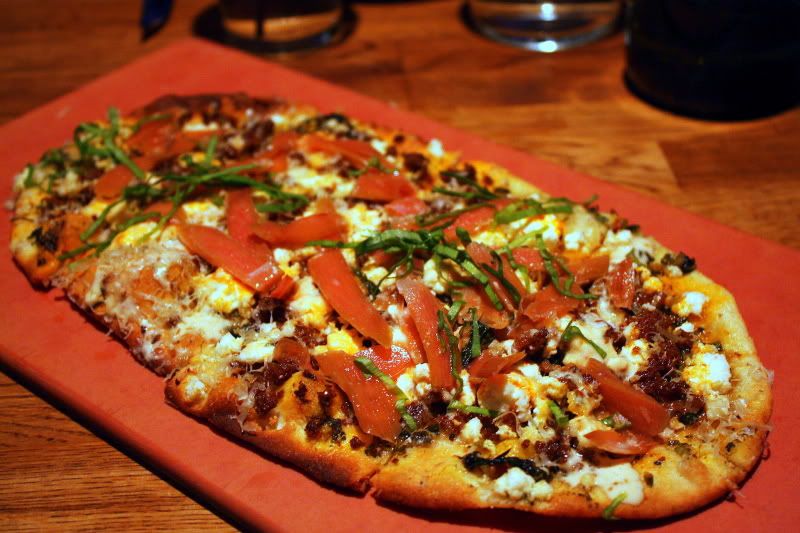 ... and moved on to Steamed Clams (rock shrimp, tarragon, pickled Fresnos, Chinese cruller).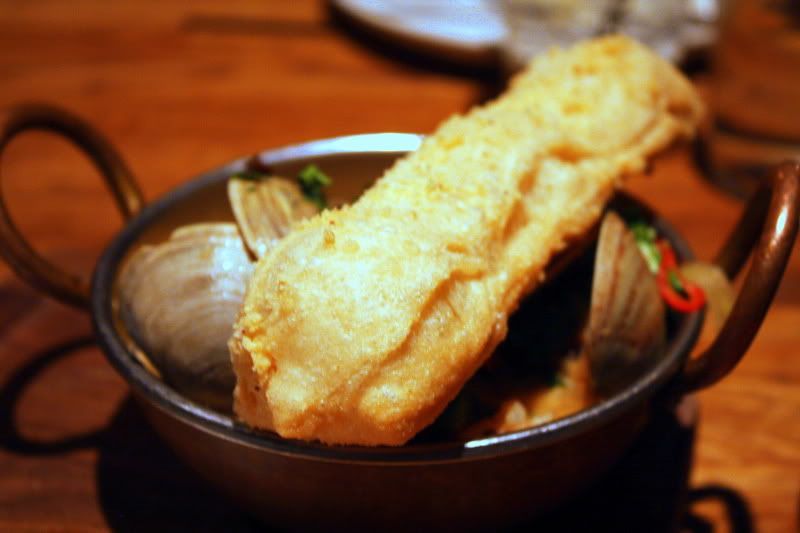 Smoked goat rilette empanadas (masala, ramp yogurt)...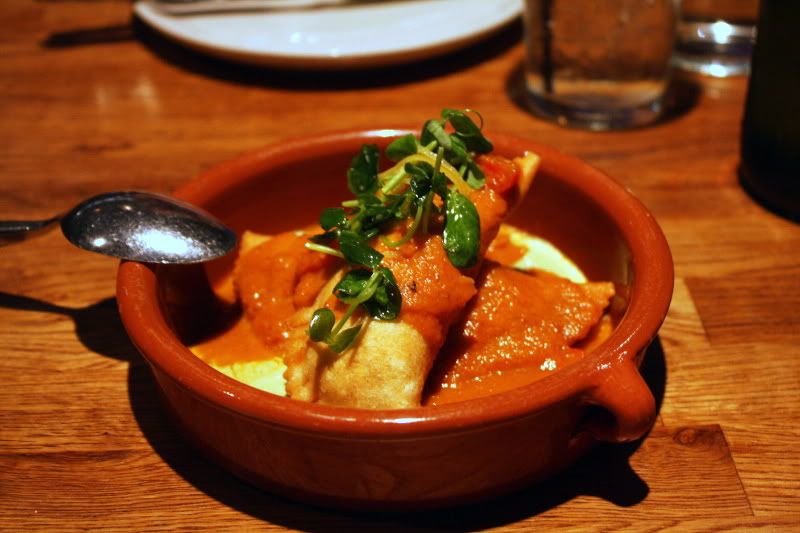 ... and a specialty of the house, the wonderful wood oven-roasted pig face (sunny-side egg, tamarind, cilantro, potato stix)...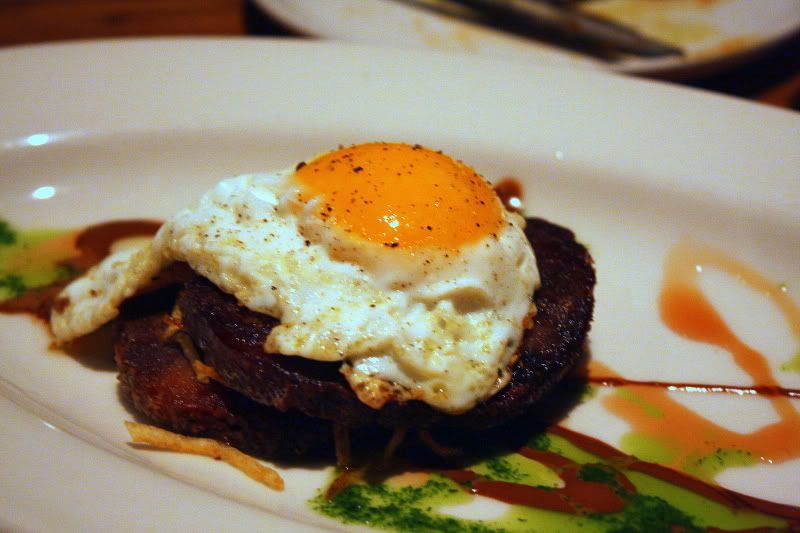 Dessert descriptions were slightly intimidating, but very good. Bittersweet chocolate with shiitake gelato and toffee creme fraiche...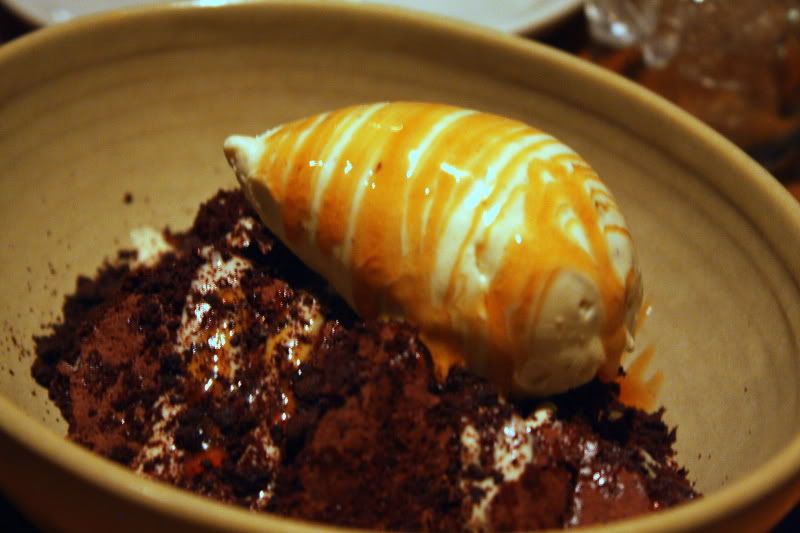 ... and sesame semifreddo with pork fat donuts and sambal pineapple...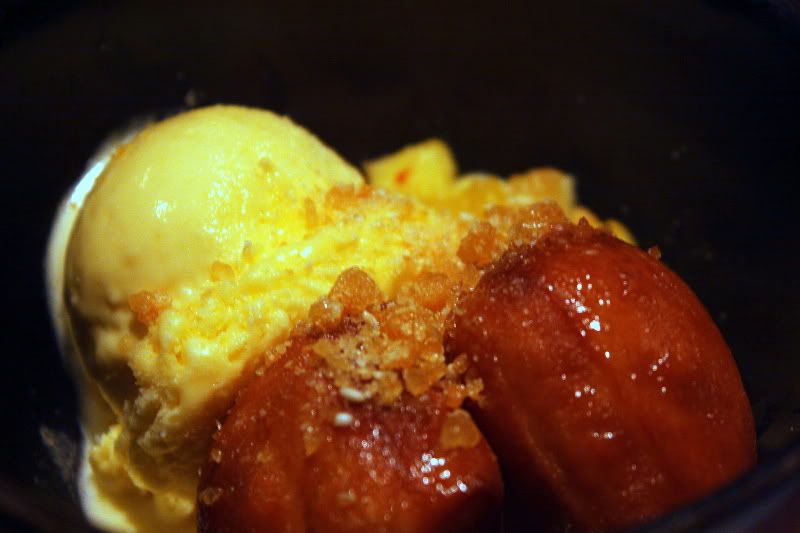 We noticed Stephanie milling about and asked our server if it would be possible to get her to sign our menu. Our server disappeared for a brief moment and then came back with two signed menus and said "Chef will be over in a minute." Cool.
Stephanie literally jumped into place next to our table and we spent probably ten minutes talking about the meal, her inspirations for the menu (basically the foods she likes to eat), our experiences in Chicago and in some other restaurants across the country, and her plans for a new breakfast/lunch place down the street (The Little Goat). And yes, she says "bunny" and all its derivatives... a lot. I think that that was touched on in the reunion episode of her season of
Top Chef
, but it's kind of funny to witness first-hand. She's really bubbly and sort of an "America's Sweetheart" type otherwise.
Maybe somewhat oddly, in the course of the conversation, I think the only mention of anything remotely
Top Chef
-related was that we had eaten at Bryan Voltaggio's restaurant. I suspect it's nice to be known for something outside the "reality TV" world, as her James Beard,
Food & Wine
, and other achievements support.
We intended to go to breakfast before our flight home on Monday, but we slept in instead. I think we earned it.