(Continued from

Part I

)...
As I mentioned in the first thread, Las Vegas has never really appealed to me. What does appeal to me, however, is a meal as memorable as our visit to
minibar by josé andrés
last year. So, when I read this item on a
Washington Post food blog
last December, I was intrigued:
Posted at 4:41 PM ET, 12/22/2010

Jose Andres: 'E' is not a Las Vegas Minibar

By Tom Sietsema



Only a few days ago, Jose Andres opened two restaurants within the glittery new Cosmopolitan of Las Vegas: Jaleo, a branch of his popular Washington tapas bar, and China Poblano, a hybrid Chinese-Mexican restaurant. Tonight, he officially unveils an unexpected third dining experience, an intimate restaurant-within-a-restaurant that simply goes by the nickname "e."

It's a single raised table that seats up to eight diners who will pay $150 -- "plus, plus, plus" per person, jokes the Spanish native -- for 15 to 20 small courses, starting this evening with "nitrogen sangria" garnished with grilled raspberries. What sounds a lot like his exclusive Minibar in Washington is instead going to focus on "pure product," he says.

The best caviar might top a perfect fried egg. Norwegian lobster will be simply grilled, moistened with its juices and (shades of Minibar) served with "air of roses," says Andres, who sees e as "great human resources," given the number of young chefs who want to work for him but can't all fit into the Washington operation.

The eatery, whose design incorporates old card catalogs to display ingredients, was not in the resort's original game plan. But after Andres noticed some free space in the 7,200-square-foot Jaleo, he says, "I couldn't help myself." A team of Andres's acolytes, some from Minibar, will execute his ideas at e.

What's up with the single-letter moniker? Andres says he didn't want to attach his full name to a project he couldn't be in full-time. The last letter of his name – his signature "e" with an accent -- was a compromise.

Reservation requests for e, which offers two seatings a night, Tuesday through Saturday, should be sent to reserve@ebyjoseandres.com. Big rollers, take note: Three thousand bucks gets you all eight seats for the night.
I read that about two hours after it was posted. I tried to find some other information about "é" on the internet, but there was literally
nothing
out there -- it was
that
new. Thinking our shot at reservations might be time-critical, I sent off a quick e-mail, mentioning the fact that we had enjoyed minibar and hoped to get to experience é. Knowing we'd be heading to California at some point in the middle of the coming year, I just picked a date, June 18th, mostly because it was the Saturday night closest to our birthdays. I knew nothing about their reservations policy because again, there was no information to be found. I just guessed é might be very popular. If we somehow managed to get reservations, we'd stop in Las Vegas and continue on to California to visit Jules' family.
I largely forgot about é during the holidays, but was reminded of it again when I came across some blogger accounts of early meals there. The early reviews were glowing, but as I hadn't heard back from them, I figured I didn't get in. One night in February, however, I was surprised by an e-mail from the GM at Jaleo: "Please allow me to express an apology for our late reply. Are you still interested in dining within é by José Andrés?"
Um... hell yeah!
I responded as such, and included a
picture
of our signed menu from minibar. A subsequent e-mail explained that they normally accept reservations only up to one month in advance, but they wanted to accommodate my request. I filled out and returned their reservation form and we were set. I guess e-mailing very early
did
pay off.
As the time drew closer, it was difficult not to read reviews of é, many of which said it was one of, if not
the
best, meals of their lives. As we'd come to find out from the staff, José hasn't sought out a huge amount of publicity for é. It's apparently something he wants to keep a little hush-hush, at least temporarily. Consequently, there aren't a lot of articles online, other than recaps by some bloggers who've dined there. (An exception to that was one
profile piece
written by someone familiar.)
Our anticipation was heightened in May when José won the
2011 James Beard Outstanding Chef Award
and then again a month later, when we got these in the mail...
Yes, golden tickets.
----------
After arriving at Jaleo, ...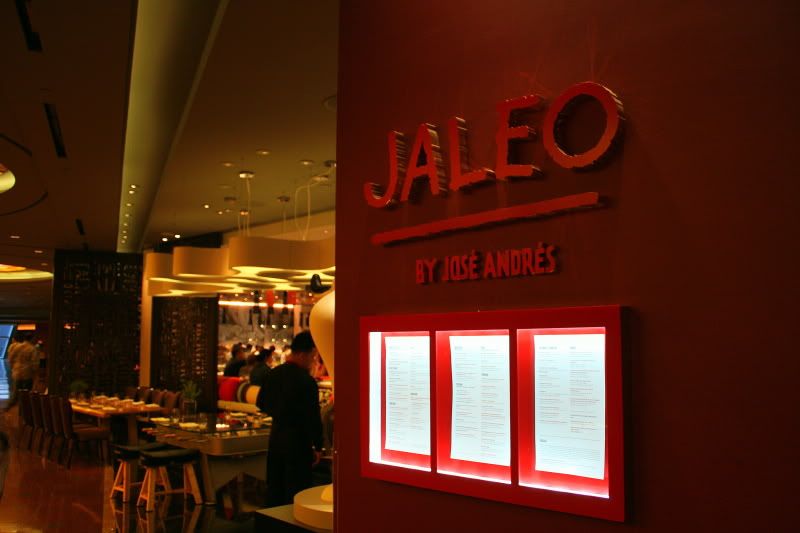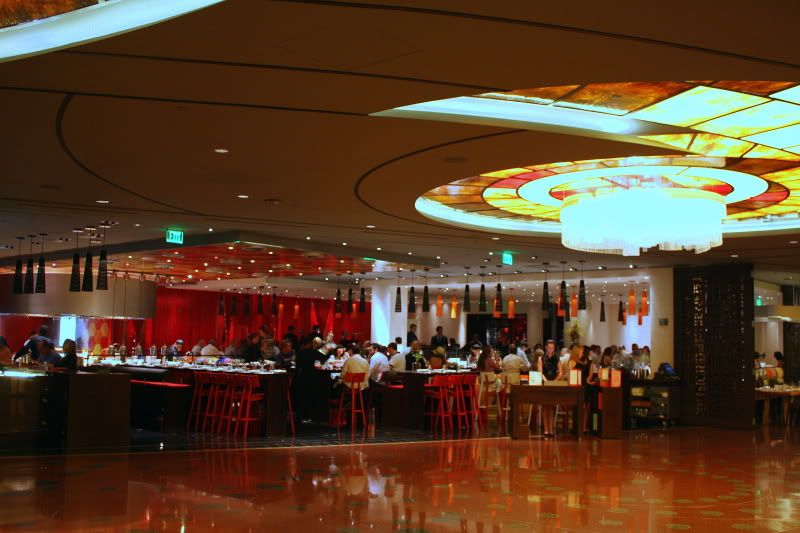 ... we gave the hostess our name and were almost immediately swarmed by our hosts at é, Anthony and Stephanie (pictured in the Robin Leach article above). Stephanie explained that she had been the person with whom I had corresponded about the reservation and that she was excited to finally meet us. As it turns out, I had e-mailed so early that they had not even established a reservations policy at that point (thus the initial delay and the wanting to accommodate the request in spite of the policy). She said that the staff was excited about serving some people who had eaten at minibar and that she went around earlier in the night reminding them that we were coming in!
We totally felt like VIPs at that point. She asked about some of the places we were eating on the trip and other places we had been, which I think made them treat us even more like VIPs. We had spent probably 10-15 minutes talking to her when some of the other guests in our seating started filtering in.
When we were all assembled, Anthony led us past the paella pit and into a private room behind the Jaleo bar. Unfortunately, I didn't get a picture of é as a whole, so this one is borrowed from the Cosmopolitan website:
We got one of the center sets of seats, so we'd have a good view of the meal (and show) to come.
é's décor is immediately striking and somewhat ... puzzling? ... weird? ... disconcerting? ... kitschy? ... over-the-top? Probably all of those things and more. I'd read (and later asked Anthony to confirm) that the room is decorated to represent what's going on inside José's mind. He believes very strongly in food memories, and many of é's dishes are inspired by recollections of his early life in Spain. As such, the walls of é are lined with card catalogs to represent how these memories are "filed away."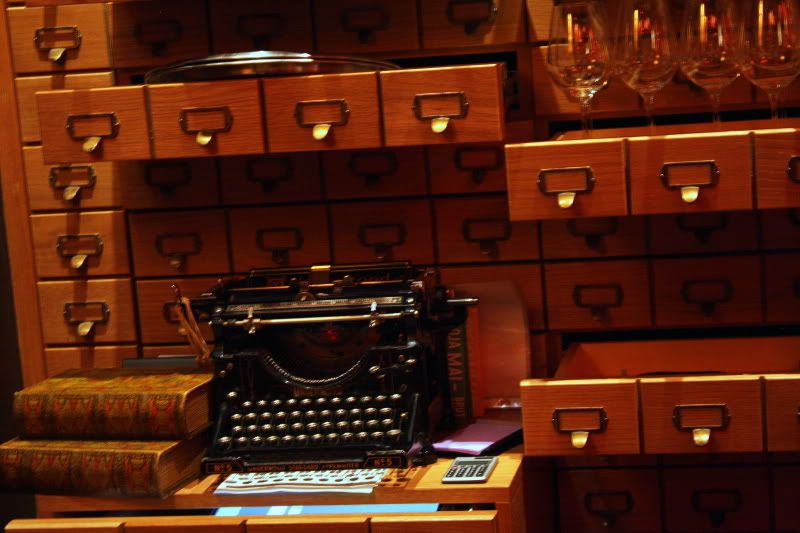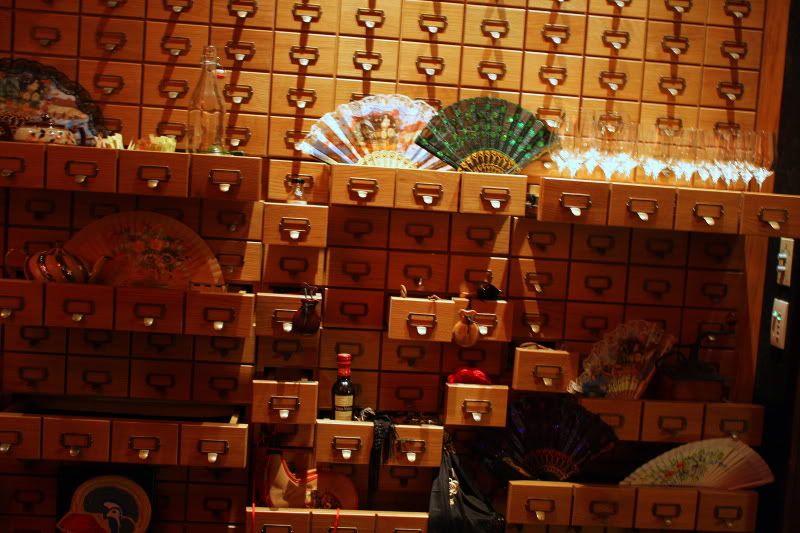 Some of the drawers contain serviceware used in the course of the meal, some contain items that José has collected in his travels, and some have more personal items like several small toys from his kids. If the other décor represents José's mind, José's mind is pretty bunny up.
There's the doll behind bars...
... the corset lamp...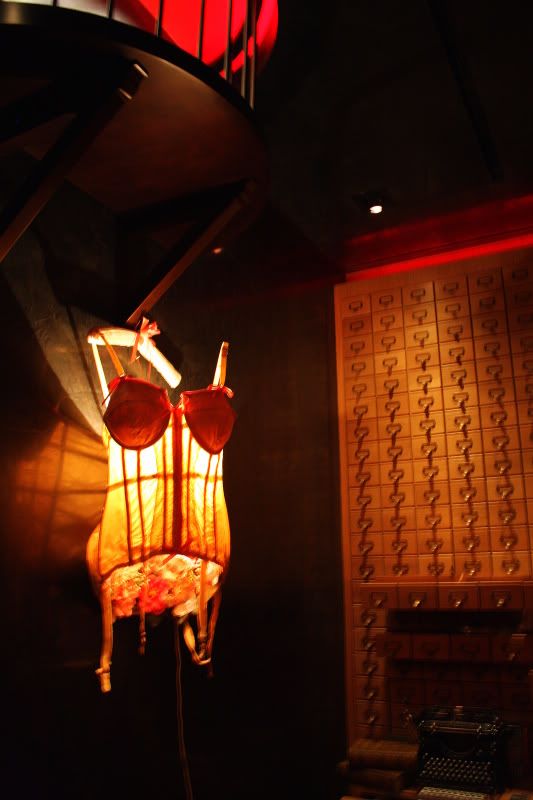 ... and the ladder to nowhere...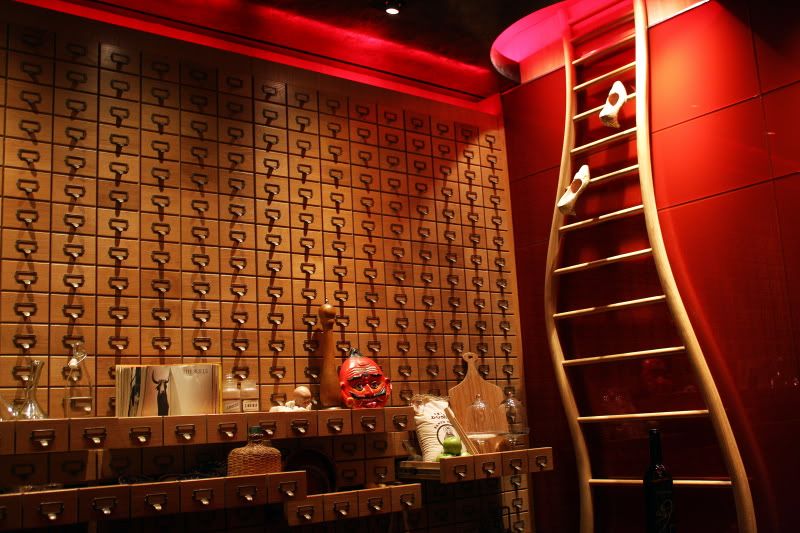 After taking all of that in, you're ready for a drink (or six), and luckily, the chefs are already at work on that...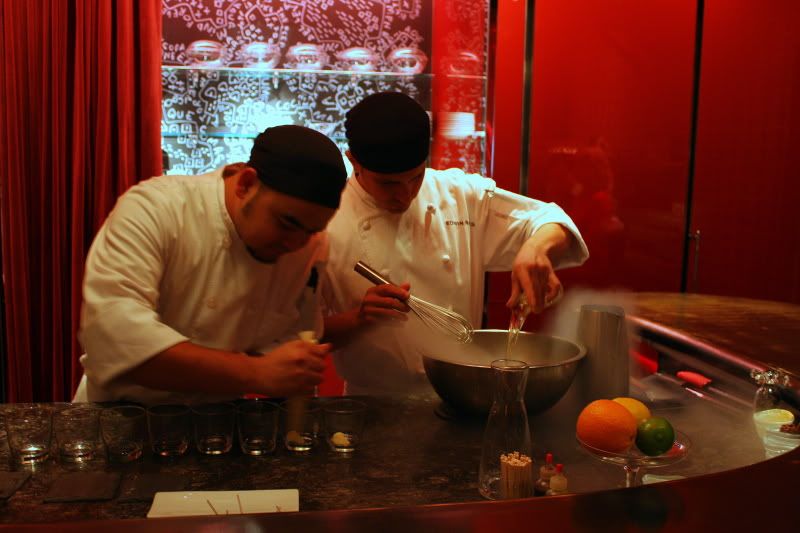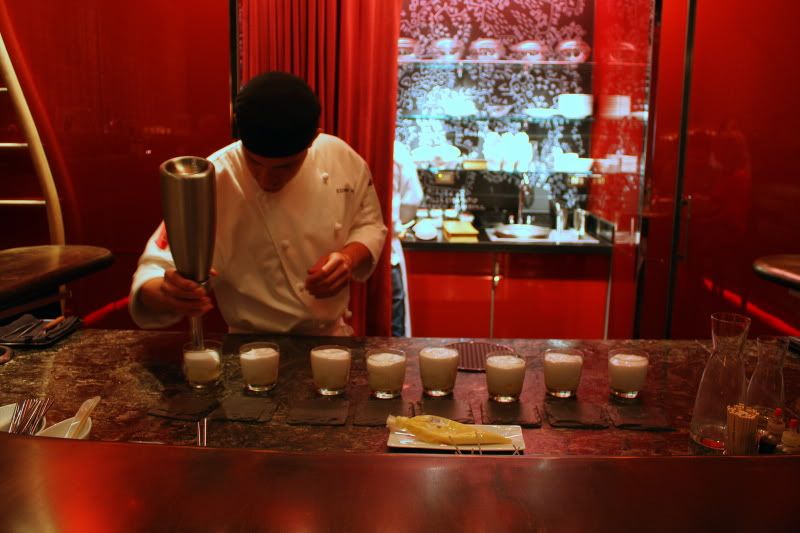 That's Edwin, a minibar alum chosen by José to be the lead chef at é. Edwin was a great entertainer who could easily work and maintain a conversation at the same time. You're encouraged to ask questions and engage the chefs, and as I learned at minibar, that really enriches the experience. That was one element of é that really stood out for me - the setup there lends itself much more easily to interacting with the chefs than it does at minibar, where a glass case partially separates the diners from the chefs.
Our tablemates for the night didn't seem to have much to say, so I took full advantage of the situation and talked with Edwin and Anthony (who also serves as é's sommelier) for much of the night. We talked about José's philosophy, background, and other restaurants, how é came about, menu development, specific techniques, and their own backgrounds. That added a ton to the experience and I'm not sure I would have been as forward or conversant without having experienced minibar first.
The first course of the night was a gin and tonic. The gin was in the form of sorbet, which sat on a bit of lemon puree. It was then topped with tonic foam. It all came together to taste like a true gin and tonic and was a great palate cleanser to start the night.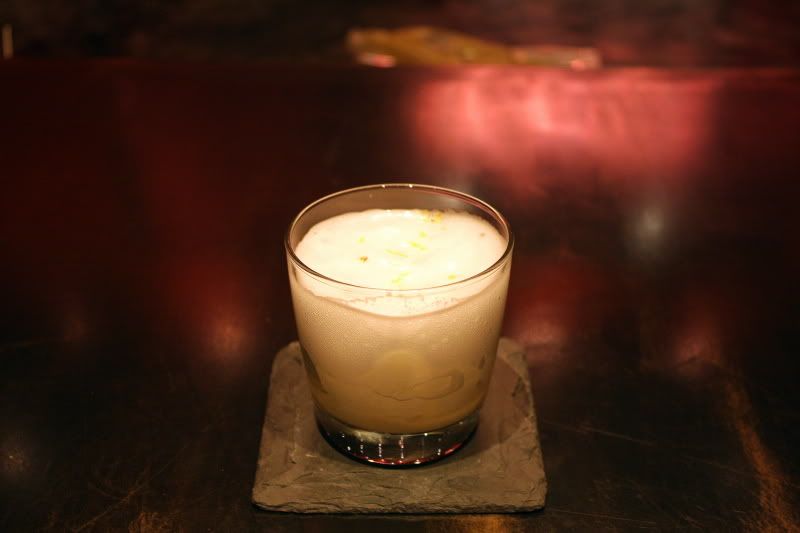 After that began a small flurry of "snacks," which were accompanied by cava presented in a Spanish
porron
...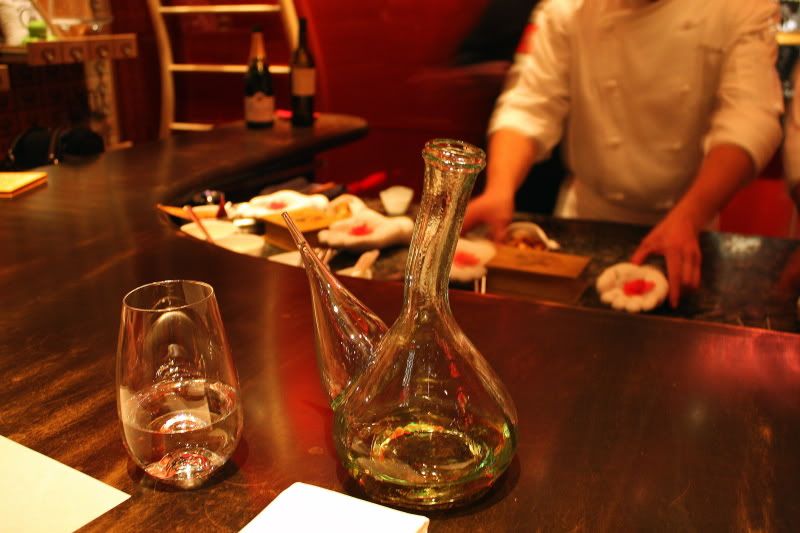 Yes, we were encouraged to drink from the porron (watch Bourdain try one out
here
). Only one of the other couples partook of the beverage pairing, so we had a ready audience waiting for us to embarrass ourselves while trying to get the knack of it. Fortunately, I found it much easier than I expected and was fairly comfortable with it in a short time (though it's much easier to start and maintain than to stop gracefully).
The first true "snack" was presented in a ceramic casting of José's own hand -- his way of being "present" though he can't be there in person. Spanish "Clavel" was a raspberry-flavored, crisp wafer of sugar shaped to resemble a carnation, the national flower of Spain...
Next was "Beet Jewelry," shaped into a ring and tasting like a beet-flavored chip (made using the same technique as the beet "tumbleweed" we had at minibar)...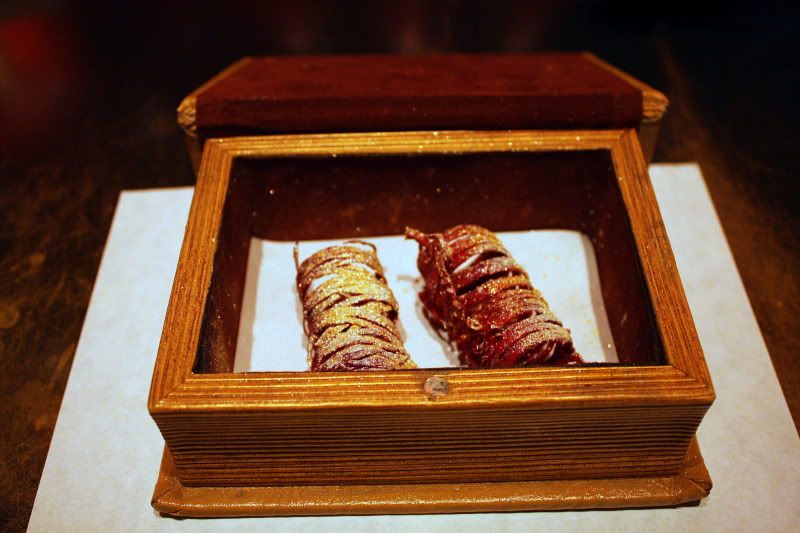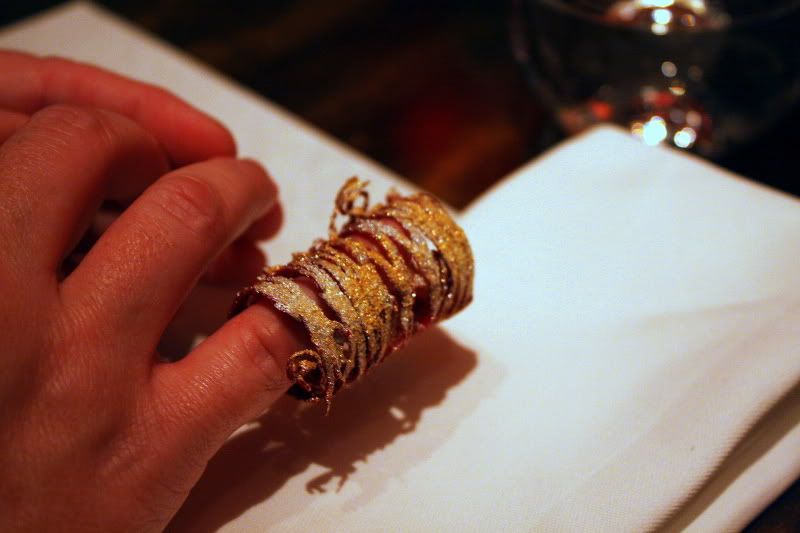 Served along with that were Caramelized Pork Rinds. Much more tender than you might expect, with a nice sweetness...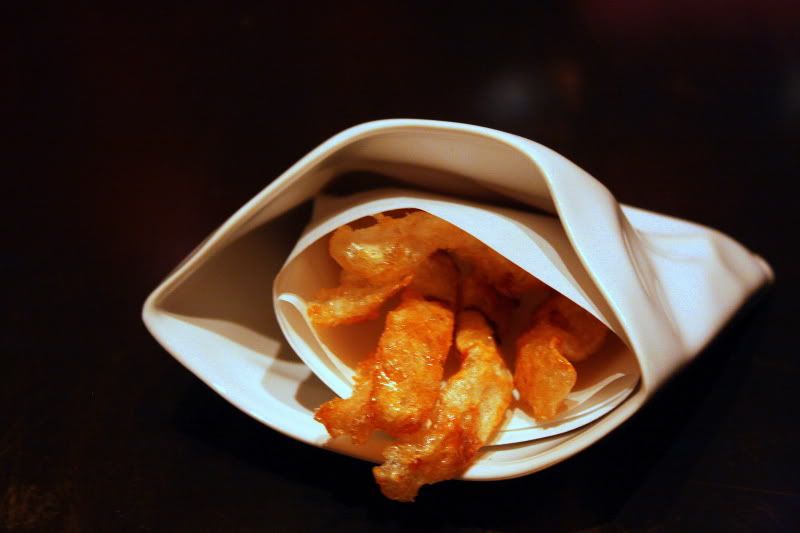 Following that was Apple "Brazo de Gitano" (Gypsy's Arm), an ethereal green apple meringue filled with a light bleu cheese foam, and topped with a line of walnut paste...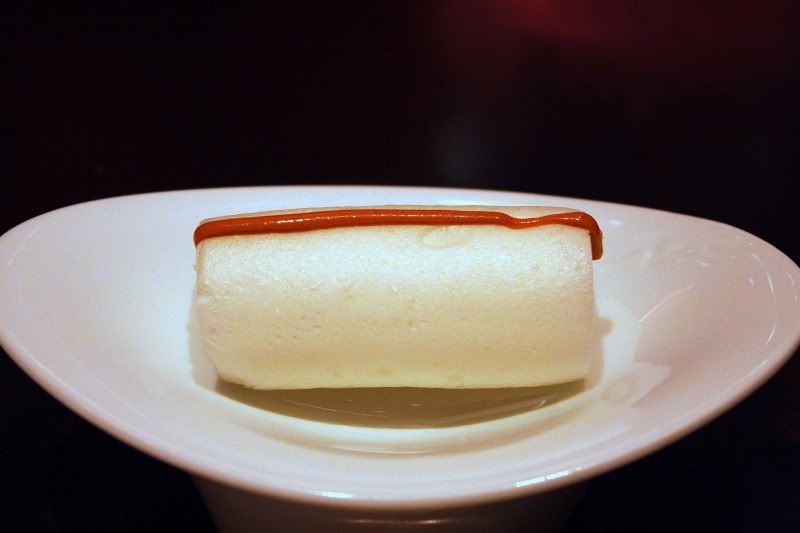 Up next was one of my favorite dishes of the night, Crispy Chicken Skin in Escabeche, a chicken "oyster" on top of a chicken skin cracker, topped with thyme foam...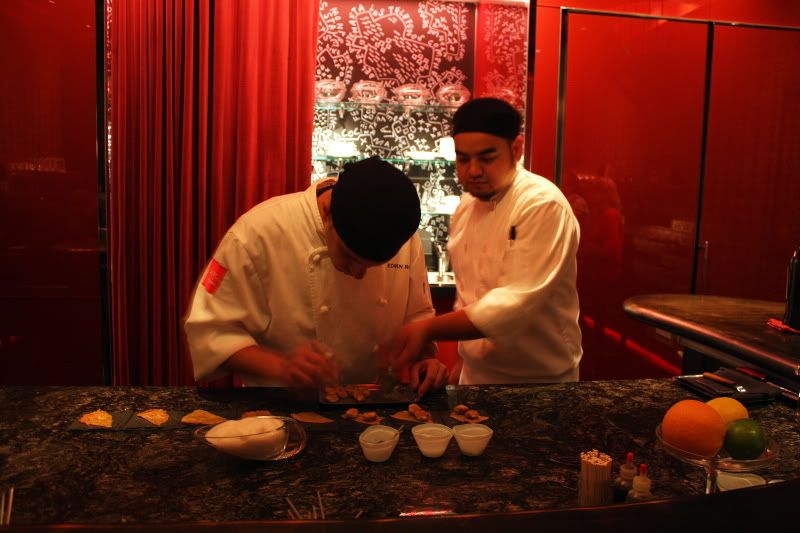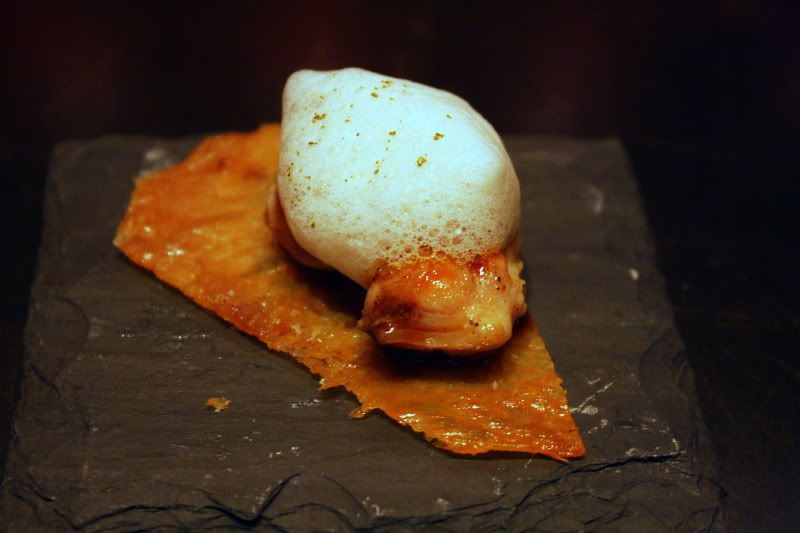 Any disappointment about not having three or four more of those disappeared when we were presented with the next course...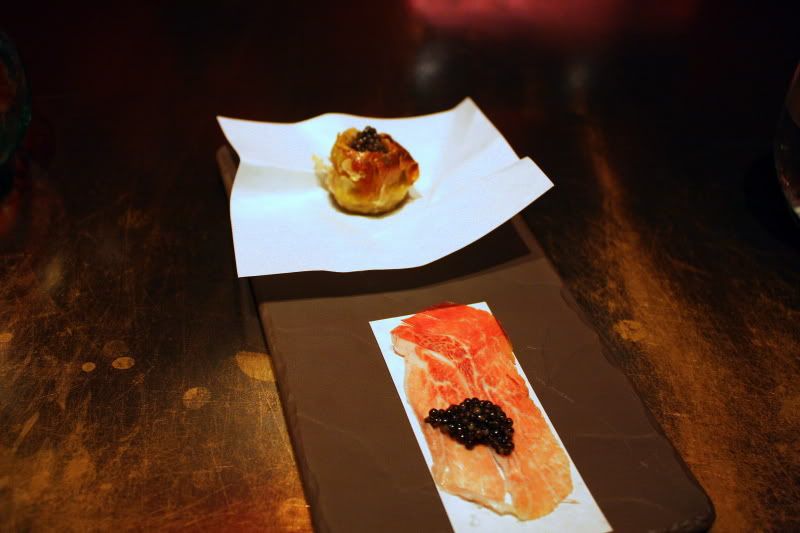 ... a José Taco (Ibérico ham to roll up around a spoonful of caviar)...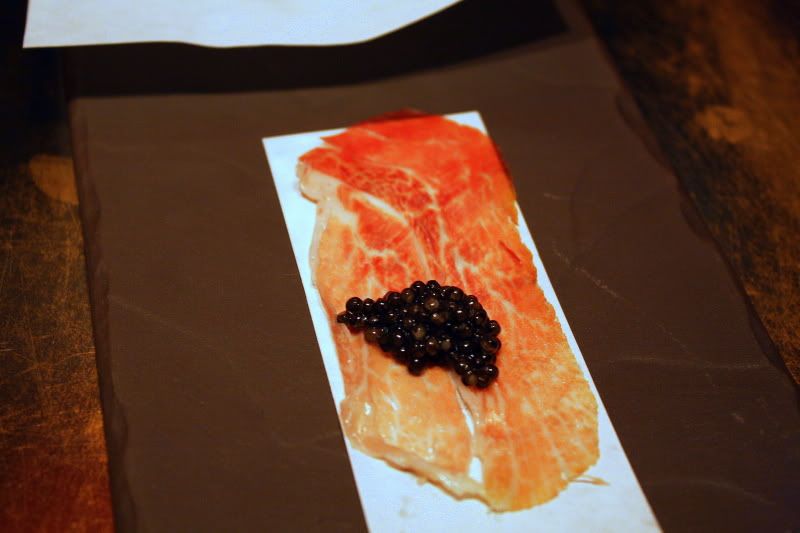 ... and an Artichoke w/ Caviar (the baby artichoke is fried and filled with a poached quail egg)...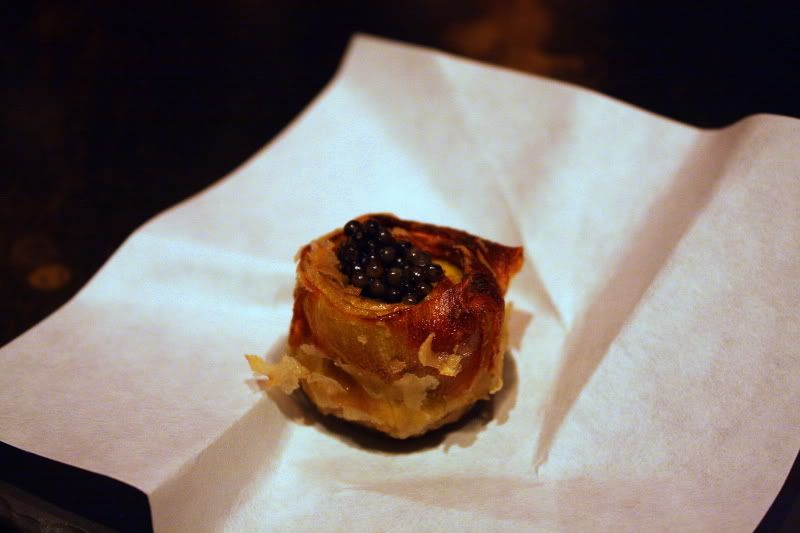 Next was José's take on "Bocata de Calamares," a sandwich he remembers from the beaches in Spain. This one replaced the calamari with uni (yum!)...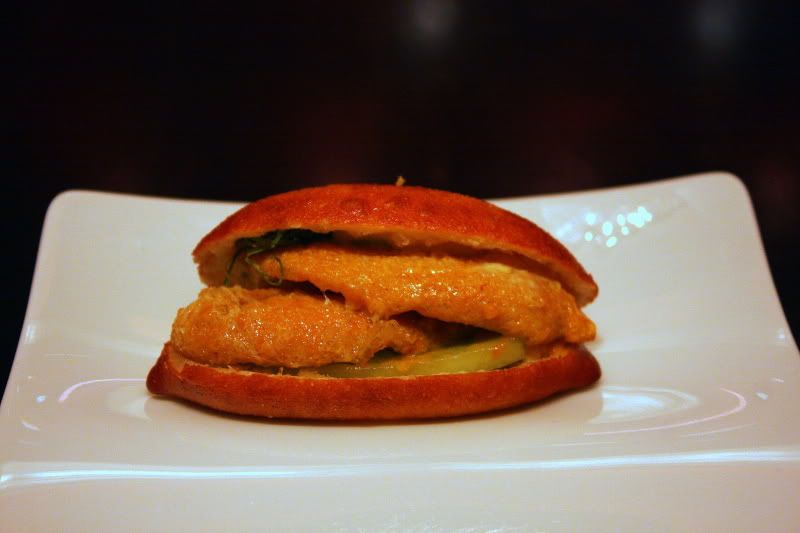 To help cleanse the palate after the richness of the uni, we were given Watermelon "Sandria," a cube of compressed watermelon infused with the flavor of sangria...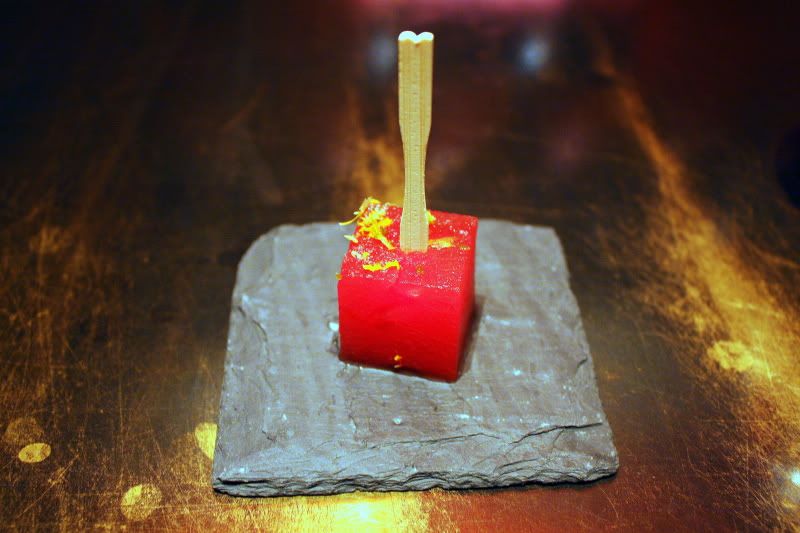 (I told Edwin how I tried to make compressed watermelon at home, an he was a little surprised to learn that you can't really do it with a clamp-style vacuum sealer. You really need a chamber vacuum sealer.)
The next dish was another take on a Spanish classic, Ajo Blanco. This version was deconstructed, and it was suggested we taste each component individually before mixing them up and eating as one. The bowl was presented with raw and toasted Marcona almonds, grapes, PX gelée, manzanilla sherry granita, and microgreens, to which Marcona almond milk was added...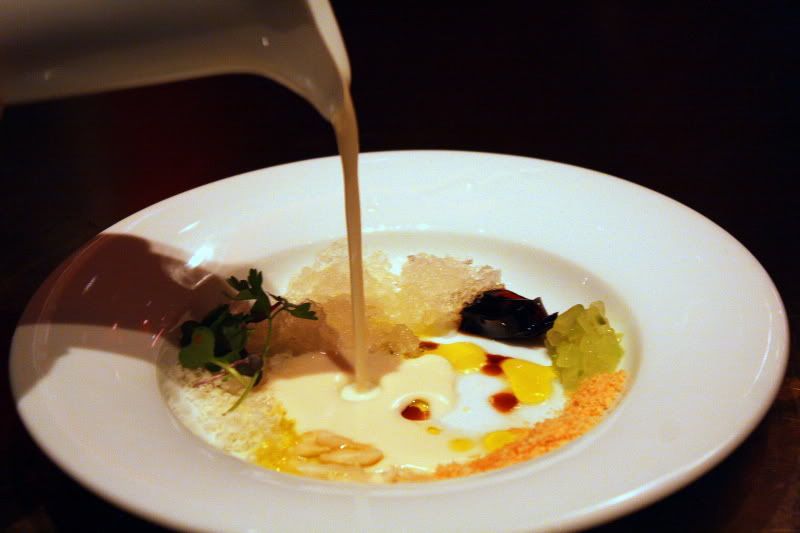 The next course was Maine lobster with Citrus and Jasmine. I honestly don't remember all that much about this course. There was nothing wrong with it; it just didn't stand out for me...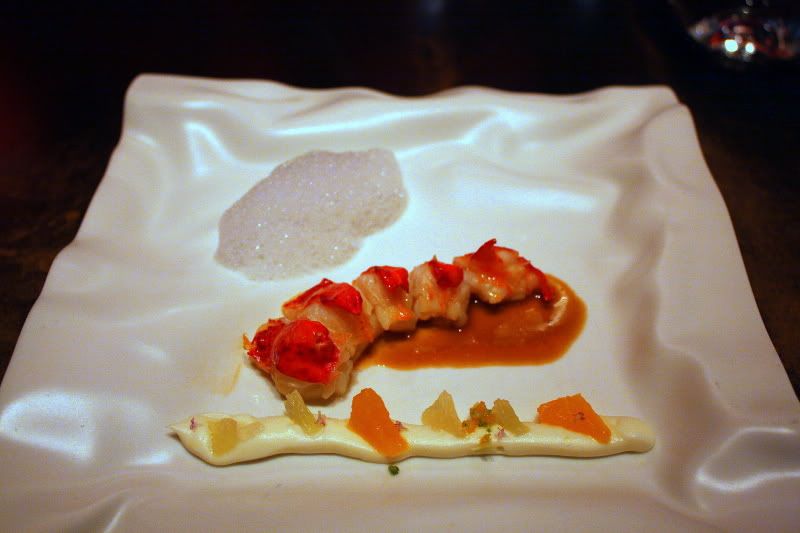 Maybe it didn't stand out because the next dish was another one of my favorites (and a great example of molecular gastronomy at its best), Chickpea Stew with Ibérico Ham. The broth had the rich, salty flavor of the ham and the "chickpeas" were actually spherified chickpea puree that exploded with flavor. Just awesome...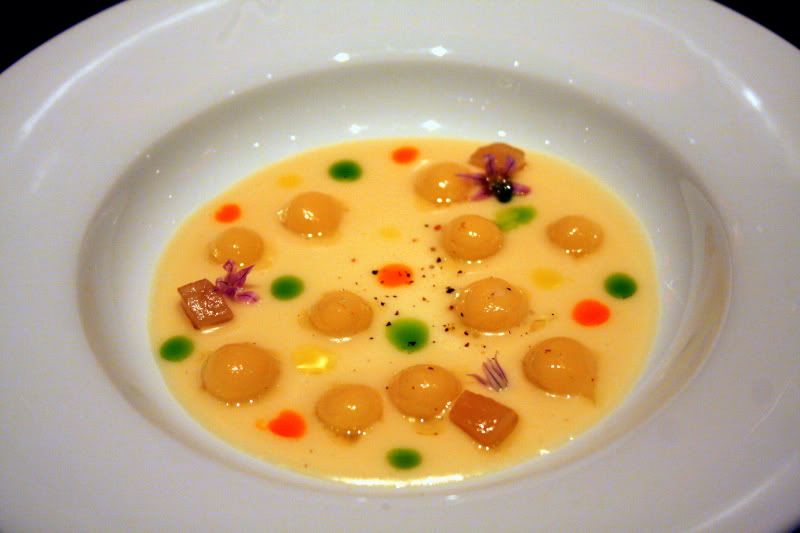 The next dish was the Catch of the Day, turbot with black garlic and citrus "pearls," also reminiscent of a dish we had at minibar...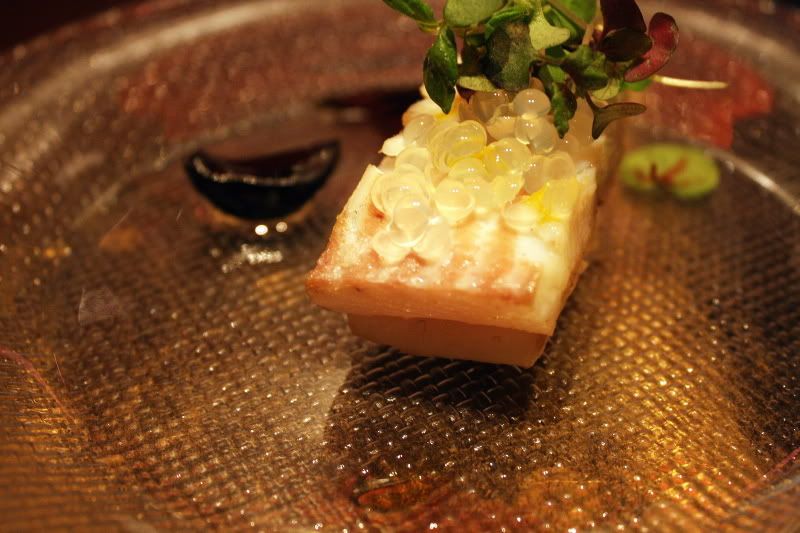 After that was one of my favorite dishes from any restaurant, Rosemary Wild Mushrooms in Papillote. Two plump morel mushrooms in a salty, creamy rosemary broth. The package is cut open and the aroma released is just incredible. It's then topped with a bit of rosemary foam. Seriously one of the best things I've ever eaten...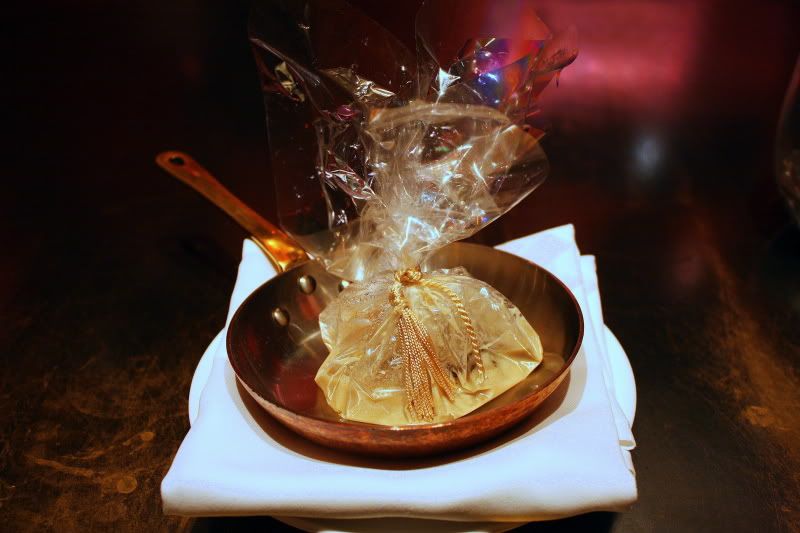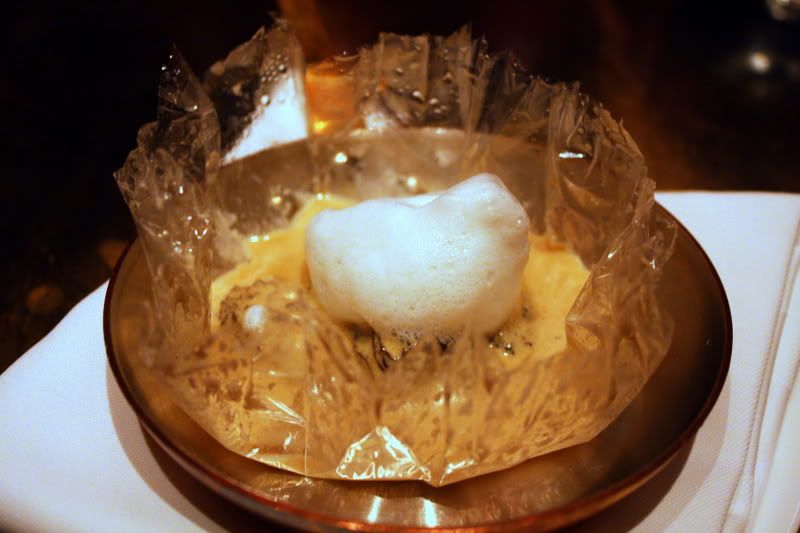 The last savory course was Secreto of Ibérico Pork. "Secreto" refers to the fact that this particular cut (from behind the shoulder blade) was once so valued by butchers that they kept it a secret all to themselves. Fatty, salty, porky goodness...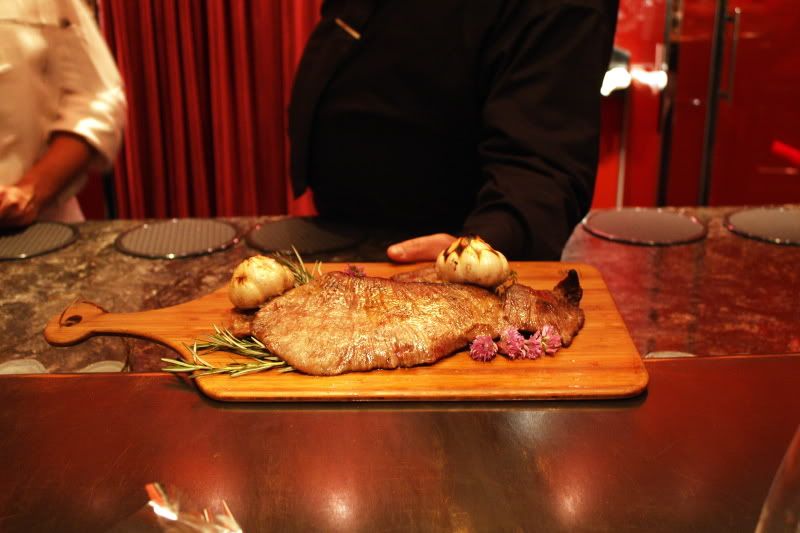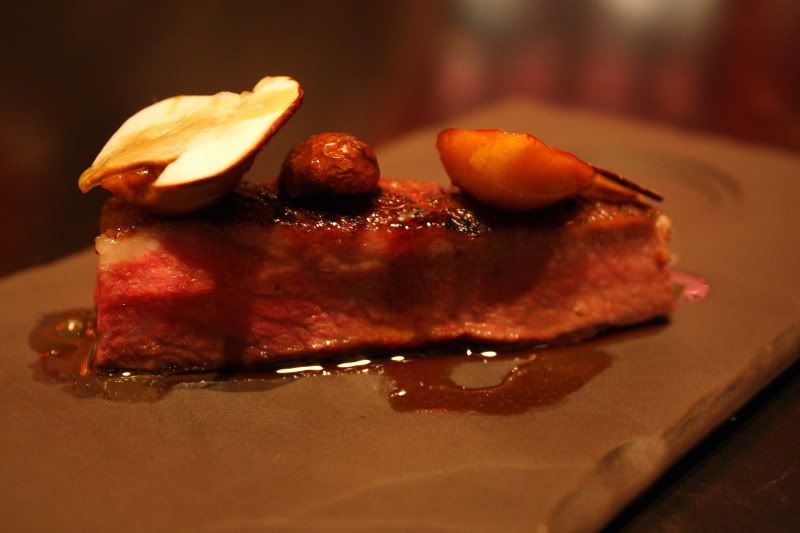 The night's cheese course was Orange Pith Purée with La Serena. The cheese is interesting in that it looks to be a wheel, but the "top" is cut off and the soft, creamy cheese is scooped out. It's also fairly strong, which played well with the bitterness and sweetness of the orange pith puree...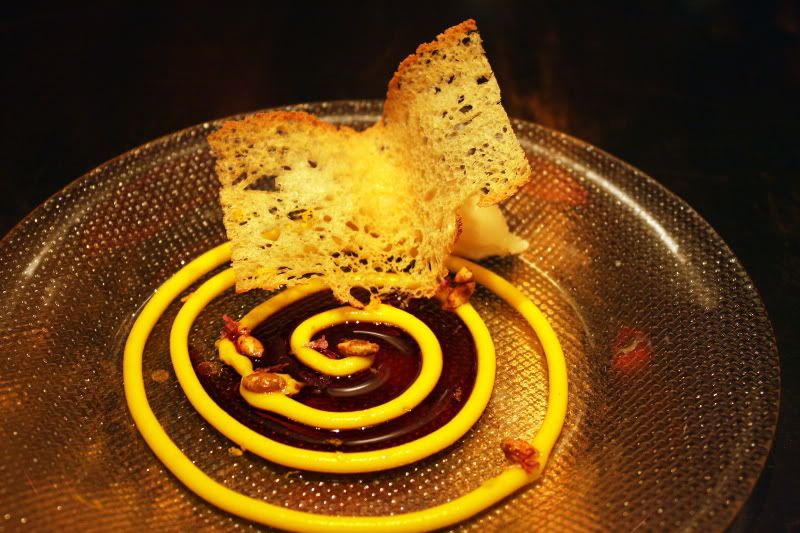 Our first "true" dessert was Apples and Red Wine "Fredy Giradét," after the famous Swiss chef. Giradét was one of José's early culinary idols, but later ironically became a vocal critic of molecular gastronomy. This dish either pays homage to him or is perhaps a shot
at
him (probably a little of both). Some of the spheres are red-wine poached apples and some are spherified red wine (again, incredible bursts of flavor)...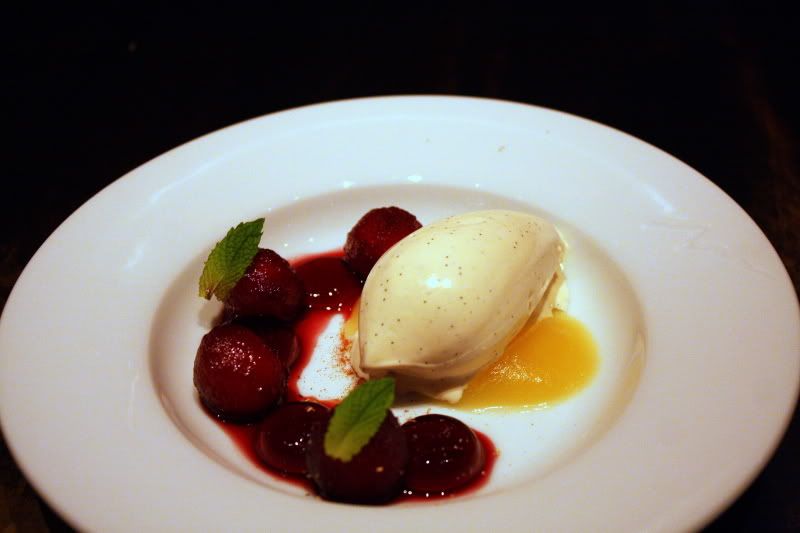 The next dessert was Frozen Apricot Coulant, a cross between crème brûlée and a "molten" cake. The top was torched, and it oozed apricot when cracked into...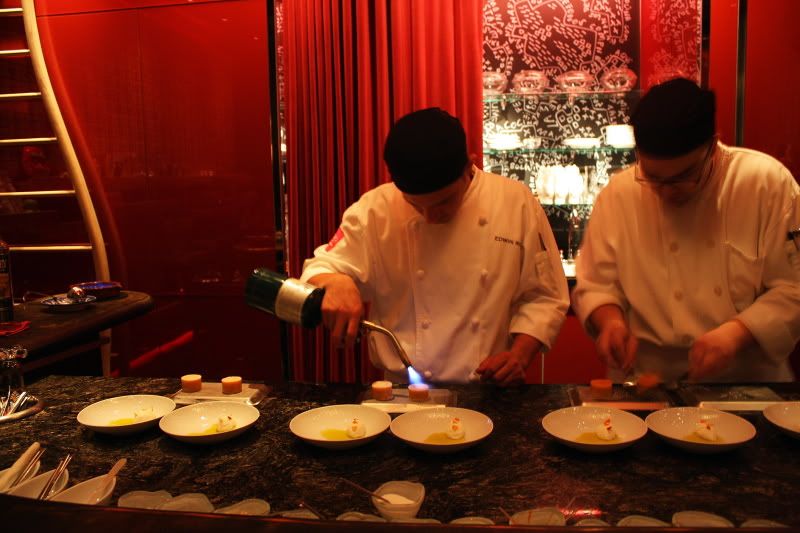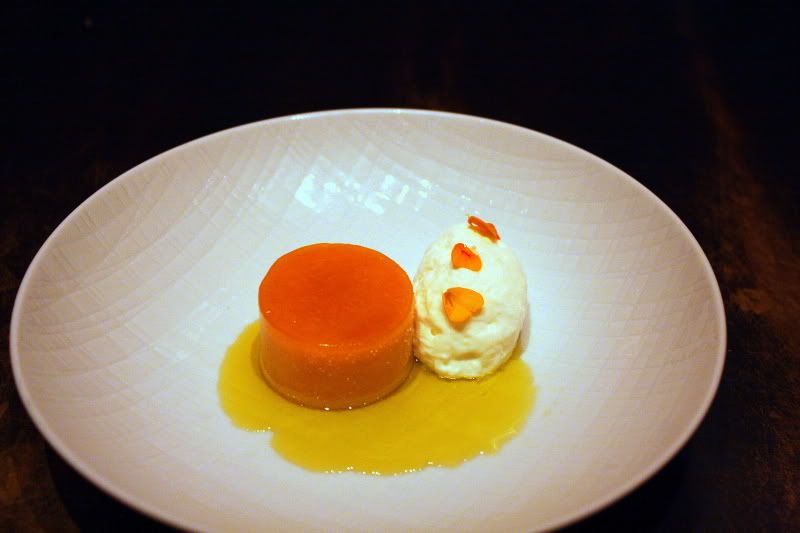 The wines we'd been having throughout gave way to a warmed rum and a short volley of post-dessert "snacks"/mignardises that mirrored the start of the meal...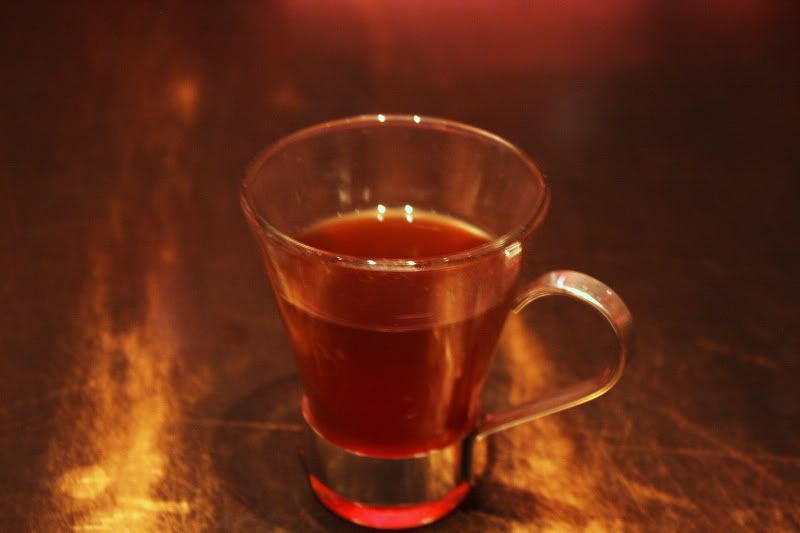 25 Second Bizcocho, a very light and airy cake named after the amount of time that it takes to cook... in the
microwave
...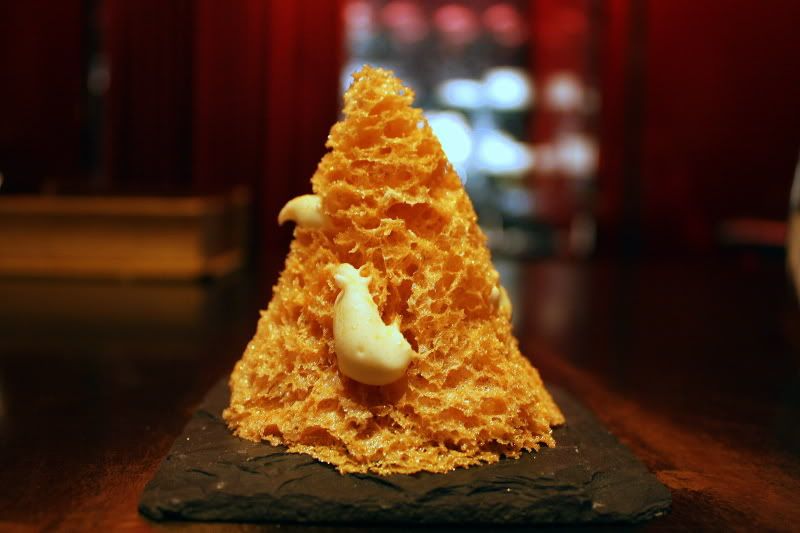 Fizzy Paper. It's as the name suggests. Sort of a citrusy Pop Rocks in paper form. It ends up tasting like Sprite or 7-Up...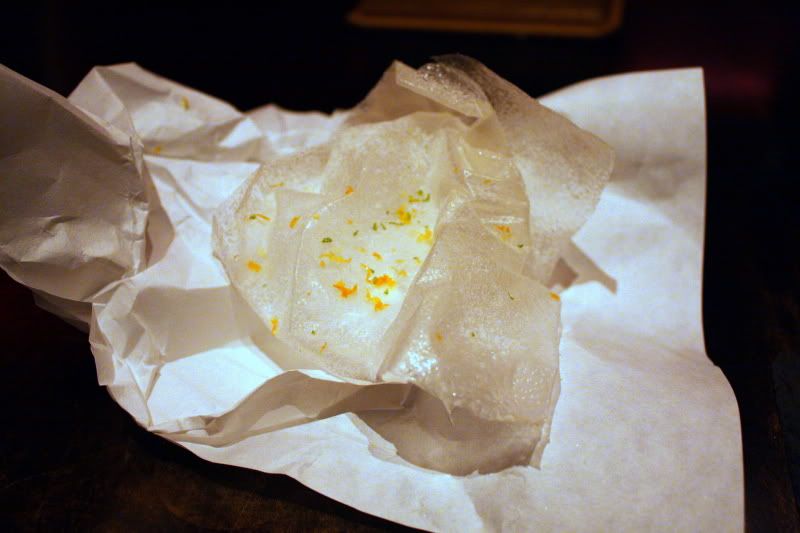 ... and a final jewel box of chocolates -- Chocolate "Air," a light and craggy mound of chocolate, and saffron chocolate bars...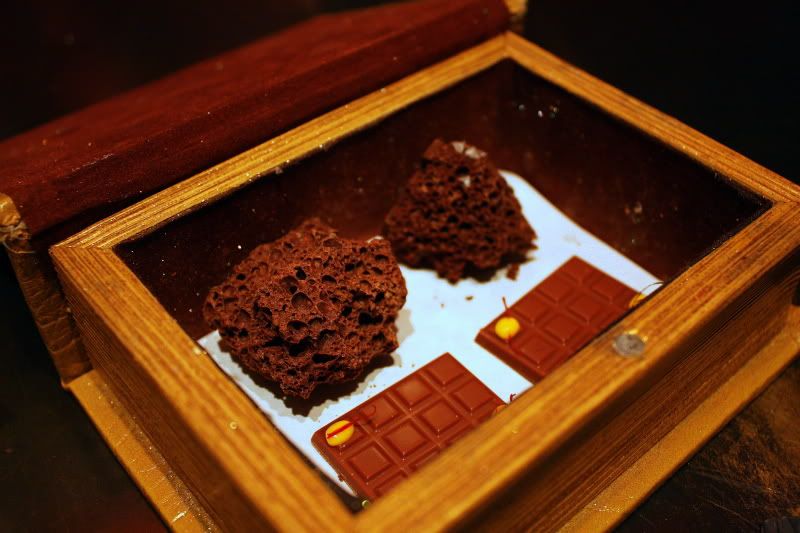 To round out the evening, we were brought glasses of Jaleo's gin and tonic, which is quickly becoming rather famous. They come served over a solid sphere of ice that's (at least temporarily) affixed to the bottom of the glass...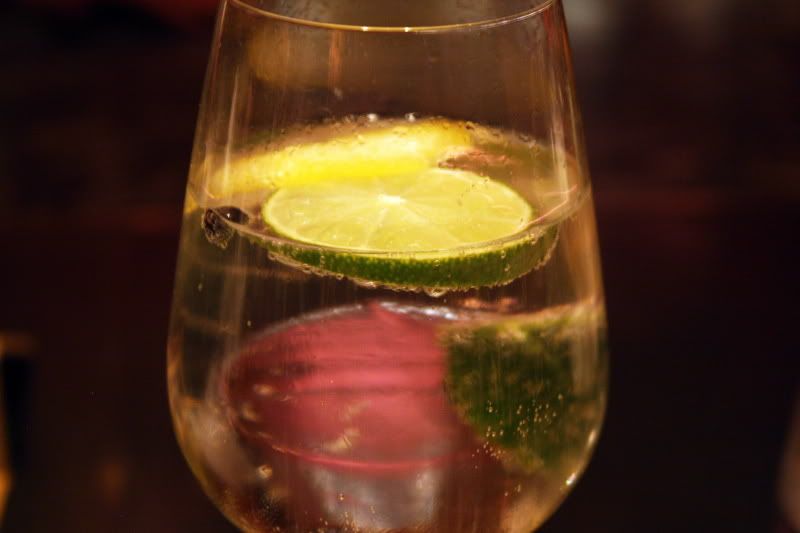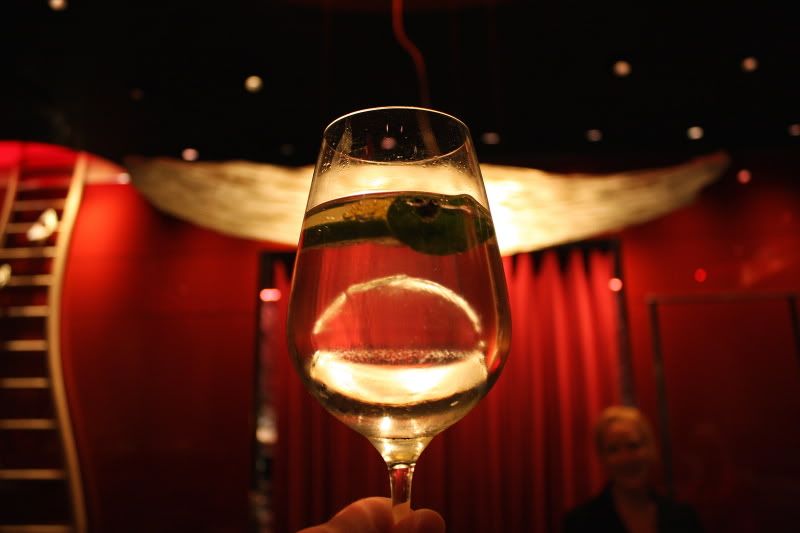 At the end of the evening, a small notebook is passed around and diners are encouraged to write their impressions of their meal. Each guest is given a number which references the number of guests é has served. We were numbers 1059 and 1060...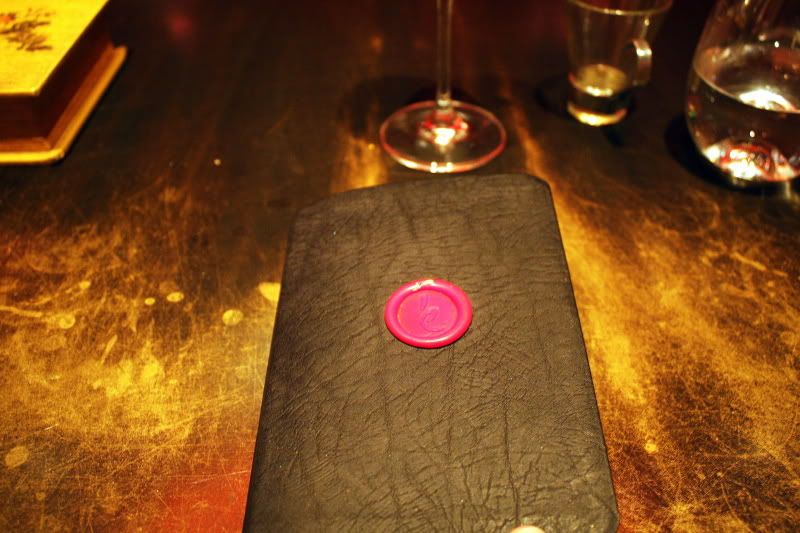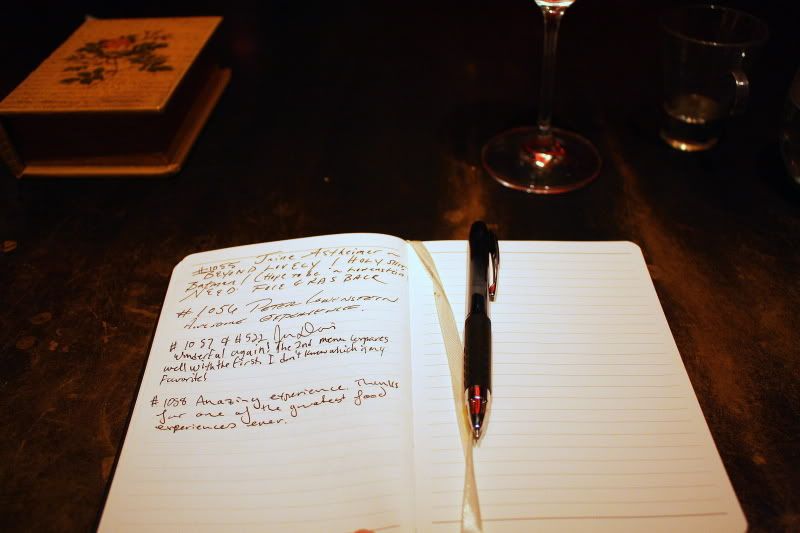 And that typewriter over in the corner? They put that to use... for your bill, which soon arrives with a wax-sealed copy of the menu...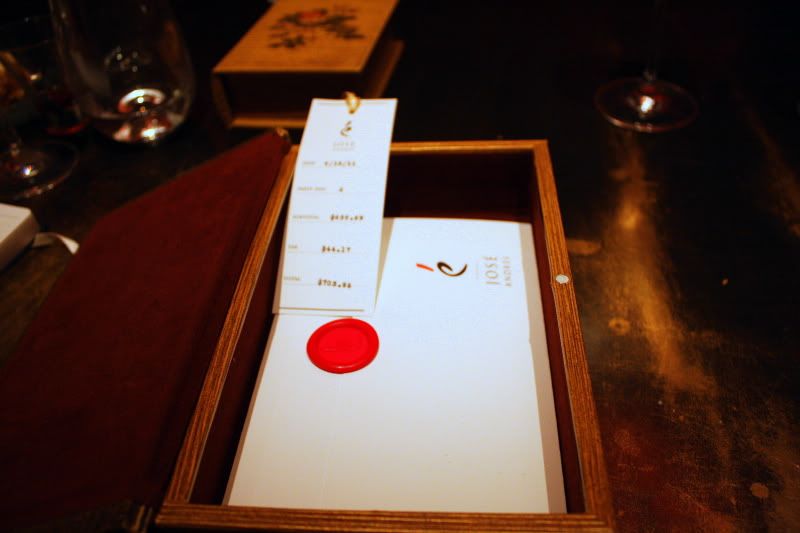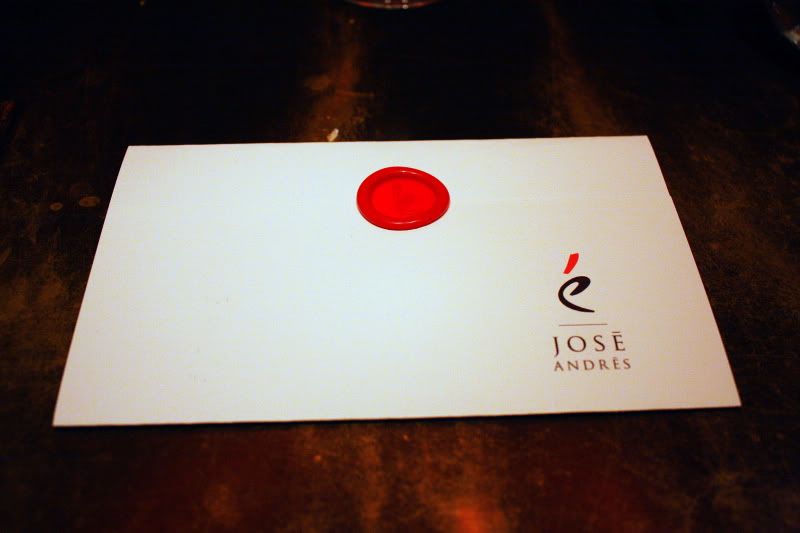 After the meal, we lingered for a long while, talking to Anthony, Stephanie, and Edwin about our evening, how it compared to minibar, and quite a few other things. Ironically, having eaten at minibar helped this experience to surpass even that one. The staff really contributed a great deal to what I think is a meal that's very near the top of our list. They also truly made us feel like VIPs (I didn't see any other patrons get hugged at the end of the night). That, combined with great and memorable food, was truly worth the detour to Vegas, or even a trip specifically to Vegas in its own right.
Seriously, if you find yourself heading there and are at all interested in food, you
have
to check this place out. It helps to plan ahead.