(Continued from

Part II

)...
After flying in from Las Vegas, our first full day in San Francisco was also my birthday. For breakfast, we went to Red's Java House so I could partake of
"the antidote to Alice Waters"
...
... an indiscriminately-sourced double cheeseburger and an Anchor Steam...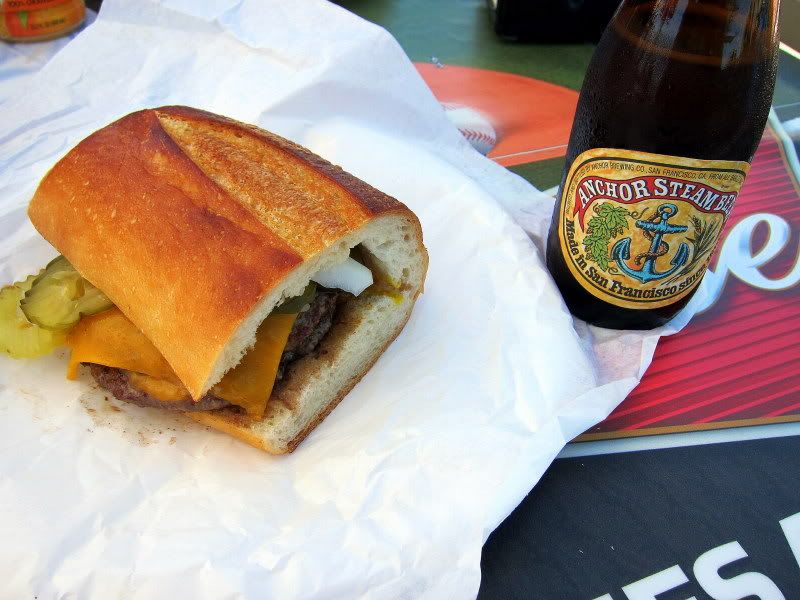 My soul felt cleansed.
After visiting with some of Jules' friends in the area, we headed to SF's
foodie central
. Nearby, we noticed a crowd around some temporary tents and a bunch of
Top Chef
advertisements. As it turned out, the
Top Chef
"Tour" was in town and a demo was underway featuring Ryan "I Don't Know Chicken Piccata" Scott from Season 4 and everyone's favorite Italian, Fabio Viviani. We stopped just long enough to take a few pics...
... before heading inside for a little shopping and lunch, a salumi cone at
Boccalone
and oysters at
Hog Island Oyster Company
...
To follow up on our visit to Boccalone, that night we had dinner at Chris Cosentino's
Incanto
. If you've watched Food Network in the past couple of years, you probably recognize Chris from the original version of
The Next Iron Chef
,
Chefs vs. City
, or
The Best Thing I Ever Ate
. He's also been on
No Reservations
and
Bizarre Foods
. As a chef, he's known for being a champion of nose-to-tail eating.
As we walked in, the first person I noticed was Chef standing directly ahead, at the entrance to the kitchen area. He looked up at about the same time and gave us a welcoming nod of the head.
Knowing that Chef is very passionate about his work and perhaps feels a stronger connection to it than some, I suggested to Jules that we put ourselves in his hands for the evening and allow him to choose our courses -- a sort of
omakase
of offal. She agreed and we made the arrangements with our waiter.
Our first course was a bonus from the chef -- pluots, creme fraiche, watercress & cacao nibs ...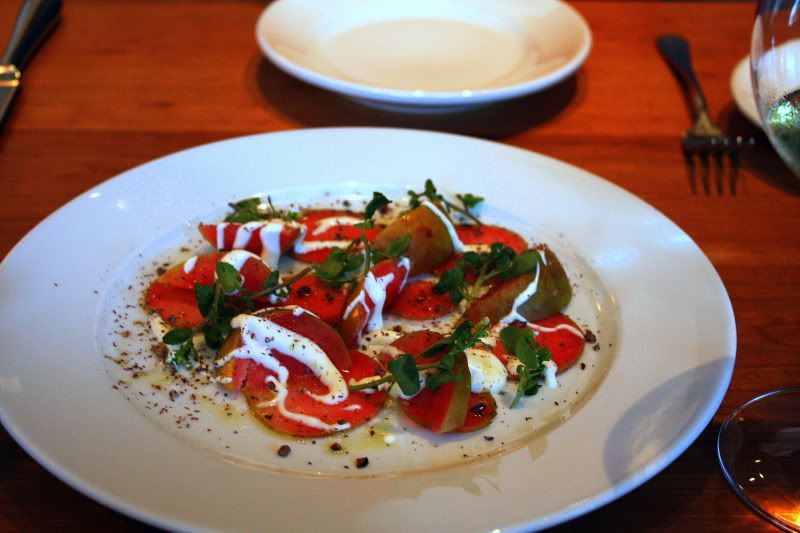 I thought the appetizers were the highlight of the meal. Venison liver with raw cacao and sage...
... and lamb heart tartare...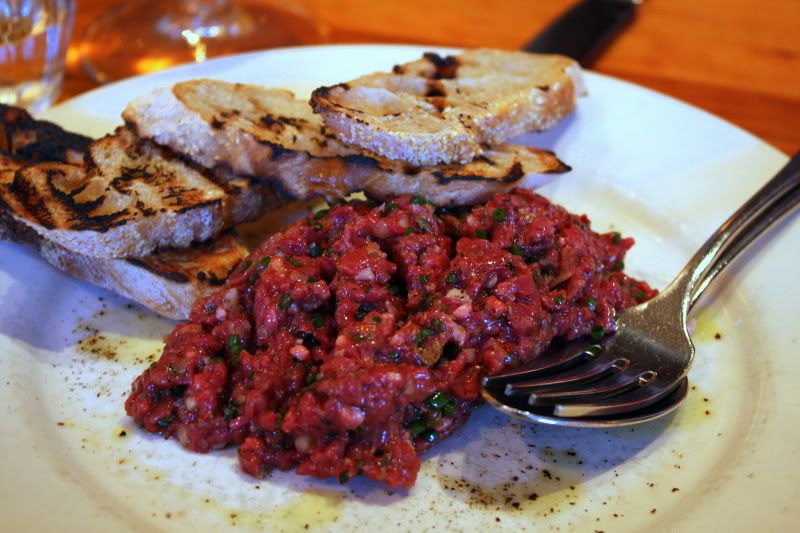 The liver was more "meaty" than "livery" and was perfectly cooked. One would be hard-pressed to tell the lamb heart tartare from beef. Really good stuff.
Our next dishes were calamaretti nero, squid, pickled peppers, and fennel...
... and wild mushroom and borage farrotto...
Both dishes were nice, but the winner was definitely the squid and pasta -- a really complementary pair, again perfectly cooked.
Entrees were tasty, but not particularly outside-the-box. Lamb, fennel, preserved citrus and olive...
... and pork shoulder with purslane, potatoes, and mushrooms...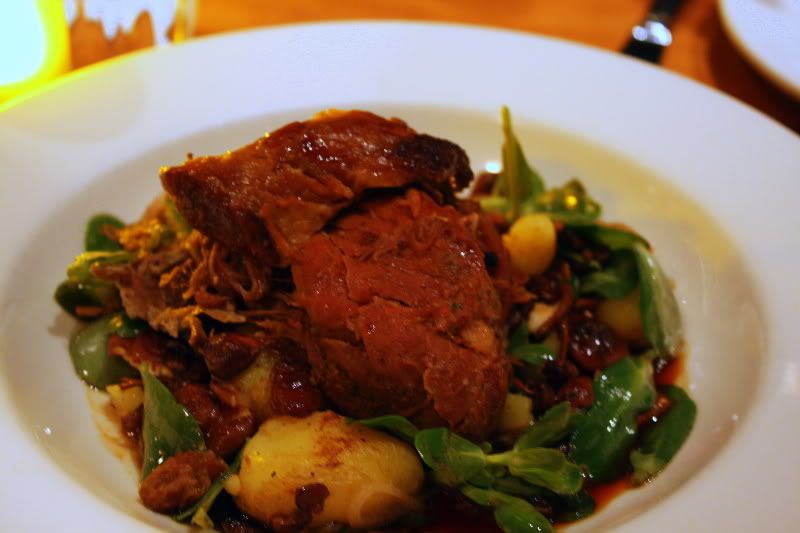 Desserts can sometimes be an afterthought in restaurants that are so well-known their savory work. That wasn't the case at Incanto. I really enjoyed the chocolate bread pudding with hazelnuts and white mocha ice cream...
... while Jules took to the raspberry-rose thyme jelly with moscato...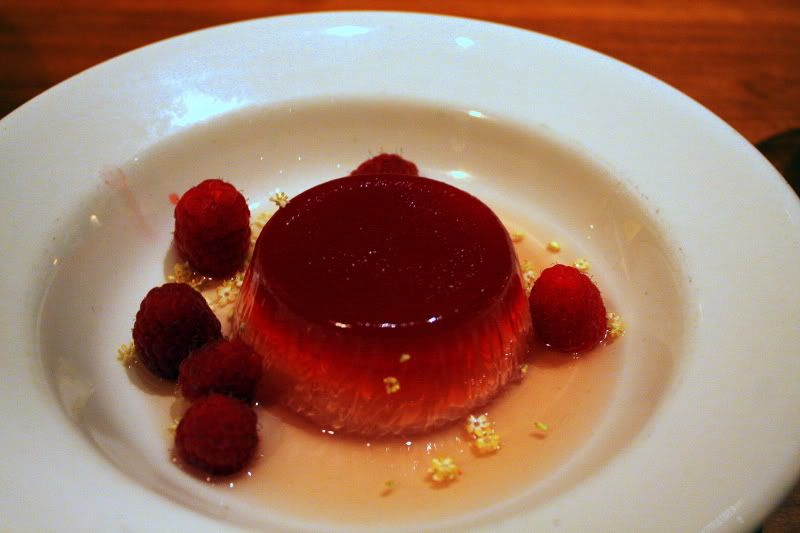 I think putting ourselves in the hands of the chef was a really good decision and I'd certainly welcome the chance to try his work again. We've had some good offal in the past and this was further evidence that the odds and ends can be good eats. He knows what he's doing.
After a couple days spent in Napa, we returned to The City and stopped by
Humphry Slocombe
, which has rapidly become
known for
its
innovative
ice cream. It has also inspired some, um,
imitators
.
I was there for one reason -- Secret Breakfast -- bourbon infused ice cream with cornflakes...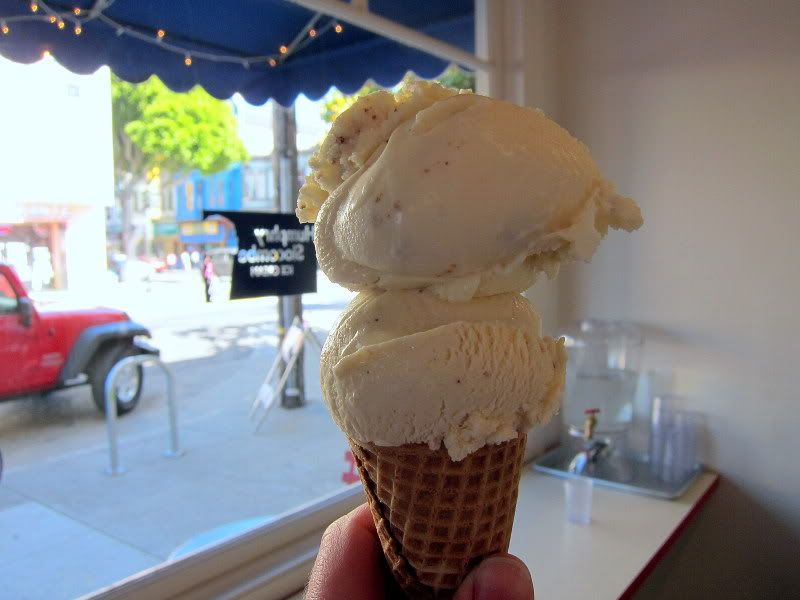 In a word... awesome. I will definitely be back.
That night, we went to dinner at
Flour + Water
, one of
GQ's Best New Restaurants
and a James Beard Finalist for the same. Chef Thomas McNaughton was a Beard finalist for
Rising Star Chef
. Their pasta has been called
some of the best
in the country. In its short existence, it's become one of the
toughest tables
in the city.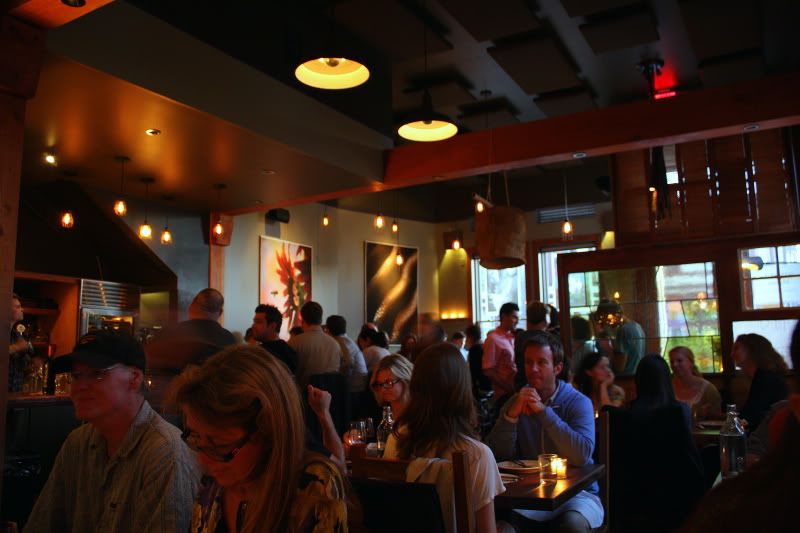 Our table was very near the pass, so it was cool to see Chef inspect and adjust dishes as they went out for service...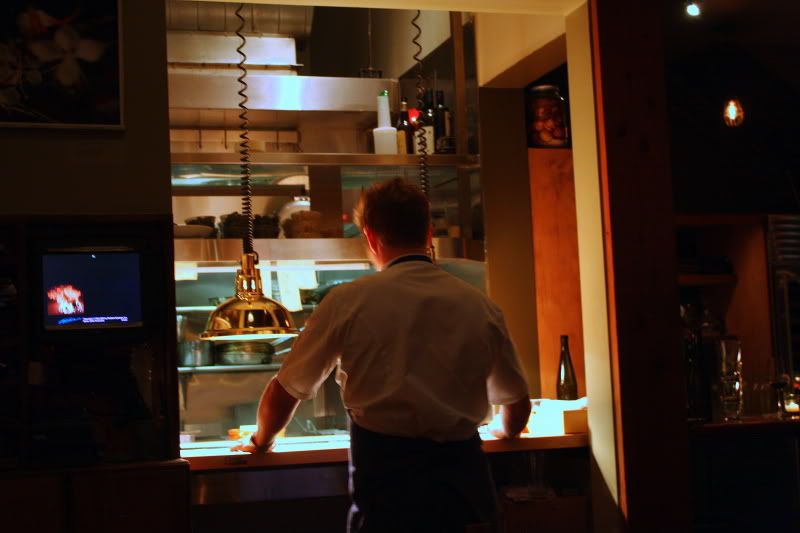 We decided on the seasonal pasta tasting menu...
... which started with cured duck with summer squash, blossoms, pine nuts, and purple basil...
The second dish was served family-style, eggplant treccione triangoli...
All the hype was true. The pastas proved to be fantastic. With one exception...
Squid ink tortellini di mare en brodo with fava puree...
This was my least favorite dish of the entire trip. The broth was fine, the pasta itself was great, but I HATED the filling. Jules didn't seem to mind, but I couldn't stand it.
Fortunately, the next dish was one of my favorites, radiatore with roasted hen, sopressata, arugula, and rosemary...
Think: best chicken noodle soup
ever
.
After that came two more dishes served family-style, agnolotti dal plin...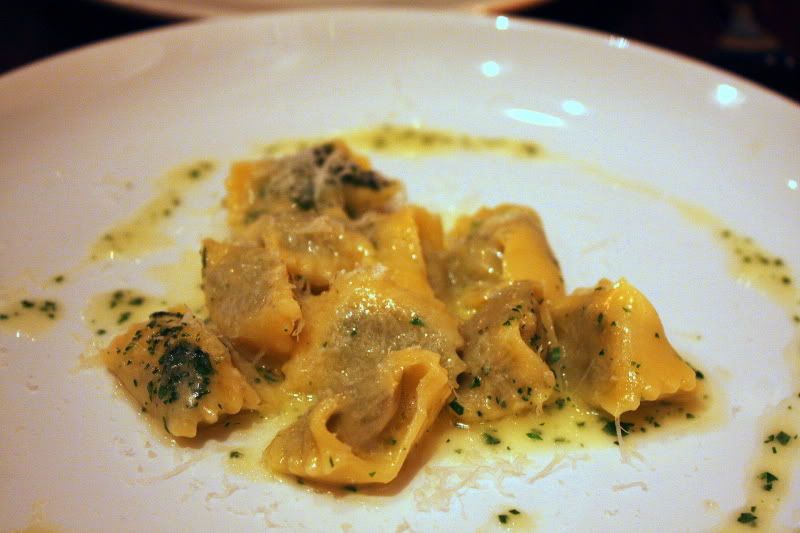 ... and cappellacci dei briganti with rabbit sausage, padrone peppers, and spigarello...
Again, both really well-executed.
I hadn't mentioned to anyone at the restaurant that it was Jules' birthday (we had celebrated at another restaurant the night before), but someone must have overheard, as dessert arrived with a candle. Basil panna cotta with strawberries and pistachio...
In all the tasting menus that we've done, this was the first time we've left a little hungry. It sounds odd to hear that after something so pasta-centric, but I guess that's somewhat of a testament to how different good pasta is from some of the more clunky stuff out there. The price is appropriate to what we received, but I would have preferred to pay a little more and received slightly greater portions. As was the case with Incanto, however, it was enjoyable to experience the results of a chef's devotion to his niche.
For dinner on the last night of the trip, we had made reservations at another popular new restaurant,
Frances
. It was named a 2010 Best New Restaurant by both
Esquire
and
Bon Appétit
, and was a James Beard finalist in that category. Chef Melissa Perello is a former
Food & Wine
Best New Chef and Frances earned its first Michelin star last year.
After
I made the reservation, I found out that a friend of a friend is a sous chef at Frances, and I was instructed to pass along hellos from the East Coast.
Frances is in a long, narrow space, but it was definitely hopping. Like Flour + Water, the pass leads directly to the dining room, so we could see Chef Perello working.
Unbeknownst to us, my friend had told her friend the sous all about our trip and where we were eating, so when we inquired if he was in the house that night, it apparently sent off some kind of alarm that serious foodies were there, as we'd see later in the meal.
As we did at Incanto, I thought it would be interesting to let someone on the staff choose our courses, only this time I asked that our friend the sous chef make the choices (I thought it might be fun for him, too). Fortunately for us, Frances has a relatively small menu...
... as we were soon bombarded by every first course on their menu (most of which were offered
gratis
). We were sent charred spring onion dip (Straus sour cream, onion seed lavash crackers) and a dish Frances has become famous for, applewood smoked bacon beignets (maple creme fraiche & chive)...
... followed quickly by Panisse frites (crispy chickpea fritters, lemon & black garlic aioli)...
... and grilled calamari (preserved Meyer lemon, red carrot, fennel & chermoula spice)...
It was almost embarrassing at that point. We're sitting at a tiny little table overflowing with all these dishes. There literally wasn't room on the table for anything else.
Everything was great, but to my total astonishment, I liked the chickpea fritters the best. They were almost like an adult version of mozzarella sticks.
Around that time, we got our first greeting from Chef Perello, who stopped by to chat, seemingly knowing quite a bit about us and asking about the other restaurants we had enjoyed on the trip.
I could get used to this VIP thing.
After we worked through the opening "snacks" as much as we could, another round began. Trottoloni pasta (asparagus, Meyer lemon, mascarpone & toasted walnuts)...
... and an off-menu item apparently made for us on the fly. I don't recall what the spread was on the toast points (quince, maybe?), but underneath was an amazingly light foie gras mousse...
It's about this point that we warn our waiter that we're starting to slow down and can't handle a ton more, but I know I want to make it to dessert, because I've heard good things. Fortunately, they brought forth only two entrees...
Grilled Pacific King Salmon (olive oil potatoes & Meyer lemon "gremolata")...
... and Five Dot Ranch Bavette Steak (roasted fennel, black olive & peperonata)...
We thought we were in the clear after they placed the entrees, but another server soon followed with sides, on the house -- Ridgecut Gristmills Golden Polenta (ricotta & parmesan cheese) and Grilled Summer Squash & Goat Milk Ricotta (toasted garlic, tomato, opal basil).
After managing to make our way through only about half of the final round, we apologized to the staff, who easily understood that we had been bombarded with well over half the entire menu.
I had read so many good things about Frances' "lumberjack cake" (and was glad to see it on the menu), that I had to order it, if only for a couple bites...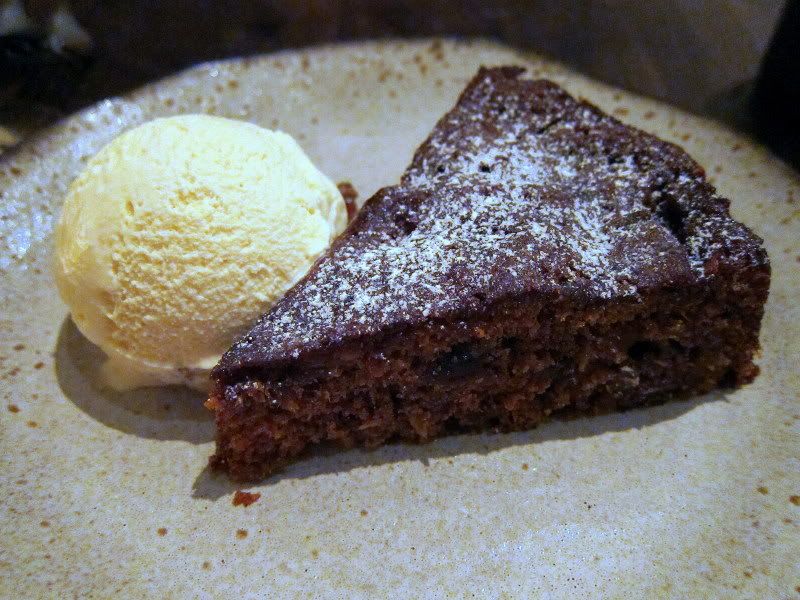 And a couple bites were all we could manage. Without having read about it in advance, I'm not sure that it would have caught my eye on the menu, but it was definitely something I greatly enjoyed.
The tremendous hospitality (and great food) at Frances was a great way to end this trip...
(but not this series of threads)