First we'll start with
wine openers
.
There are many ways to get a bottle of wine open, ranging from a swiss army knife, to a
shoe
. The best opener, is one of the simplest. A double-hinged 'waiter's corkscrew' is my weapon of choice when opening wine. They usually cost $5-$15.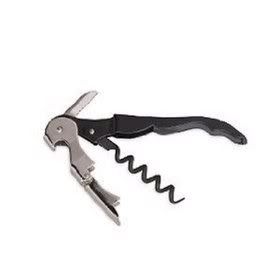 Another fun option for extracting corks is the Ah-So aka the "butler's friend". Legend has it, butlers would use this puppy to sneak the cork out of their master's bottles, pour out some good wine, replace it with juice or cheap wine, and reseal it. These days, it is used more for show or to extract a fragile (old) cork.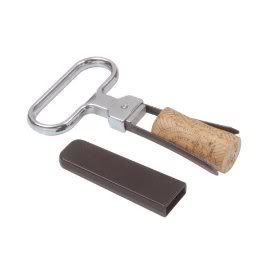 There are lots of expensive corkscrews/corkpullers out there these days including the Rabbit, butterfly corkscrews, and even gas-charged openers that make opening wine impressive. But unless you have money to burn, people to show-off to, or get one on closeout, they aren't worth the extra dough. Save the money and spend it on some vino!
So what should you pour your wine into once it's open? There are TONS of options when it comes to
glassware
. You can use anything from a tumbler (like the Italians do) to a $100+ hand-made crystal glass. I recommend a simple, stemmed glass with a thin rim and a bowl that is deep enough to properly swirl your wine in when 1/3-1/2 full. It doesn't necessarily have to be crystal (especially if you are sure you'll break it the first time you try to wash it), but lightweight is important. It really just depends on what you're comfortable with. And no, you don't need 5+ different types of glasses for every different type of wine. A simple "
white wine glass
" like the one below is great for everything (even red wine). For bubbly, it is a good idea to invest in some flutes. The bubbles will last longer and it will taste better as a result. What about
stemless glasses
, you ask? If you
never
wash anything by hand, stemless glasses are great for tossing in the dishwasher. They aren't my favorite glass for wine, but they serve a purpose. But if you can get your hands wet, all you need to wash a wine glass is warm water. No soap needed, usually. In fact, just rinse and buff the glass. Soap residue can ruin what could have been a good glass of wine.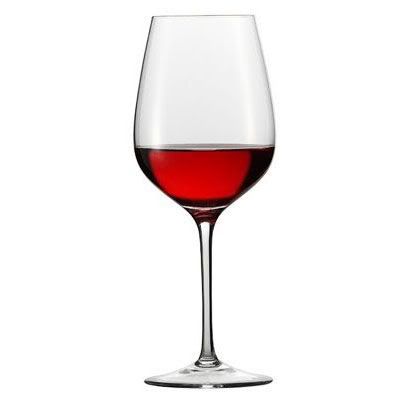 Now, what do you do if you just want a glass or two and don't want to polish off a whole bottle? There are all sorts of
wine preservation
techniques out there. Don't waste your money on vacuum sealers-they don't really work! The best way to make sure your wine doesn't oxidize overnight, is to invest in a can of
Private Preserve
. It is a can of gases that are heavier than oxygen that creates a blanket between the wine and it's foe, oxygen. It feels empty, even when full and can set you back $10-20. But if you are constantly not polishing off a full bottle at a time, this will guarantee that it will taste like it did when you first opened it. Plus, it has enough gas in it to preserve over 100 bottles, so you'll get your money's worth over time.
Now for the fun stuff (aka. the super-winegeeky stuff):
One of my favorite ways to show off to oenophiles is by sabre-ing a bottle of sparkling wine. Sabrage is the act of popping the cork off of Champagne using a sabre (i use a
chef's knife
- See, yet another way it isn't a unitasker!). There are all sorts of videos on YouTube featuring this technique that was developed on the battlefields. You don't actually 'cut' the glass. In fact, you use the blunt end of a knife and hit it along a seam of the bottle causing the cork (along with some glass) to go shooting off. There is so much force, that all of the glass is pushed out and away from the bottle and not into the wine. If you try this, please be careful and be sure to watch some of the videos on YouTube of what can happen when not done properly.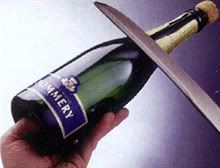 If you are an avid Port drinker, you may want to invest in a set of
Port tongs
. These little unitaskers are high on my winegeek wishlist, but they are hard to come by. They are a pair of tongs that are bent in a ring-shape at the end and used to open up bottles of old vintage port that have very weak corks. To use them, you heat them up in a fire/coals, clasp them around the neck of a Port bottle and allow them to weaken the glass near the bottom of the cork. Then with the application of a cold, wet towel, the glass will snap and you'll have an open bottle of Port. Fun? Yes. Practical? No. Unless you are a Fladgate or Fonsecca heir/heiress.
For something that is fun to pull out at winegeek parties, invest in a
porron
. This vessel that originated in Spain allows multiple people to drink from the same bottle without spreading a ton of germs. Plus, it just looks cool when you can do it right. Think of it as a beer bong with class.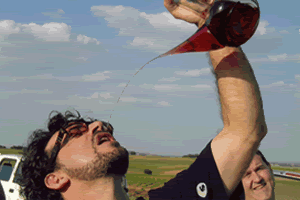 Other wine tools:
Wine glass markers
. There are many options out there to mark whose glass is whose when you have company over or multiple glasses out. There are decorative charms and bands that are great if you like that sort of thing and will actually use them, but otherwise a set of
overhead pens
will do the trick. Just write your name on the base or bulb of the glass and unless it gets wet, you're good to go.
Wine Chillers
: So you forgot to chill a bottle of wine for the dinner you're about to sit down and enjoy. Don't fret! There are $50-$300 contraptions to chill that bottle down in a flash! There is also a cheap trick. Place the bottle in your (plugged) sink and cover with ice. Add just enough water to cover the bottle. Add 1/4 cup of salt (kosher, rock, whatever). This will chill your wine in a flash...no fancy contraption needed.
Wine Aerators
: There are all sorts of contraptions on the market that will help your wine 'breathe'. Truth is, most are just gimmicks. If you open a bottle and it seems super 'tight' and you must do something about it, pour it out into another container (decanter, clean bottle, pitcher, whatever) and funnel it back into the bottle. Or just swirl it vigorously in your glass and be patient. The wine will open up as it is in contact with air, so just give it time...
There are so many wine tools out there and this just scratches the surface. If you see any out there that i haven't covered, just ask! Or if you have a specific question about any of the tools i discussed her, just ask! I am happy to help you better enjoy the world of wine. I am a winegeek, not a winesnob - so ask away!