In the spring of last year, I read
this article
from the restaurant blog of the
San Francisco Chronicle
, essentially announcing that, on summer nights,
The French Laundry
would open its courtyard for a single table of 8-12 to dine
al fresco
.
Jules and I had been to TFL a couple of times before and thought it would be fun to experience it from a new perspective. I asked on Facebook if anyone was interested in getting a group together to dine in the courtyard, got a positive response, and proceeded to make the reservation.
Two weeks ago, Jules and I were joined for dinner by Kathleen (Rockford10) and Denise (DitsyD) and their husbands, Melissa (Missjane), Loren (Swedishchef) and his wife, and a couple of my non-Briner friends.
Several of us started the evening with drinks at Thomas Keller's French bistro,
Bouchon
...
... before heading up the street to explore
TFL's Culinary Garden
, which is directly across the street from the restaurant.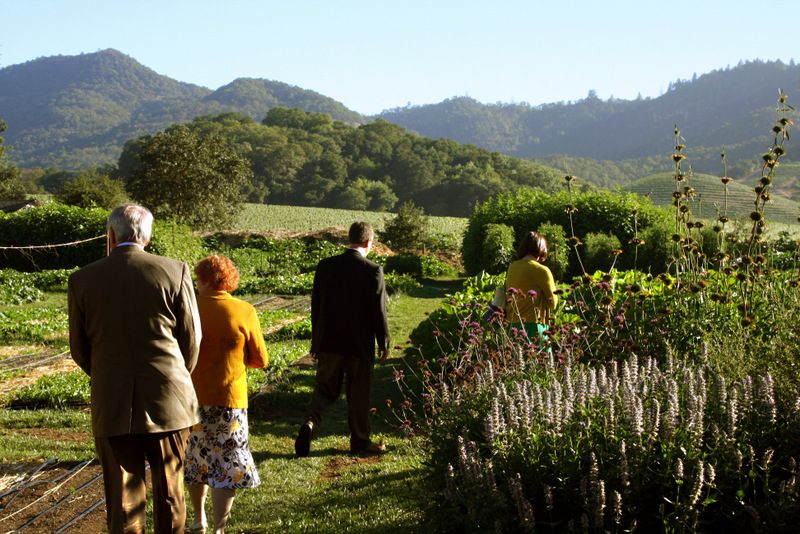 The garden grows herbs and produce for Keller's Yountville restaurants and throughout the day, one can see members of TFL's kitchen crossing the street to harvest items for that nights dinner. Several years ago, I met Chef Keller in the garden and got to spend a few (very cool) minutes talking with him.
We took pictures of the plants...
... and of each other...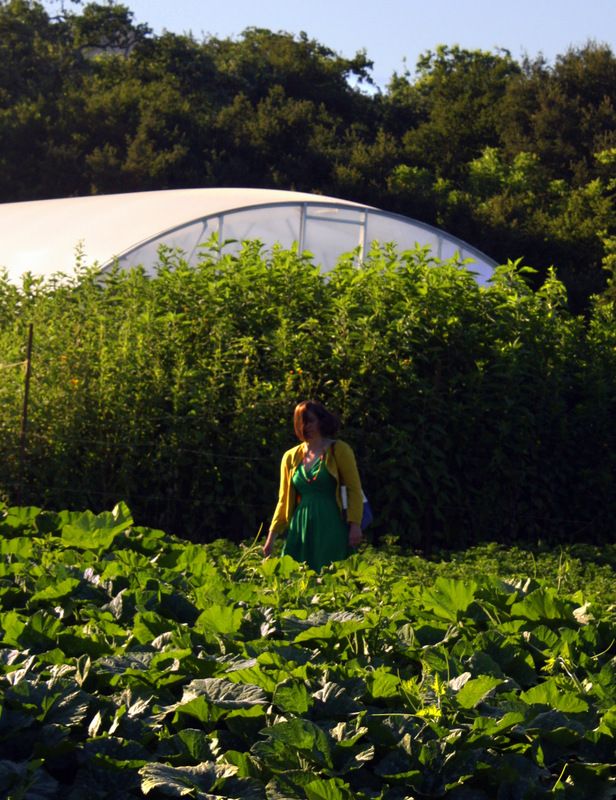 ... and of each other, taking pictures of the plants.
We stopped and admired some of the most pampered chickens in the world...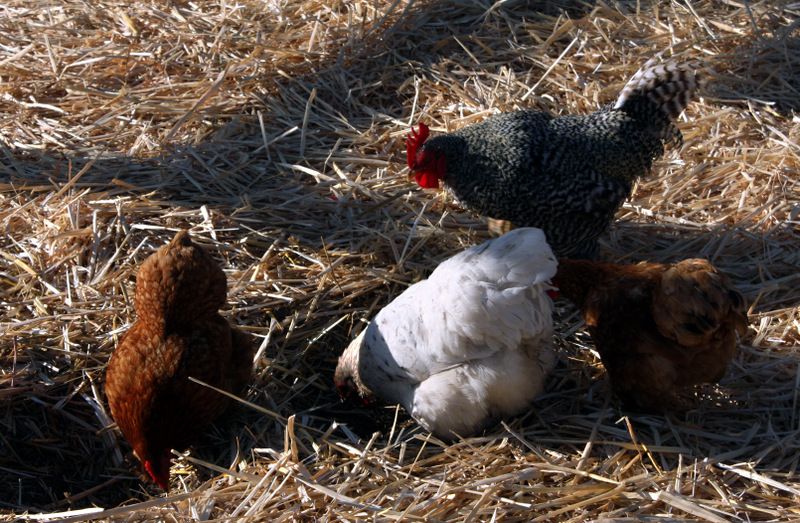 ... before making our way across the street.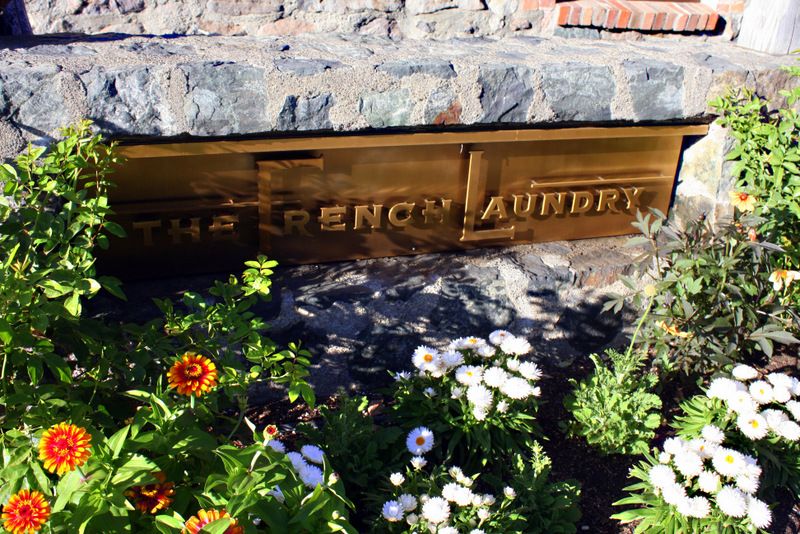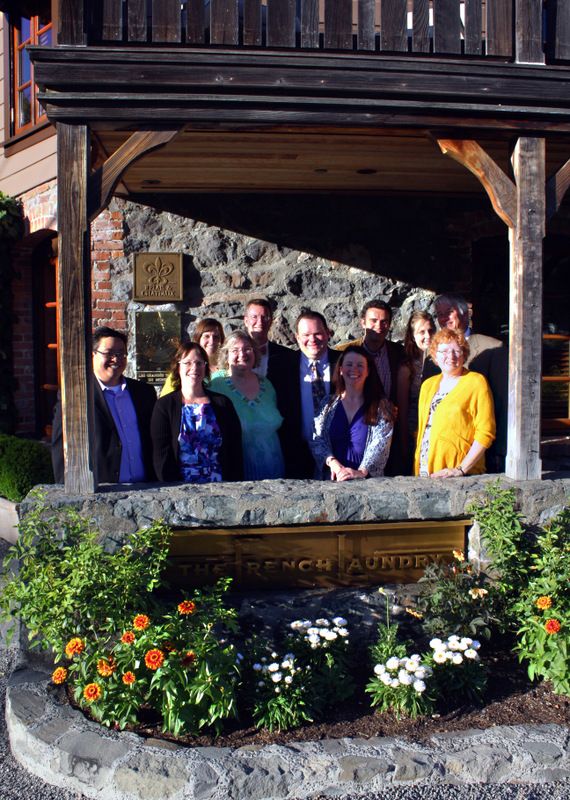 Most of The French Laundry's guests can't wait to walk through the famous blue door...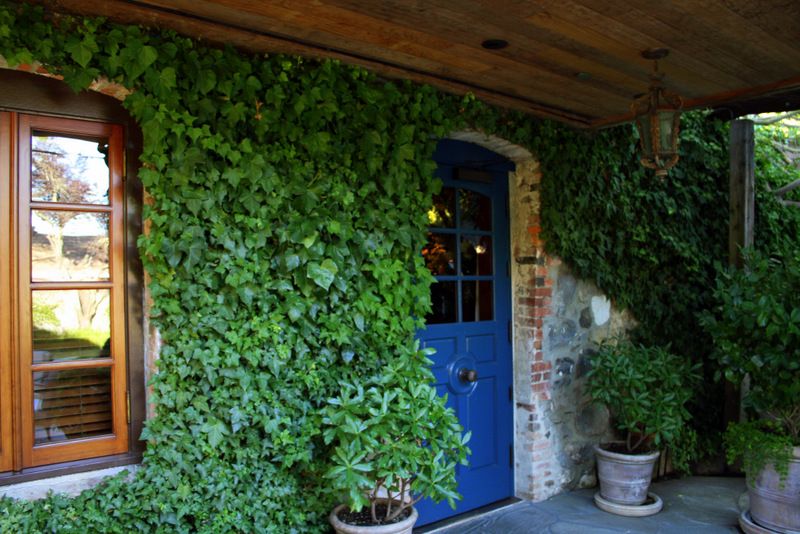 ... but we had something more interesting in store.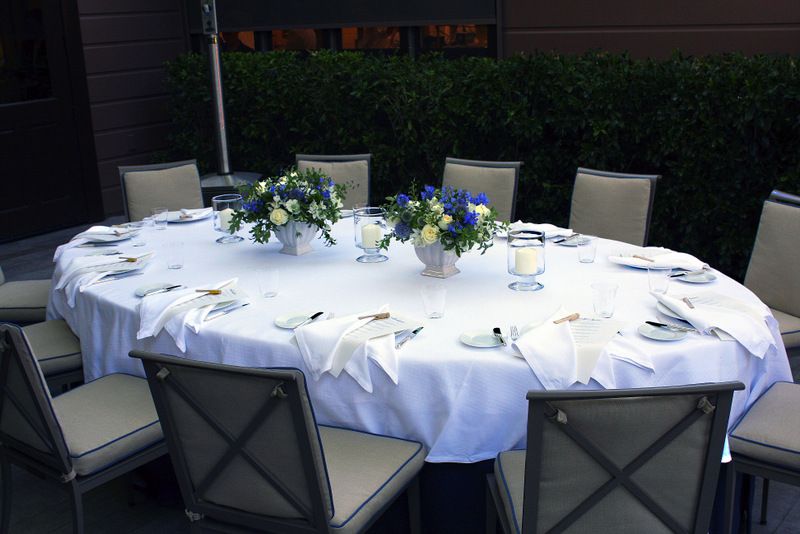 While we spent a few moments getting acquainted (or reacquainted, in some cases)...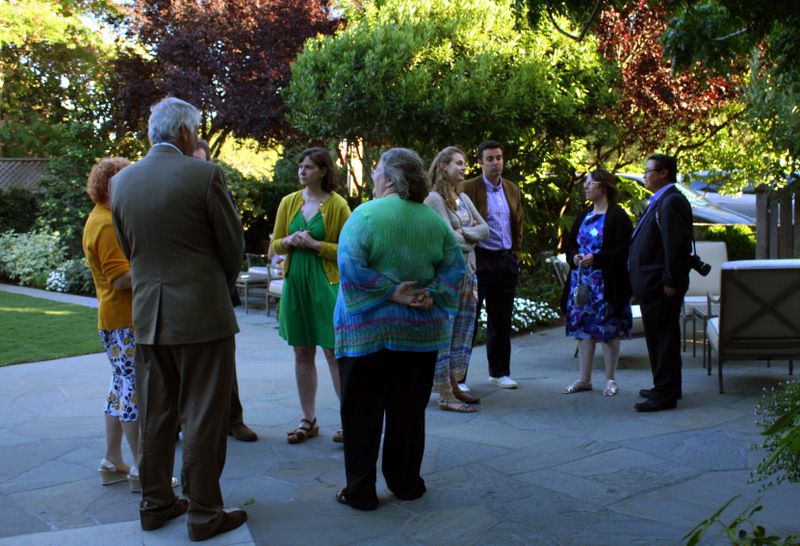 ... the staff was finishing preparations for our party.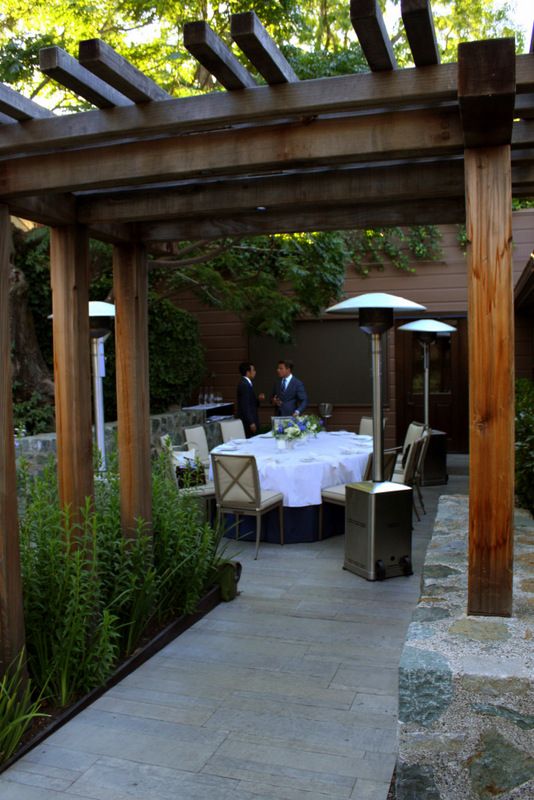 They soon began to come around with various canapés, the first two of which are iconic TFL dishes. The first of these was gruyère cheese gougères...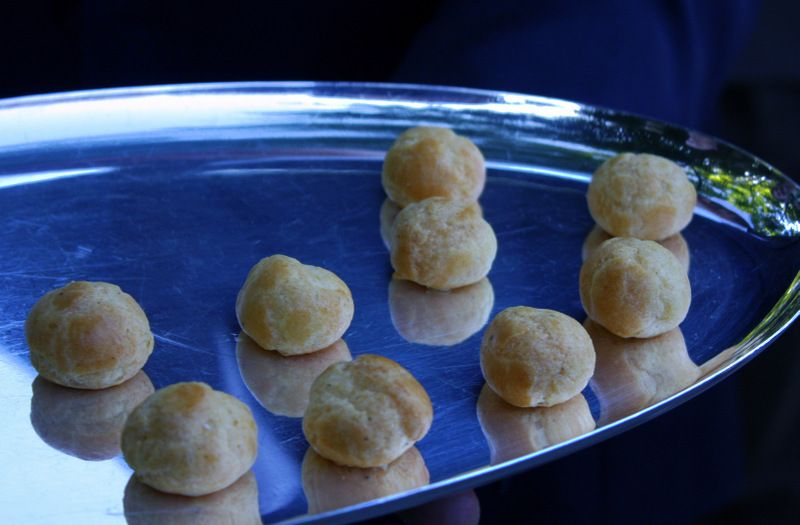 ... which was followed by the famous cornets with salmon tartare and crème fraîche.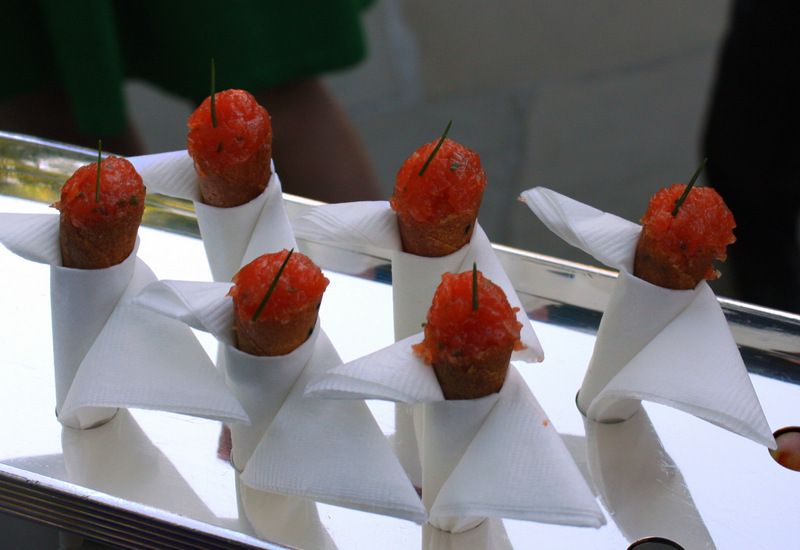 Rounding out the hors d'oeuvre were a gazpacho...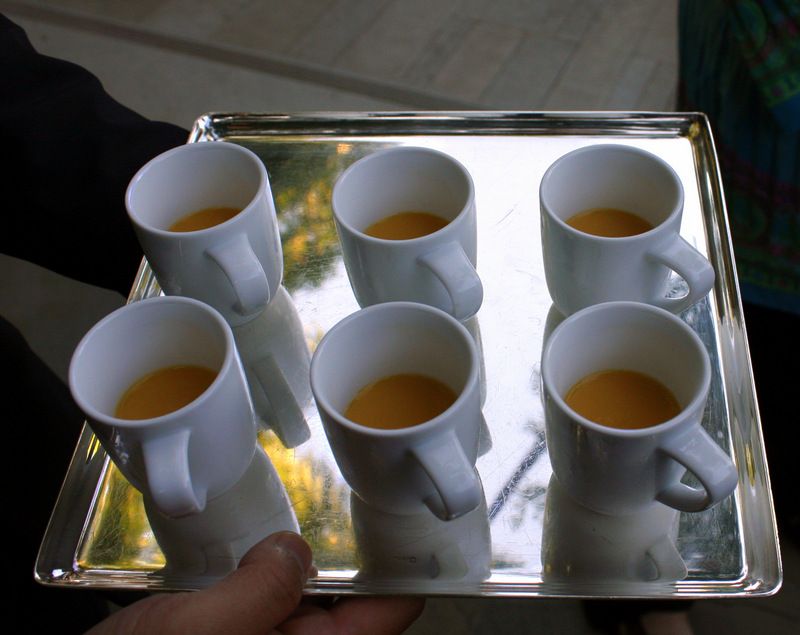 ... lobster salad...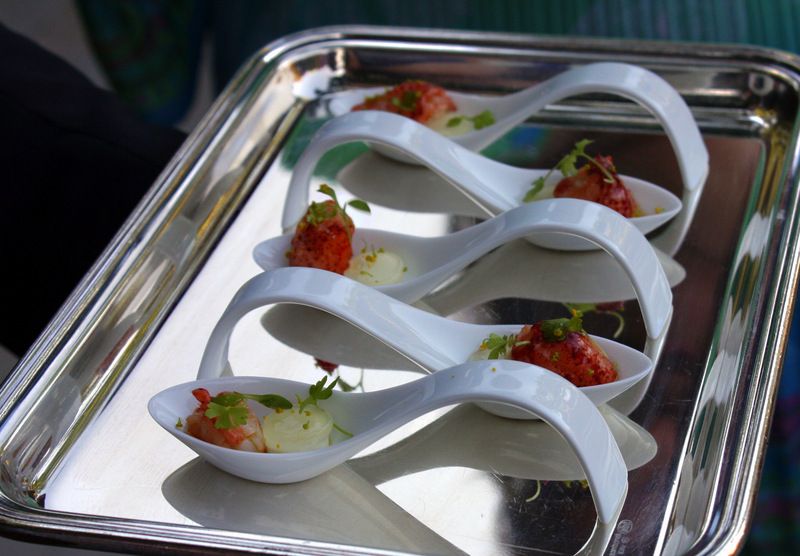 ... and a pâté with pistachios.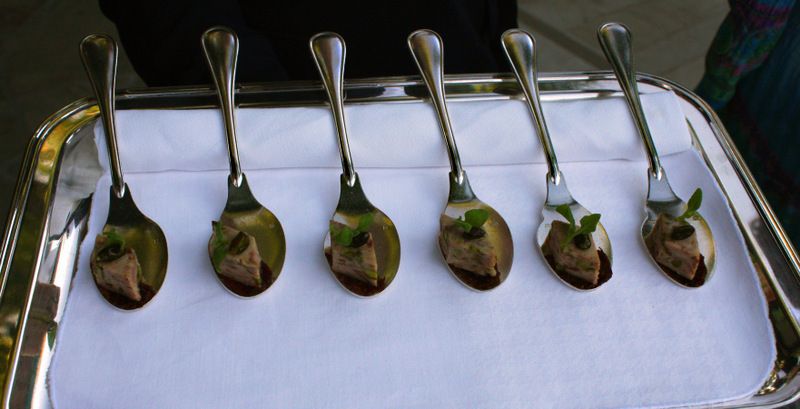 We were led to our seats...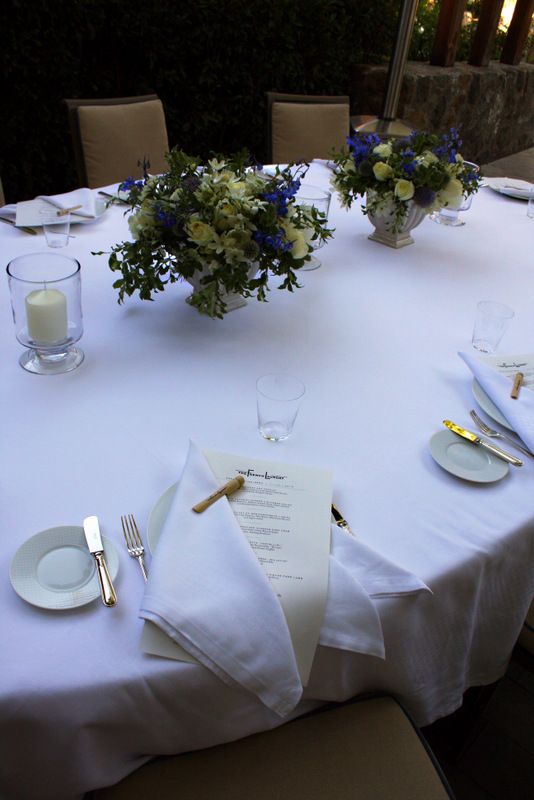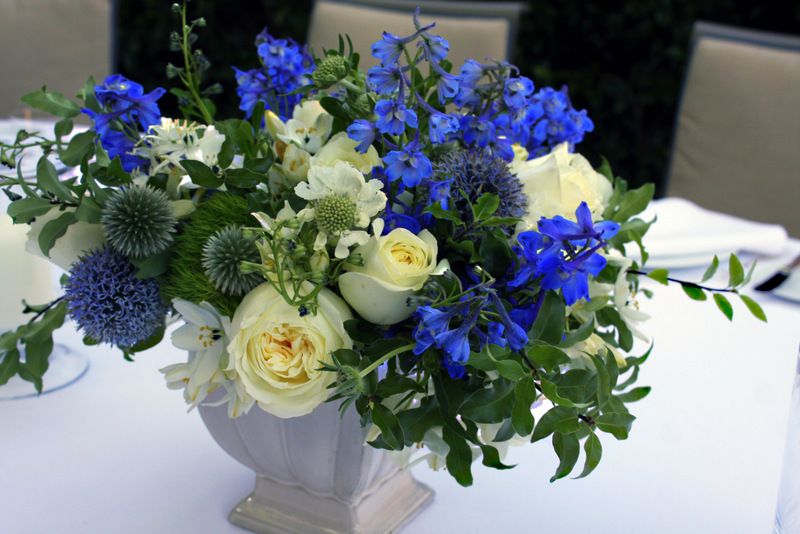 ... and found the night's menu waiting for us.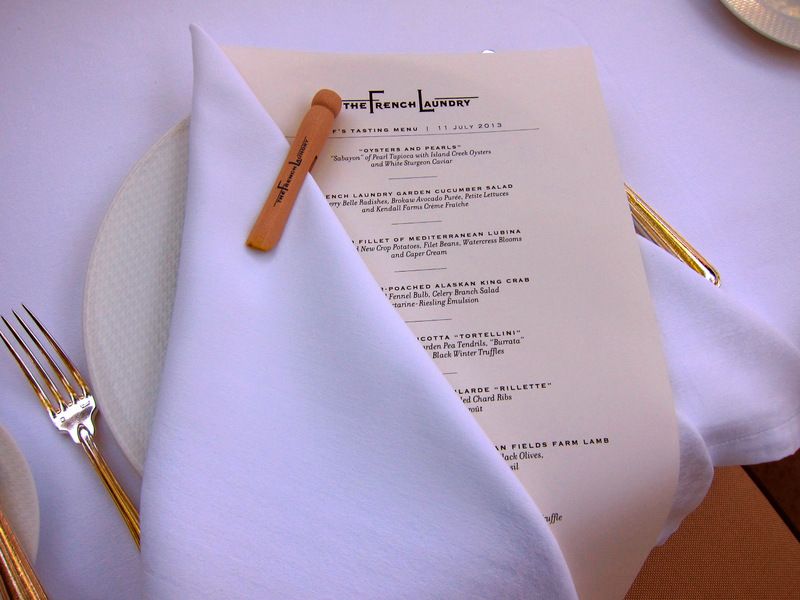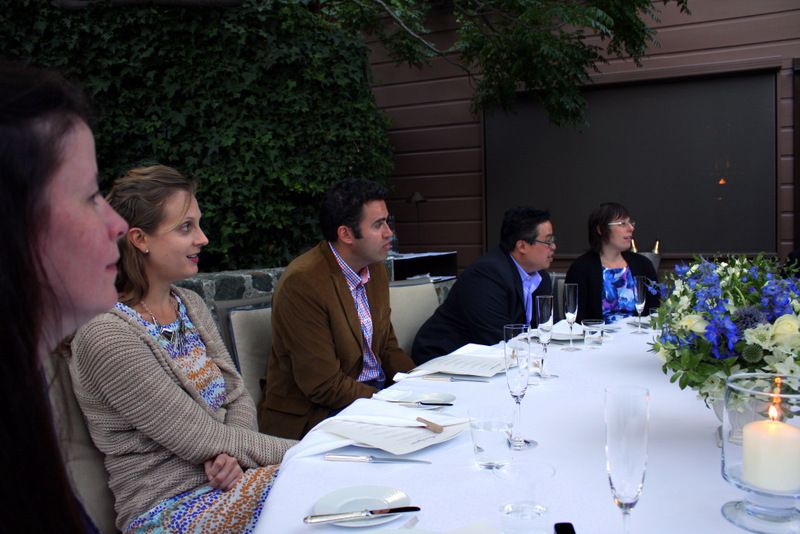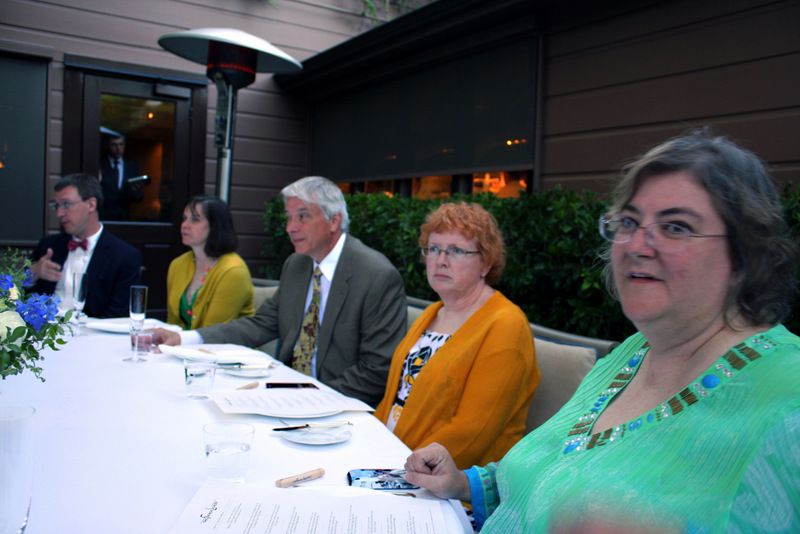 When the bubbly starts to flow at TFL...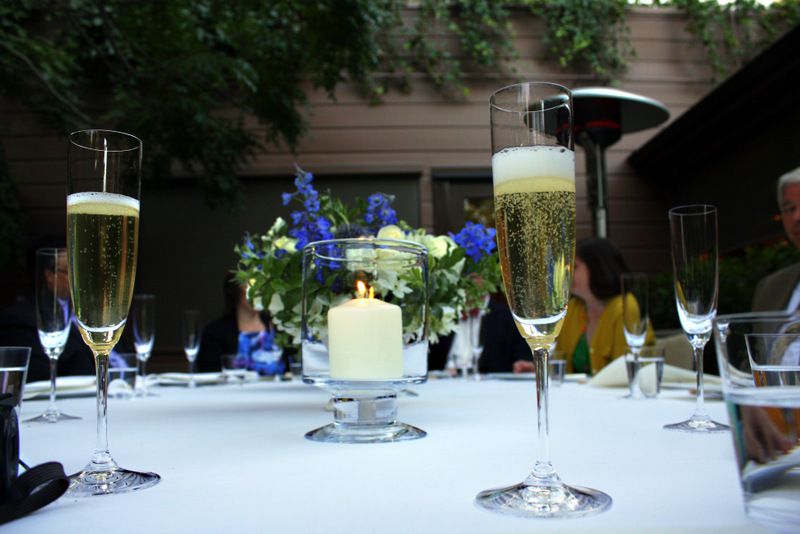 ... you know "Oysters and Pearls" can't be far behind. This is probably the most famous Thomas Keller dish. While the rest of the items on the menu change every single day, this is almost always the first course.
"Oysters and Pearls" - "Sabayon" of Pearl Tapioca with Island Creek Oysters and White Sturgeon Caviar...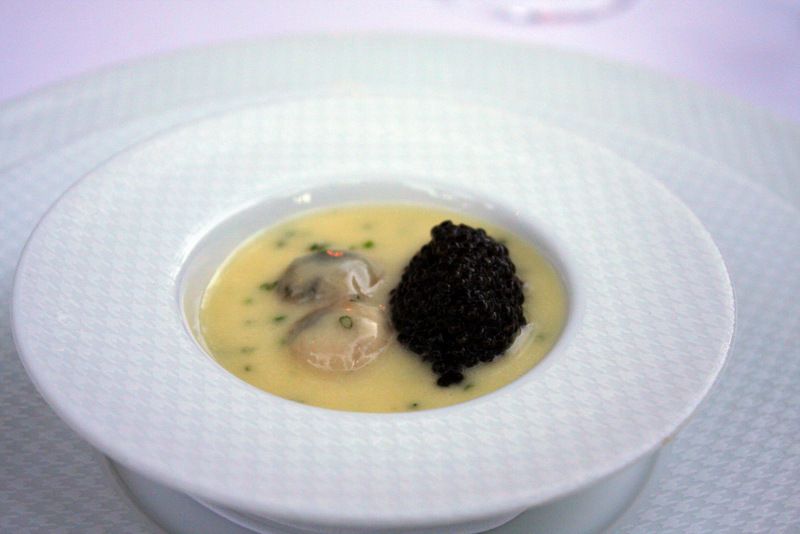 The next round was something I requested for our group, one of two "secret" off-menu courses with which we were presented.
White Truffle-infused Custard with Black Truffle Ragout and Chive Potato Chip...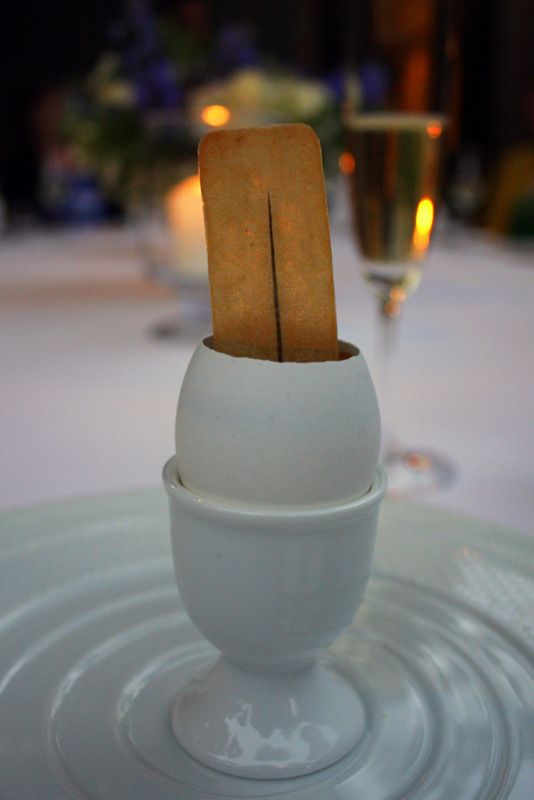 And we all pronounced it delicious...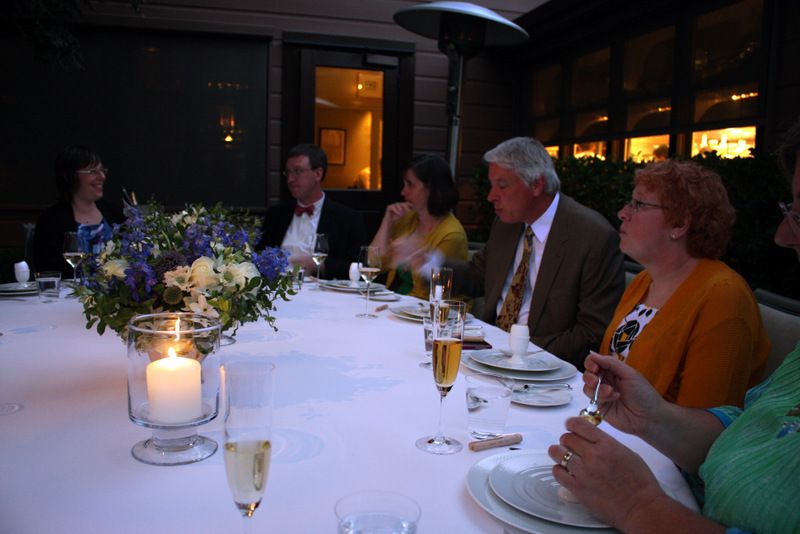 Immediately inside the door behind Kathleen and David is a small office at the entrance to the kitchen, whose action we could observe through the windows behind Denise and Bob.
Bread service started...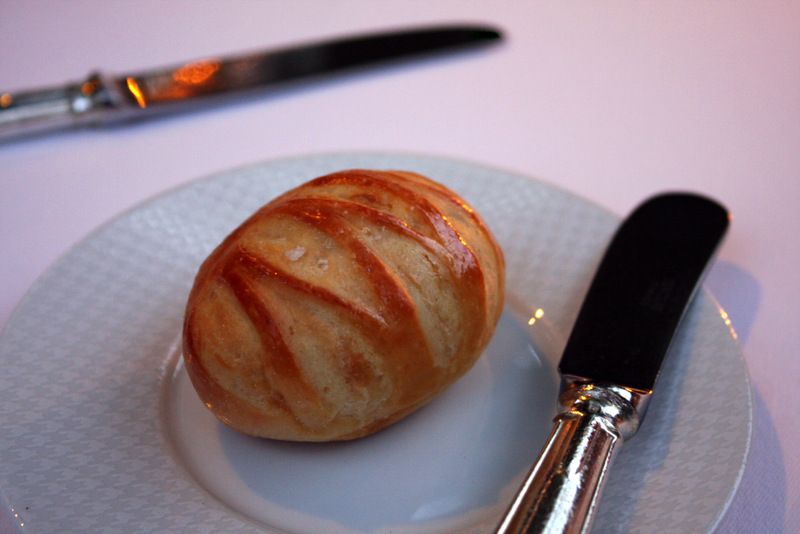 ... and accompanied our next course,
French Laundry Garden Cucumber Salad - Cherry Belle Radishes, Brokaw Avocado Purée, Petite Lettuces, and Kendall Farms Crème Fraîche...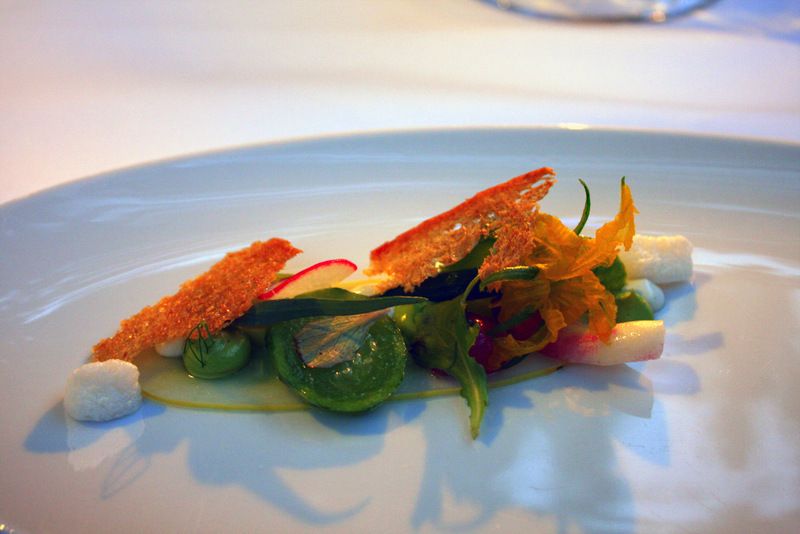 Around this time, the sun set and darkness began to fall. Jules looked up from her salad and whispered, "Chef." In the light of the doorway sat Chef Keller in his "office," chatting with staff...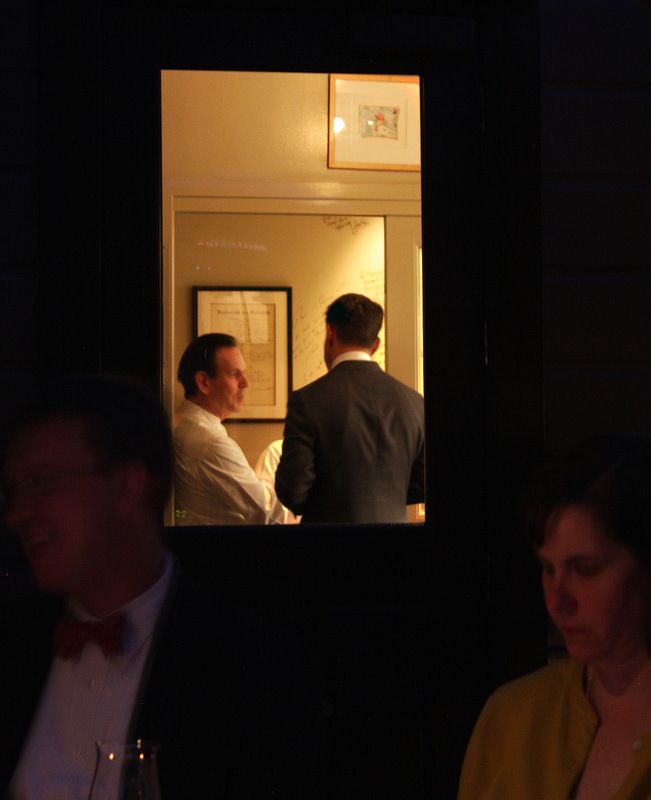 He'd be there off-and-on for much of the remainder of the night.
We continued with
Sautéed Fillet of Mediterranean Lubina - Fork-Crushed New Crop Potatoes, Filet Beans, Watercress Blooms and Caper Cream...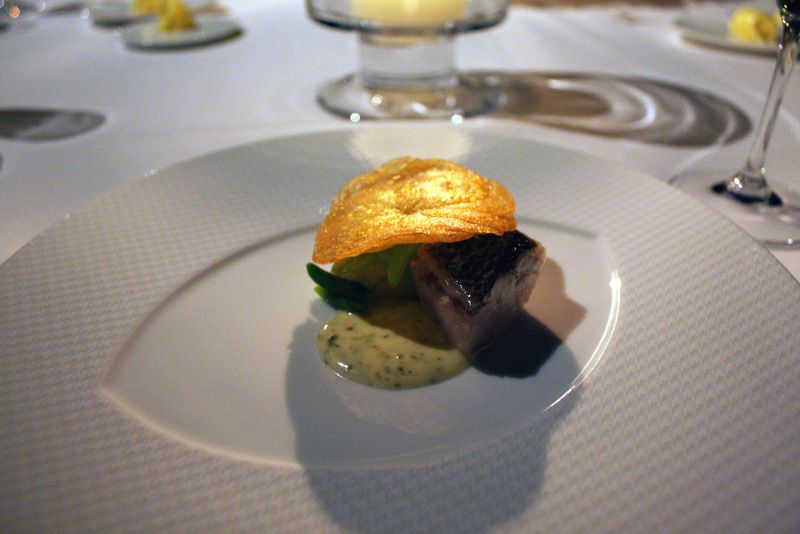 And then another fish course:
Sweet Butter-Poached Alaskan King Crab - Caramelized Fennel Bulb, Celery Branch Salad and Nectarine-Riesling Emulsion...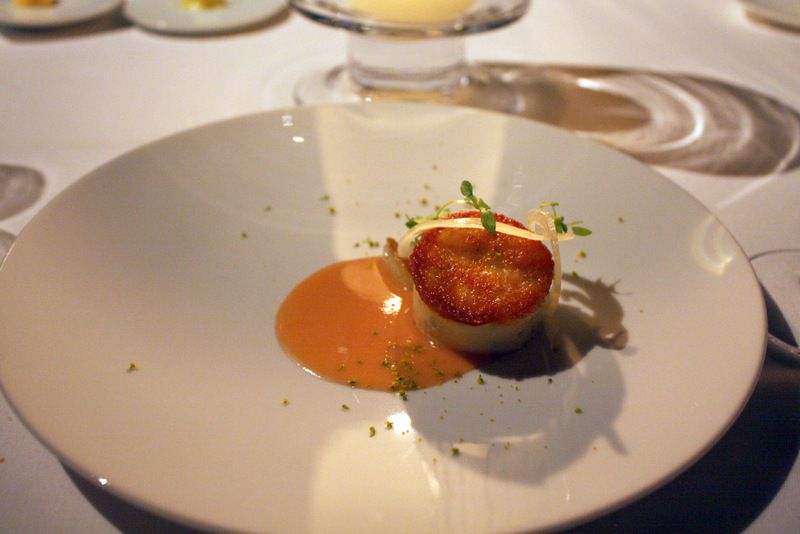 Next was
Andante Dairy Ricotta "Tortellini" - Wilted Squash Blossoms, Garden Pea Tendrils, "Burrata"...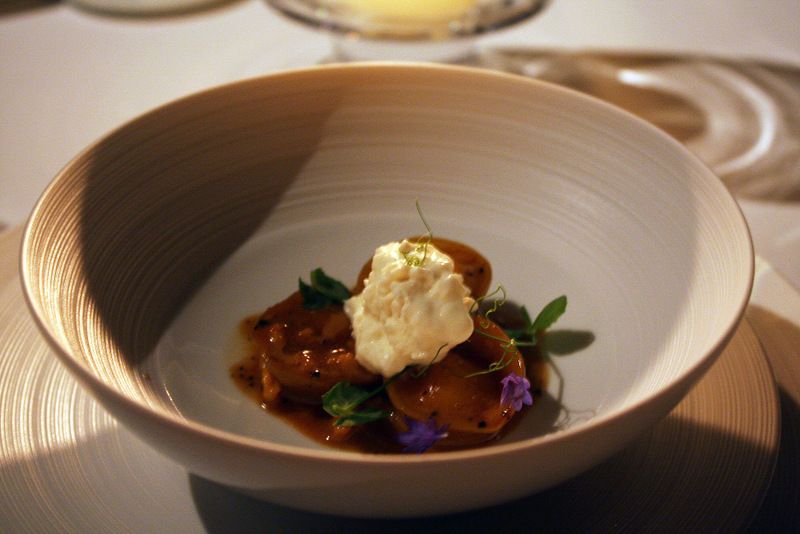 ... topped with a mountain of
Shaved Australian Black Winter Truffles...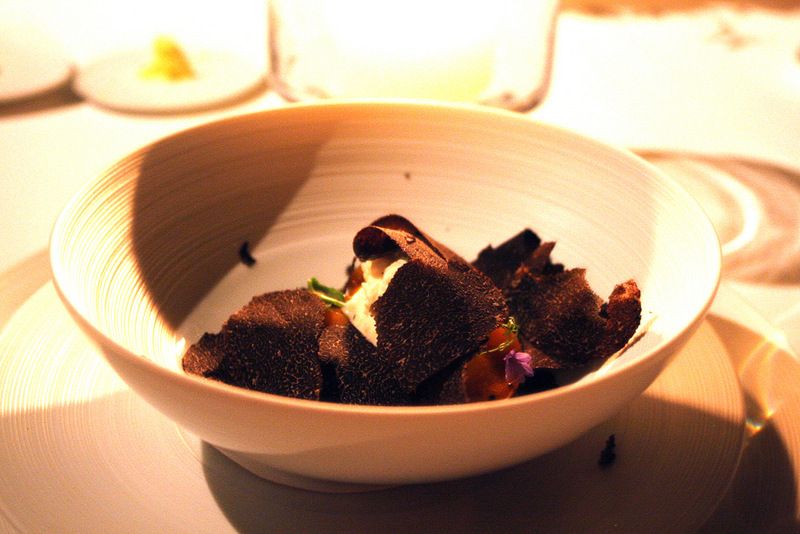 and
Four Story Hills Farm Poularde "Rillette" - Swiss Chard "Barbajuan," Grilled Chard Ribs and Brentwood Corn Ragoût.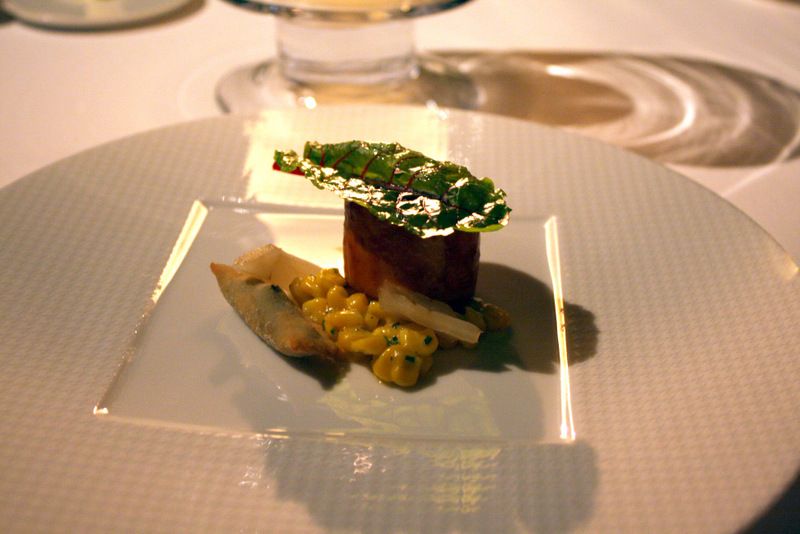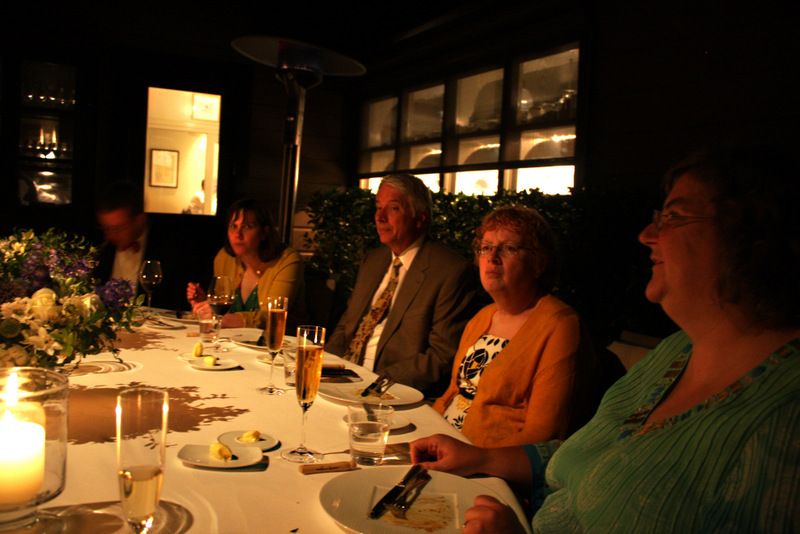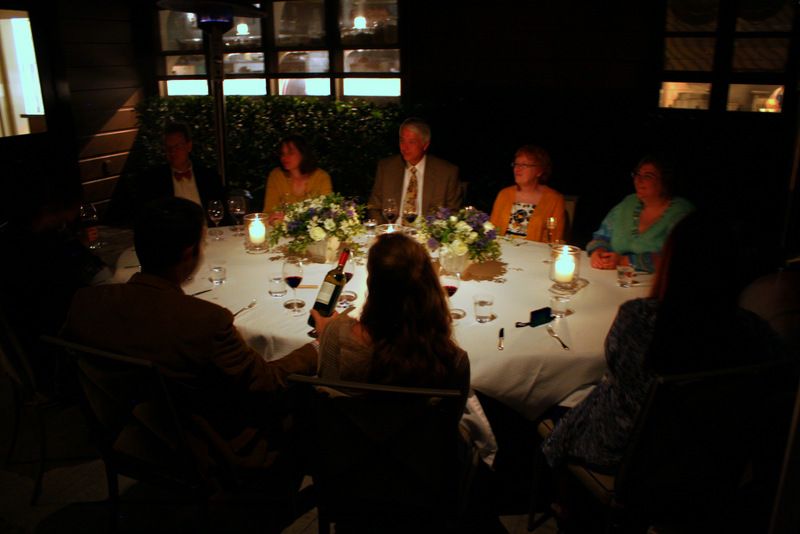 Our final savory course of the night was
Applewood Smoked Bacon-Wrapped Elysian Fields Farm Lamb - Garden Squash Confit, Stewed Sweet Peppers, Black Olives, Marinated Cherry Tomatoes and Petite Basil
.
The cheese course was
Robiola Di Capra "Gâteau" - Sicilian Pistachios, Poached Brooks Cherries, Black Winter Truffle and Endive "Émincé."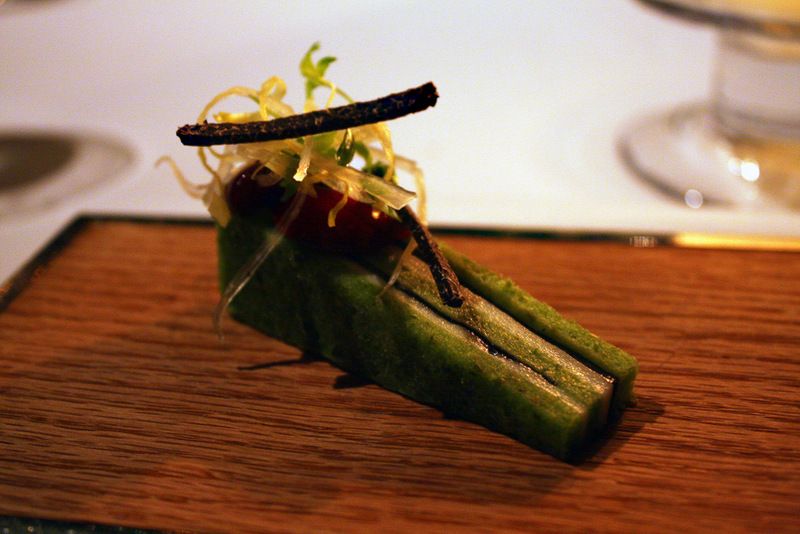 That was followed by Hayden Mango Sorbet - Coconut "Succès," Sichuan Peppercorn Meringue and Compressed Golden Pineapple...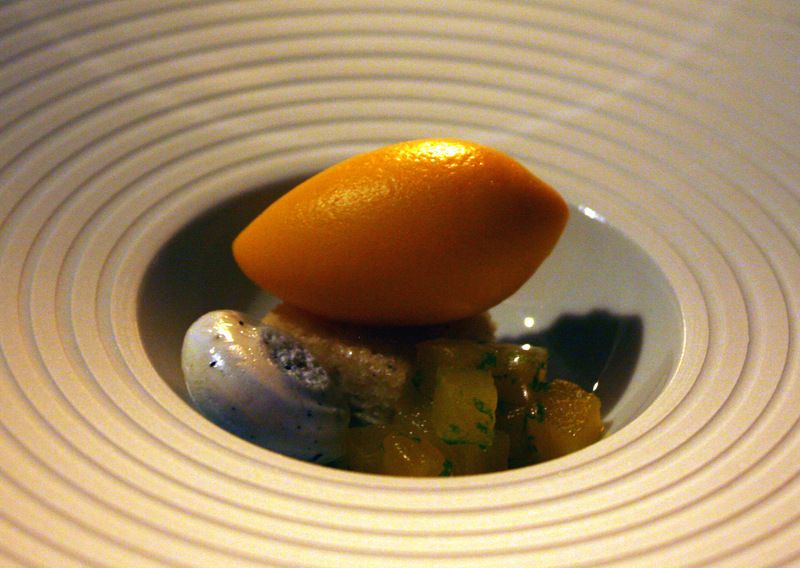 ... and the final course on the menu,
"Dark Treacle" - Devil's Food, Valrhona Chocolate "Marquisse," Lyle's Golden Syrup and Marshall Farms Burnt Honey Ice Cream.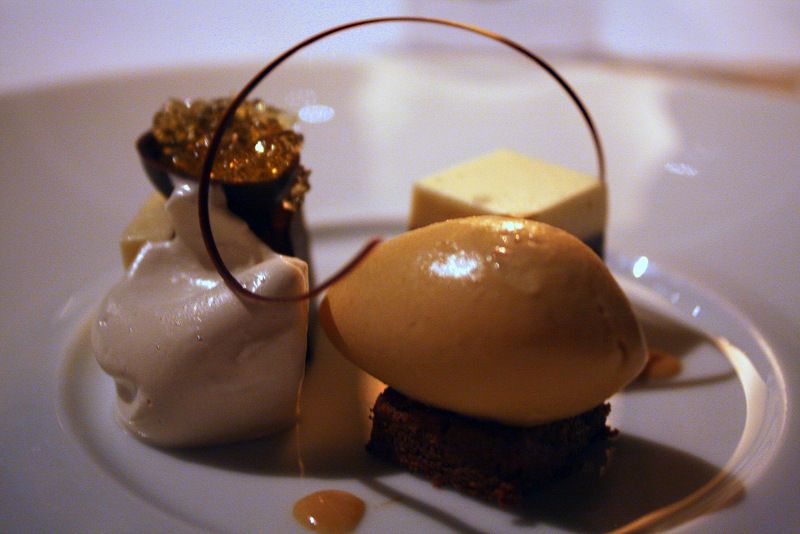 My second off-menu request was then obliged with another famous Keller dish, "Coffee and Doughnuts." The "doughnuts" are of the cinnamon-sugar variety, but the "coffee" component is actually a cappuccino semifreddo.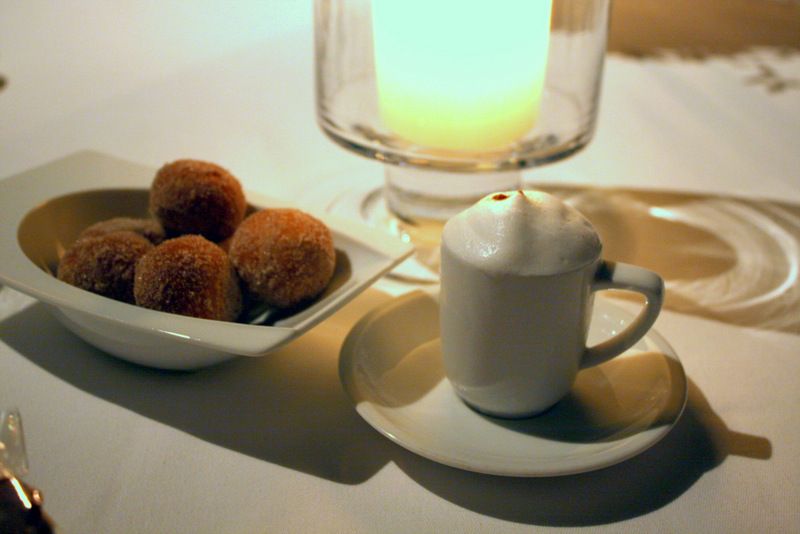 We then we served the mignardises, starting with salted caramels (not pictured) the well-known macadamia dragees.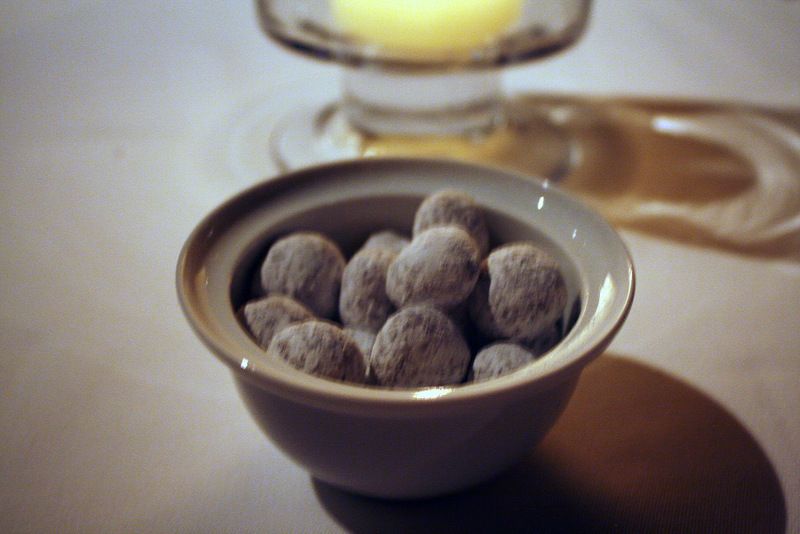 (Sorry for the fuzzy pic; it was after midnight and the lighting was difficult.)
Our meal was rounded out with a tray of chocolate truffles...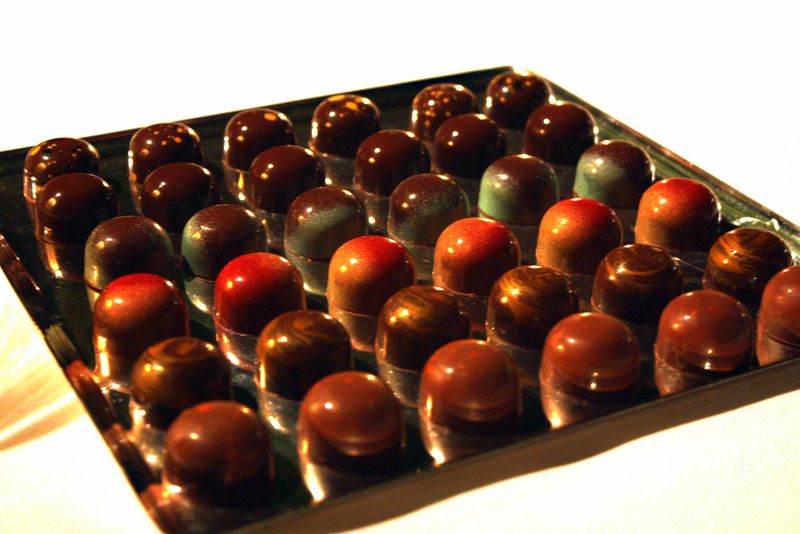 ... and a clothespin-embossed tin of shortbread cookies for each guest to take home.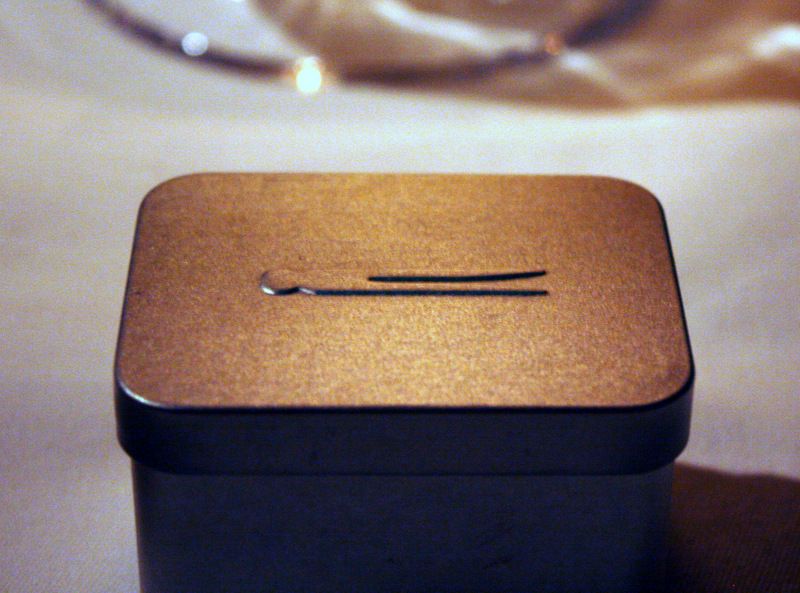 Our table captain then came around with a folder for each diner which contained another request Jules and I made for the party, a copy of our group's menu signed by Chef Keller.
We were then invited inside for a look at the kitchen. Much as we observed in our previous visits, the chefs were sitting around the pass comparing notes and planning the next day's menu, which, with the exception of some of the iconic items, is completely changed every day.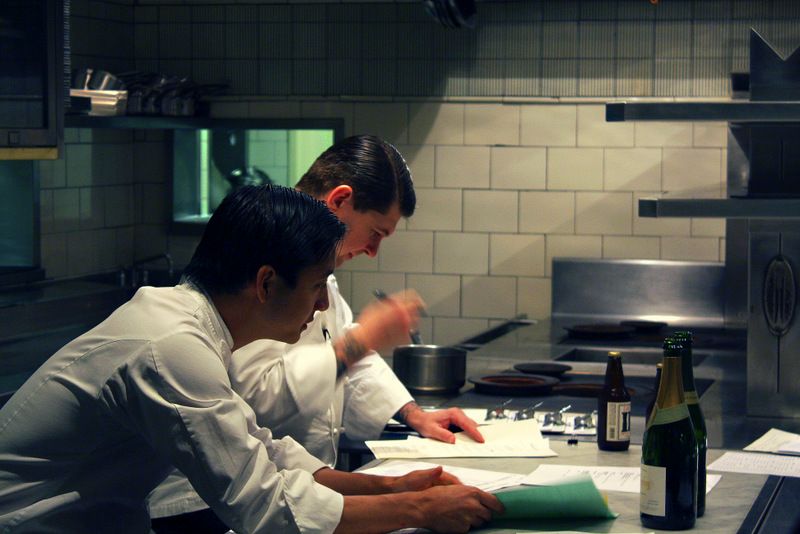 In the back is David Breeden, TFL's new chef de cuisine, who took over from Timothy Hollingsworth in April.
While our table captain described the kitchen to everyone else, I was more taken with Chef Keller's small "office" area overlooking the kitchen. There were a number of cookbooks, including all of his as well as a copy of
Modernist Cuisine
. There is also a wall signed by several visiting chefs including Jacques Pepin and Georges Blanc...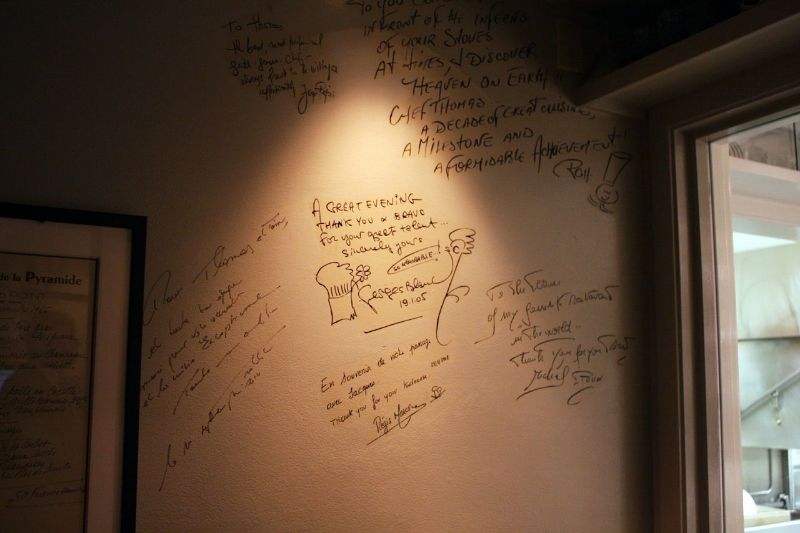 (Hey! *I* have a copy of
Modernist Cuisine
!... Sadly, I lack a wall signed by famous French chefs.)
After our tour was over, we returned to the cool courtyard night to gather our take-home goodies. We then said our thanks and goodbyes and headed our separate ways on the mean streets of Yountville.